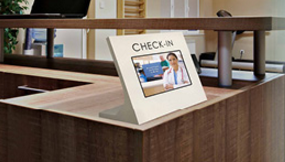 New tablet kiosk for patient kiosk check-in released by Touchsource, leaders in directory and wayfinding software.
Source: go.pardot.com
Save money with our cost-effective ADA compliant patient check-in desktop or wall mounted kiosk.
Compact footprint fits easily onto desks, counters or podiums, offering maximum flexibility for those who don't need large free standing kiosks.
Streamlined desktop tablet kiosks feature high-definition touch monitors and a range of optional accessories to fit your needs, including tightly integrated credit card ready systems.
Allows patients to quickly check-in for scheduled appointments, make copayments, pay outstanding balances, review insurance information and patient rights information.