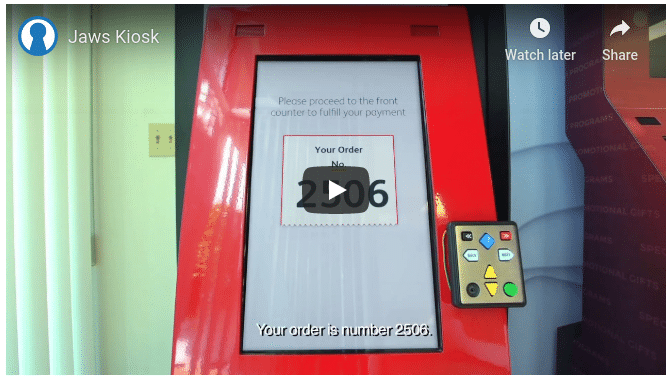 Excerpt News from cutting edge of accessibility and Freedom Scientific blog Jul2020 by Elizabeth Whitaker —
Nice blog article by Freedom Scientific along with a video demonstrating the use of JAWS kiosks software. Here is highlight of the article of JAWS kiosk and its features.
Providing accessibility functions to your entire user group be it customers at a kiosk, or employees working at home or at the office is important, and its the law.
JAWS Kiosk
Vispero's JAWS Kiosk software is designed specifically to work with Storm's Assistive Technology Products and other input devices to provide an accessible kiosk solution. Features of JAWS Kiosk include:
Auto start JAWS upon insertion of headphones
Auto stop/session when headphones are removed
Compatible with kiosk system software
Fully customizable through JAWS scripting
Full functionality even when an internet connection is not present
Custom welcome message
Multi-language/Multi-voice JAWS support
Standard keypad integration
Customized button functionality
Watch the JAWS Kiosk video to observe it in action.