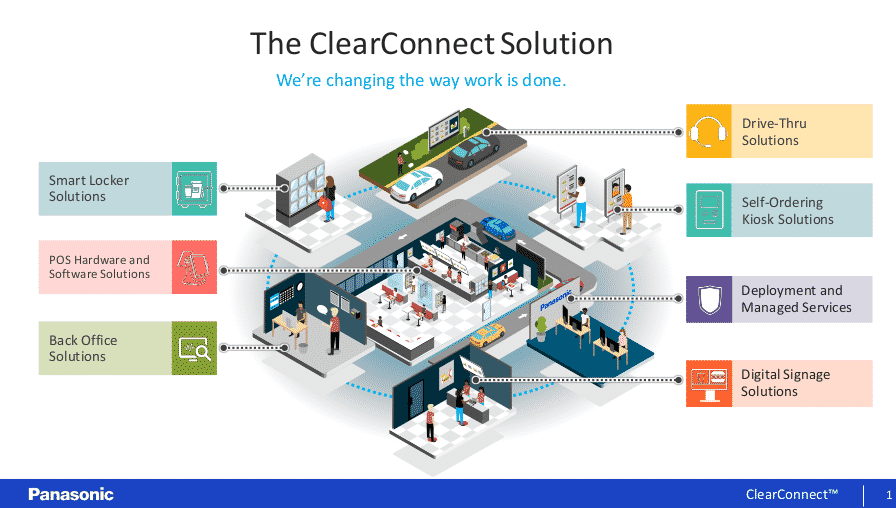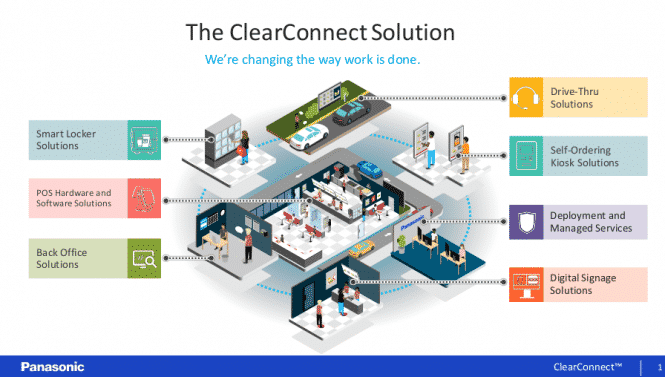 Digital Menu Boards for Drive-Thru Restaurants
Editors note: Drive-thru is becoming the new norm given the effect of the pandemic. McDonald's already gets 75% of their sales from Drive Thru.  Historically restaurants have drawn from a diverse set of providers for all the various components that comprise a drive-thru solution. Get the screens from A, the software from B, the service from C.
Now with the pandemic changing circumstances, a new wrinkle is emerging which is climate change.  It gets hotter sooner and stays hot longer which if not properly prepared for can knock your screens out  (see a recent reverse case study of isotropic drive-thru menu board failures at McDonald's in California with Samsung OH55s with multiple vendors)
The Association believes in a complete solution so it is good to see the complete solution is provided and supported by one company. Below is a summary of the Panasonic approach to restaurant solutions.
It's a very nice offering, not need to go outside and manually turn around static menu boards from breakfast to lunch to dinner (auto dayparting). When the temperature reaches 80 degrees (or whatever you decide) certain menu items can be promoted, like iced tea. It stands up to all types of weather and no glare when viewing it. If there is an item no longer available, you can update your POS system and it will update your menus; plus update pricing across multiple locations, too.  Specs are 2500 nits and the outdoor spec is IP66 (outdoor IP ratings explanation).  On the IP66 there is only one rating higher and that is for complete immersion. Maybe a swimming pool in Phoenix? Not likely.
For more information on Panasonic Digital Menu Boards you should contact Chris Walther. See Contacts on National Restaurant Assocation Show To Go page.
---
Enhance the Personalized Approach to Restaurants
Customers want to see crisp, clear graphics that enhance their experience and restaurants want that experience to be one that brings those customers back for more. With the ability to serve up special menus and offerings in real time, your customers will experience that personalized approach.
Customer Loyalty Leads to Repeat Business… and that's an increase in revenue
Ability to easily customize digital menu boards on the fly, to cross-sell and up-sell, promote specials based on items such as time of day, day of the week, and even a holiday. All of this leads to a unique customer experience, which leads to customer loyalty and that translates into an increase in check averages and repeat business
Today's Need for Digital Agility
Restaurant Digital Transformation is here. Today's success means a willingness to be agile. 38% of restaurants today, want to improve digital customer engagement and customer loyalty, while 74% of Quick Service Restaurants put an easy-to-read menu board at the top of their priority list.
Source:  Restaurant Digital Transformation
Weather Resistant Outdoor Digital Signage
Don't let the weather be a concern with outdoor orders. Our outdoor digital menu boards can withstand the harshest of environments, from -31°F to 140°F (IP68).
One Software Solution for The Entire Enterprise
Enterprise ready software allows for self-management at the enterprise or regional level or the flexibility of a fully managed solution.
Panasonic Professional Services – Your Single Point of Contact
Full service technology consulting, design and deployment and break/fix. Panasonic provides a single point of contact with comprehensive management from our set of Panasonic professionals.
Digital Menu Board Advantages
Learn how digital menu boards can enhance the customer experience, leading to increased customer loyalty.
Drive Thru Advantages
Once an adjunct of the quick service restaurant, the drive thru is now the primary business model keeping quick service restaurants in business and in some cases, exceeding expectations.
ClearConnect™ Restaurant Solutions
Learn how to maximize profits and create efficiencies across your entire organization by simplifying a complex ecosystem of hardware and software for the food service and retail markets.
ClearConnect™ Restaurant Technology
Advanced restaurant management, point-of-sale and wireless communication systems for the retail, food service & hospitality industries.
---
The kiosk association welcomes Panasonic ClearConnect™ Restaurant Solutions as a two year Gold Sponsor.