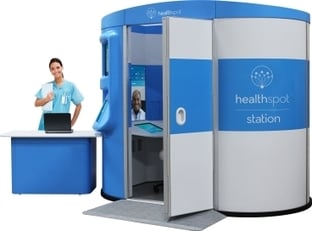 Glooko new form factor & devices, Healthspot and Samsung, American Well and IHS projection.
Source: mobihealthnews.com
Diabetes management company Glooko has officially launched the kiosk version of its offering, the latest in a week of kiosk news from companies like HealthSpot and American Well.
The Glooko Office Kiosk is essentially a new form factor for the company's existing web and mobile offering, which allows patients to input data from a variety of different fingerstick and continuous glucometer products, and forward that data to their doctors and friends. The platform delivers reports, graphs, and triggered notifications to patients and their caregivers.
The kiosk will allow patients at the doctor's office to upload data from more than 40 devices includingrecent Glooko partner devices Dexcom CGM and Insulet's OmniPod wireless insulin delivery system, with Medtronic MiniMed integration coming soon.
"Clinical visits are most effective when a patient already has an idea of what is and isn't working with their therapy regimen," Glooko CEO Rick Altinger said in a statement. "With Glooko's data visualizations and pattern identification algorithms, the patient is equipped to ask the right questions before the appointment starts and when it does, the patient and clinician are looking at identical visualizations. This workflow makes each clinical encounter more effective."
Glooko kiosks are already deployed in beta sites including Scripps Whittier Diabetes Institute, Stanford Hospital, and Cornerstone Health Care.
Kiosk company HealthSpot's news, announced last week, was a partnership with Samsung to add point-of-care blood tests to its health station offering. The technology is still pending FDA-approval. Called theSamsung LABGEO PT10, the device is a smart, compact clinical chemistry analyzer that makes some of the same promises as media darling Theranos: less expense, less blood, and faster tests.
"Adding labs to HealthSpot significantly enhances our mission to transform healthcare for consumers and providers. We are transforming retail clinics into a true extension of the local medical community and widening the scope of services that can be offered via telehealth. The addition of blood analysis via Samsung's smart point-of-care technology will allow providers to go one step further for virtual exams inside the HealthSpot station and serve patients better than ever before," said HealthSpot CEO Steve Cashman. "We are helping consumerize healthcare—no more needles, no more wait and all at a lower cost. People like that."
American Well has had kiosks as a part of its offering for a number of years, but in a press release the company reported a recent IHS projection that the U.S. market for healthcare kiosks will rise from roughly 10,000 kiosks in 2015 to over 36,000 annually by 2020. The company stressed the particular value of kiosk technology for employer customers. They can help large companies extend their onsite healthcare to smaller sites.
"Large employer group customers see kiosks as a key part of their strategy to improve access to healthcare, manage costs, and enhance productivity," John Jesser, LiveHealth Online general manager, said in a statement. "With a kiosk, depending on their health plan benefits, employees can see a doctor covered under their health plan without ever leaving the worksite, for a fraction of the cost involved in a worksite clinic."
American Well also uses kiosks for community outreach and to help large medical centers triage emergency room overflow.