I have yet to write my wrap of NRF things have been so busy, but HIMSS is the monster show for healthcare and maybe for all shows come to think of it (excepting Comdex a long time ago and now maybe CES). So onto the highlights, from the perspective of self-service kiosks.
CTS Healthcare has been and is the leader for sure in hospital patient check-ins (20 million and counting) and CTS Healthcare announced new middleware software for connecting EMR/EHR to self-service terminals, kiosks and tablets. Kwerk. Subscription basis which makes it affordable. Expect to see new tablet deployments with this. Also high brite screens (courtesy Panel Brite!).
Next up — Slabb showed a brand new unit which incorporates the BNR (or SCR/SC/VNR) from Crane. Pretty impressive. These units open up a brand new vending and an emerging cash ROI equation. The BNR accepts and recycles up to 4 denominations so it is able to offer all the advantages of cash and minimizes the impact (cash collection e.g.).
Related — Clearwave was there and showed new Posiflex XT unit. Bit of a departure for them.
Lilitab – was at the show for the first time. Lilitab engineers and designs tablet systems and they are extremely successful. They also have very large retail clients such as Sephora and I believe Panera (thousands of units).
Olea. And finally the engineering highlight of the show was Olea which introduced a new adjustable movable head (press the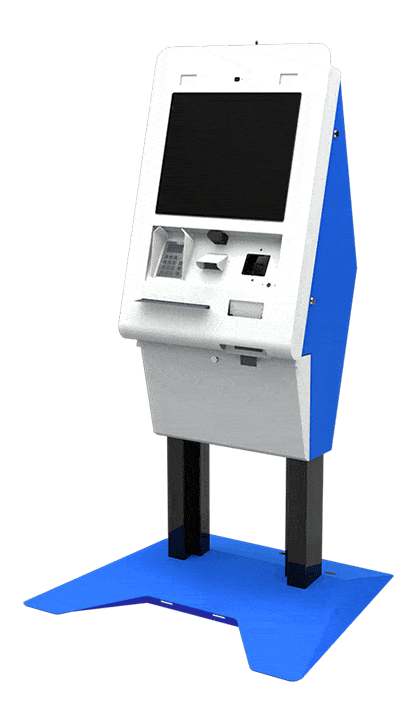 button) to raise and lower the head of the unit. Will probably come in handy for fast food drive thrus as well I would think. Great job Frank and Traci! It's pretty scary and difficult implementing adjustable head, and this is first indoor patient check-in with electronic adjustability.  To be clear this is terrific engineering. Press of the button and the head unit descends for ease of use by handicapped.
Couple of other notes. This year I did not see Phreesia at the show. They usually are but not this year for some reason.  Vecna was there however they were focused on their VGo telepresence robot.  I wish I could have seen it.
HIMSS is huge. Bigger than NRF I think. Healthcare is making the transition to self-service and genuine patient engagement.  The recent advances in telemedicine and telehealth offer additional evidence. I only wish Peyton Manning had announced his retirement during his talk. There are page entries on all of these units with show floor pictures if you didn't make the show.