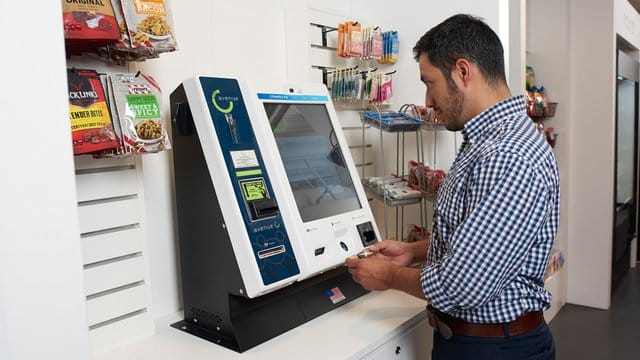 Micro Market Kiosk acquisition by 365 Retail
Noted on KioskMarketplace
Good writeup on acquisition by 365 Retail. Micro Markets have held steady and last year it was Slabbkiosks that was purchased.  It's an interesting market in that the main competitors share a lot of the same people and origins. Its a lot like the thinclient market in that respect.
The logistics of storing, heating and refrigeration of foods for certain period of time can be daunting, especially in the age of delivery of super fresh. We like the Amazon model in high traffic areas where inventory turnover is very short-lived.
Then there are the new vendors such as Square and others which entering the market and on the technology edge pushing the more conventional micro market vendors. Much like supermarkets like Kroger and Safeway must now battle online groceries. When the dust settles who is the new king?
In corporate environments we can see micro-markets evolving into employee spaces that include telemedicine and HR options.
We should highlight that one of our sponsors, OptConnect, is very involved in micro markets. We recommend contacting OptConnect for more information. Image courtesy of OptConnect.
====================
Micro Market Kiosk article excerpt
365 Retail Markets' recent purchase of one of its largest competitors, Company Kitchen's self-service technology division, marks the first significant acquisition in the micro market industry and a milestone in one of the kiosk industry's least celebrated rising new verticals.
Micro markets are not one of the larger interactive kiosk applications, but they do demonstrate the interactive kiosk's unique ability to transform an everyday customer experience — in this case convenience purchases — for millions of consumers. 365 Retail Markets' acquisition of Company Kitchen's tech division demonstrates the degree to which interactive kiosks are contributing to the acceptance of self-service technology for daily activities.
Related Articles
Micro market Kiosk Requirements – Models For Micromarket Retail Application
Vendors Exchange And USA Technologies Partner For Micro market Kiosk
Smartphones Replace Kiosks At Latest Three Square Micro markets