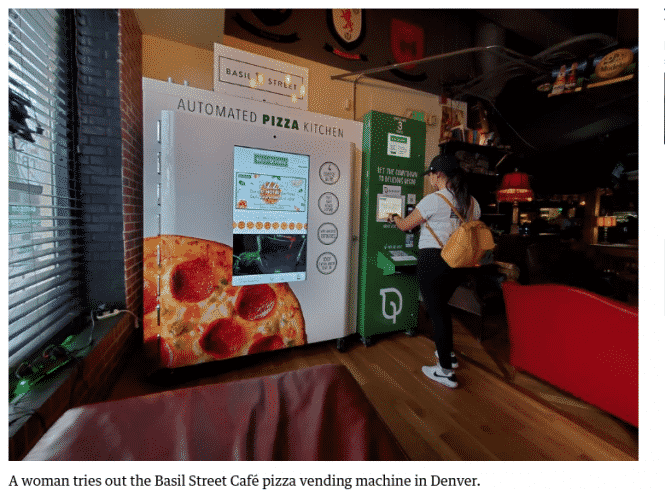 Basil Street Pizza has a new deployment going into San Antonio (link to story). Here is the iteration that went in first here in Denver.
Here is our in brief on that deployment
In Brief
Completely vended from machine
Certifications in place (NSF and UL)
50 rolling out this year
10″ Pizza and no microwave
Pizza prices range from $12 to $15, purchased with a debit or credit card, Apple Pay, Android and Samsung Pay
Basil Street Pizza's automated kitchen in Denver is one of 50 cook-to-order pizza vending machines to roll out in the United States this year. (The company tested the machines in California and Texas in 2020.) The APK's serve 10-inch, thin-crust pizzas, completely microwave-free.
---
Travelers will soon be able to get pizza from a vending machine while traveling at San Antonio International airport.
Los Angeles-based Basil Street Café, which manufactures fully robotic vending machines for their pies, is opening its first airport locations with two kiosks at the local airport on Dec. 1.
"San Antonio is such a wonderful city with a great reputation for food and customers are willing to try new things so it seemed like a natural fit for you. Our partner, Prepango, has an existing relationship with the airport so the decision was easy." said Deglin Kenealy, CEO of Basil Street.