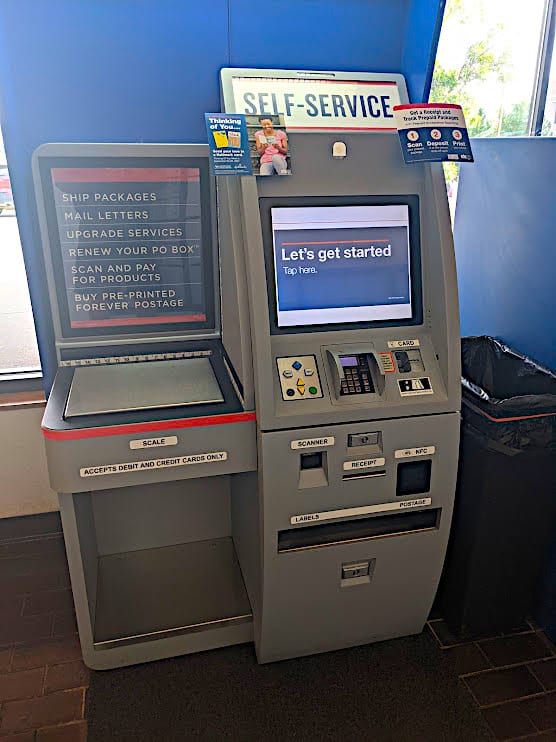 USPS Kiosk SelfService Kiosk Video
Video using the USPS kiosk on the Sacramento TV station.  Here is link to video. There is also a nice article on dailynews that goes thru the USPS Kiosk.
"Our SSK or self-service kiosks allow people to do a lot of the tasks that a regular post office window clerk would do," he said, "without having to wait in line."
Load factor — "We are expecting to send between 850 to 950 million packages this holiday season," Schapiro said. "Nobody wants to see negative things happen to their packages. When items are properly packaged, it's infinitesimally small the amount of damage that can happen."
The Self Service USPS kiosk has undergone many iterations over the years. The original model was a combination IBM and Wincor Nixdorf (back when Wincor was Wincor). Janet Webster was the key manager back then and has since retired and does consulting. She is a member of the kiosk Hall of Fame.  One of the biggest problems for the self service USPS kiosk has been the placement within the actual facilities. A 100% ADA terminal isn't ADA compliant if it is situated wrong physically.  In modern times we have several iterations including the Postal Buddy by Kiosk Information Systems.  The USPS kiosk comes up periodically as a new RFP every 3-5 years and is a mainstay component of the USPS postal facilities.
Self Service USPS Kiosk Video – 2021
More Information
Here are a couple of pictures from the local Colorado post office
More on Self Service USPS Kiosk
Here is a video from 2016 showing the prior generation Kiosk. Diebold iteration. You can see devices repositioned for example.
More Posts