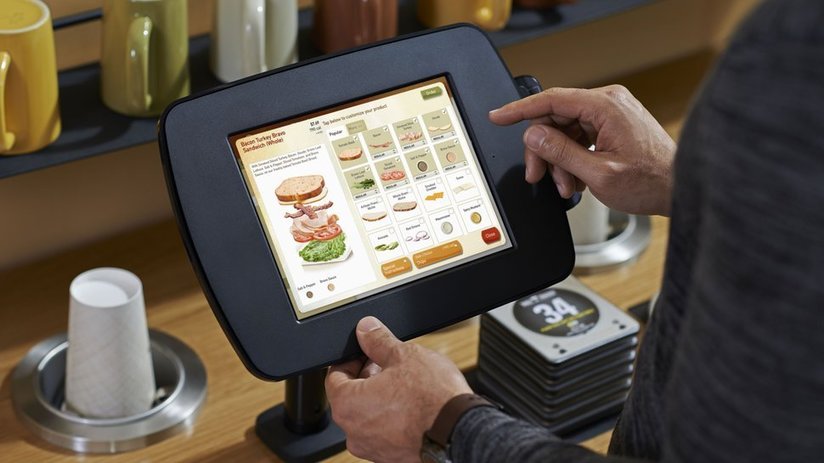 Since the chain's rollout of tablet kiosks and other digital systems, sales are up 6.2 percent. Panera CEO Ron Shaich gives the rundown on this development.
Source: www.kioskmarketplace.com
Wrap of earnings call.
Here is investor writeup.
Panera Bread (NASDAQ:PNRA) has been on a great run, as the stock has soared +571% since the Great Recession. Panera Bread is a chain of fast casual bakery cafe restaurants that offer foods like soups, salads, pasta and bakery items to the health-conscious consumer. In its most recent quarterly report, Panera saw a 6.2% increase in company-owned comparable sales, which CEO Ron Shaich attributed to digital ordering, digital payments, and investment in technology. Panera has a very solid growth moving forward as its store count has jumped 25% in the last five years, with company-owned cafes increasing 3.6%. In order to keep the company's focus on the consumer, Panera is investing in its Panera 2.0 project, which will bring forward innovative technology that will make the consumer's life easier by making ordering and pickups seamless. Panera also looks to be investing heavily in its delivery services, as it plans to offer delivery in over 300 locations by the conclusion of 2016. I believe Panera 2.0 and the wider availability of delivery will give PNRA a same-store sales boost, as well as improve customer retention, which will be a long-term tailwind for the company as it continues to grow.
Panera 2.0 investments in technology will drive same-store sales
Panera raised its 2016 guidance and EPS expectation last year, as it reported a 6% YoY top-line growth and 21% EPS growth for fiscal 2015. Ron Shaich praised the "Panera 2.0" strategy for these improvements. Panera 2.0 looks to streamline the ordering process while improving the customer experience by investing in technology. Panera 2.0 has been investing heavily in technology in all of its restaurants, as all restaurants now have tablets for placing orders, in addition to a mobile app that is available where consumers may place orders before they even reach the store. With these high-tech devices available to consumers, orders will be more accurate and lineups are shortened. This also frees up employees to be able to deliver food to tables to further improve the customer experience. These kinds of experiences are what keeps the customer coming back, and a huge reason why Panera had an impressive 6% top-line bump in the last quarter. Going forward, we can expect even more innovation in technology to make the customers' lives more convenient, as Panera is determined on retaining customers and giving them reasons to come back.
Investment in delivery will boost sales, but are the costs worth it?
Panera has plans to offer delivery services in up to 300 of its locations by the end of 2016. In locations where delivery is available, Panera was able to gather large amounts of data, which concluded that the inclusion of a delivery service to certain restaurants could add approximately 8% to its revenue and 22% to its net income. Rolling out delivery across Panera's locations may be a double-edged sword, as the costs for investing in delivery may be steep, and soups, salads and baked goods are not traditionally known as foods which are delivered. Foods like soups and salads may actually present challenges for Panera due to the need for both cold and hot storage units during the delivery process. These foods will also require more care during the delivery process, considering soups and broth bowls are easily spilled.
I believe that good training of drivers will lessen the risk, and that care in handling such foods will prevent customer dissatisfaction. In an age where everybody is busy and wants something quick and easy for dinner, delivery is definitely an area that could drive sales through the roof. Panera Breads in particular will be delivering food items that are not traditionally known for delivery; this introduces a whole new variety of options to the consumer. I believe the investment in delivery will pay off in the medium and long term, as the delivery expansion is rolled out across its stores. The risk of investing in this expansion is very miniscule when compared to the potential boost in sales it presents.
Valuation and Conclusion
Panera is a fantastic business, and a consumer-based approach is always good for the stock. With a solid strategy to grow its same-store sales and retain customers, I believe Panera will continue to grow its EPS year over year. Panera has virtually no debt, and has a very impressive 27.2% return on invested capital. Although the business is fantastic and the strategy is very promising, Panera is quite expensive with a P/E of 35.42, which is higher than its five-year historical average of 28.2. The P/B is also an absurd 12.4, which is double its five-year historical P/B of 6.2. I see very little upside from these levels, as outperformance is expected going forward. I think Panera is a great business with incredible same-store sales growth, but even when taking growth into account, the PEG is at a very high 2.0. If you currently own Panera, now might be the time to start taking profits off the table.