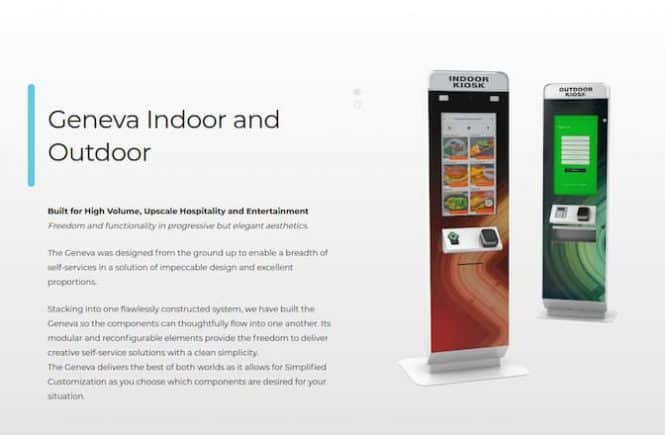 Outdoor Kiosks Basecamp
As they continue to deliver services across a wide range of venues, it's important to understand the nuances and challenges surrounding outdoor kiosks.
Dive in as we explore what you need to validate to ensure your outdoor kiosk is effective, resilient, and user-friendly.
Outdoor kiosks should be able to function effectively in both high and low temperatures.
Outdoor lighting can vary significantly, so the kiosk's screen should be equipped with high brightness and contrast ratios to ensure it is visible in direct sunlight.
While researching outdoor self-service kiosks and the vendors that provide them, it's also a good idea to consider the specific requirements and challenges of your location, purpose of the kiosk, up-time, and how the kiosks fit into your overall service strategy.
Olea has designed several custom outdoor kiosks in a variety of styles for several high-volume venues.
Kennedy Space Center was looking for a completely unique and custom kiosk design as they wanted to retrofit their box office windows with kiosks.
Read the full article at Olea Kiosks
Our Advice on Buying Outdoor Kiosk
When buying an outdoor kiosk, there are several factors to consider. Here are some of the most important ones:
Durability: Outdoor kiosks must withstand harsh weather conditions from heat to cold, so it's important to choose a kiosk that is built to last. This includes features like waterproofing, UV protection, and rugged construction materials.  Does it have an UL rating or IP rating
Security: Since outdoor kiosks are often located in public areas, it's important to consider the security of the kiosk and the data it stores. Look for features like physical locks, service access, encryption, password protection, and remote monitoring capabilities.
Functionality: Consider the intended use of the kiosk and choose one that has the necessary features and capabilities. For example, if the kiosk will be used for ticket sales, it should have a payment system and a ticket printer. Ticket stock is different than receipt stock
Cost: Outdoor kiosks can range in price from a few thousand dollars to tens of thousands of dollars, depending on the features and capabilities. Be sure to choose a kiosk that fits your budget and provides the necessary functionality
Expert guidance: Outdoor kiosks are complex systems, so work with a vendor who has demonstrated experience in designing and deploying them. Look for a vendor who will provide guidance on the best kiosk for your needs and who can assist with installation and maintenance
Test your kiosk for accessibility with several different "personas" from partial blind to partial deaf.  Design for accessibility from the start!
Couple of outdoor kiosks to be shown at upcoming IAAPA show
---
More links