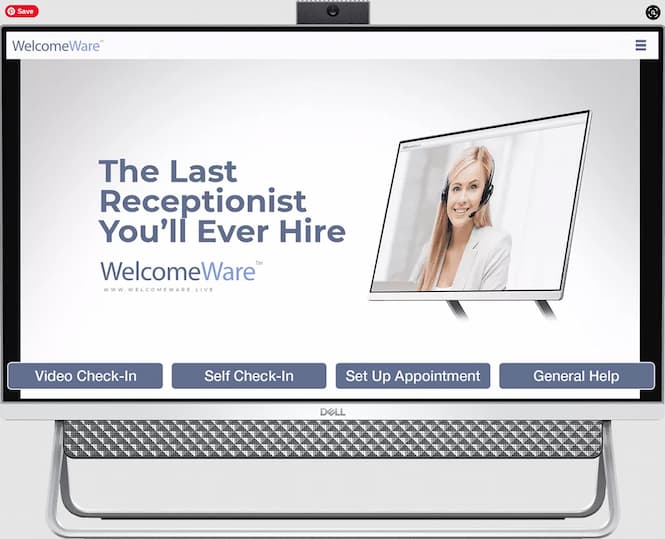 Receptionist Kiosk Case Study
Case study on:
better utilization of employees, despite location
Avoiding the hiring and vetting process for a new employee
Not having to go thru the process of training a new employee instead of utilizing exceptional employee already in the role
For more information and to download case study visit WelcomeWare.
Businesses everywhere have been immensely challenged in the last two years with hiring, resignations, and the needs for remote work. Physical therapy clinics have often faced these burdens more so than others because they often have just a few people in each office, and the absence of even one key administrative person can impact the success of the entire practice.
Dirigo Physical Therapy & Performance is a three-location physical therapy practice based in Maine, whose rockstar receptionist, Haruka, would be moving out of state. Dirigo valued Haruka and did not want to re-enter the hiring cycle. Together they searched for a solution that would enable Haruka to work from afar while also improving Dirigo's check-in experience.
Star receptionist was moving 5 hours away
Therapists checking in patients,decreasing treatment time
Second location was experiencing intake process and billing challenges
Hiring and training new receptionists took time
Haruka loved working for Dirigo and wanted to remain a member of their team. After her review of various virtual remote receptionist platforms, she chose WelcomeWare as it offered complete remote control of Dirigo's check-in process. She noted that "WelcomeWare was the only option to offer video chat while allowing patients to fill in forms at the same time." Since Dirigo's focus is on the patient experience, she believed WelcomeWare would be a good fit.
How WelcomeWare's Features Support Dirigo
Operations
WelcomeWare enables Dirigo to staff their multiple locations simultaneously, lowering headcount, while providing valuable support. Dirigo is now able to consistently communicate its philosophy and values through a single channel handling patient intake.
Role Empowerment
WelcomeWare makes it possible for the Dirigo team to focus 100% on their tasks. Now PT's are able to focus on treating patients while the front desk team ensures the clinic runs smoothly.
Support
Dirigo no longer experiences overwhelming peak check-in periods. Now check-ins during peak hours are handled through the WelcomeWare kiosk, while the in-person receptionist handles other questions.
Dirigo was able to keep their rockstar receptionist. Their patients now check-in using the WelcomeWare kiosk. Forms are completed, insurance is verified, and payments are collected. The absence of a receptionist meant payments were not collected at time of service creating a lag in Dirigo receiving payment. In some cases resulting in not being paid at all. Dr. Lloyd Beckett Founder of Dirigo Physical Therapy and Performance and former Head Athletic Trainer and Lead Physical Therapist for the Brooklyn Nets NBA Franchise describes the level of change as "improved dramatically".
What does the future look like with WelcomeWare?
As Dirigo expands to their third location, the use of WelcomeWare means they don't need to hire a new receptionist. Dr. Beckett explains how the convenience of WelcomeWare made expansion easier-
"There is the convenience of not worrying about having to hire and retain a position that can have a high rate of turnover. Having that factor into any expansion plans, as well as the ease of the day-to-day has been really invaluable."
Dr. Beckett founded Dirigo Physical Therapy and Performance in 2018. Focused on getting his patients back to the activities they love, Dr. Beckett wanted to "empower patients to retake control of their health and live their lives without pain." The goal of DPTP is to deliver the highest level of individualized care, utilizing only the latest in evidence-based practice