Originally published by Greetly at https://www.greetly.com/blog/android-ipad-receptionist".
Thinking about implementing a visitor registration app in your office? Prepare to be amazed by the efficiency. An Android or iPad receptionist does the work of several people, all for a fraction of the cost.
Receiving your guests in style
Real-time reception notifications via phone call, text message, email or Slack
Taking photos and printing visitor badges
Accepting packages
Event check-ins
Capturing NDA and waiver eSignatures
Creating a cloud-based visitor logbook
These are just a sampling of the features of the best visitor check-in apps. Keeping you on task while prioritizing your visitor's time, a visitor registration app is the jack of all trades.
You might think something so sophisticated would be a headache to implement, but a visitor registration app can be set up for free, in just minutes, regardless of your tech skills. All that's required is a tablet computer and a mount to secure it and make it highly visible when your guests arrive. Your visitor management system can be mounted on a desktop stand, floor stand kiosk, or even on the wall.
The question we are often asked is… Which tablet will work best for our Greetly visitor sign-in app? Here are some advantages of running your visitor registration app on Apple's iPad devices versus Google's Android operating system.

Advantages of an iPad Receptionist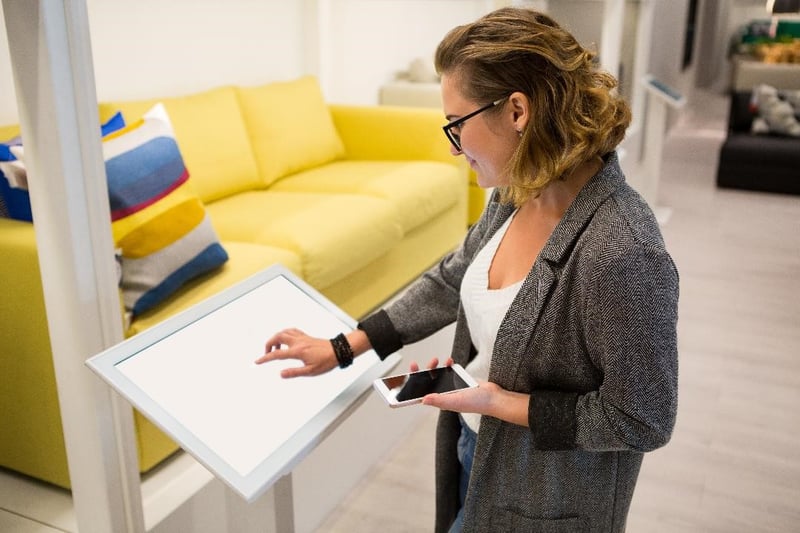 Advantages of an Android Reception Tablet
Supports Multiple Stores: While the iPad plays nicely with Apple devices, Androids play nicely with others too. The Android supports multiple app stores, such as Google, Amazon, and Samsung, giving you more options for downloading and running your apps. Android is also more customizable, allowing you to get more creative and personalized to fit your organization and brand.
More App Availability and Connectivity: With Android's more open operating system comes a wider array of options. Android screens are available in excess of 20″, for a highly visible visitor management app kiosk. Your visitor registration app will be prominently displayed, and legible to all your viewers. Unlike iPad, Android is a general name for a multitude of devices, with different specs, sizes and colors from a variety of different manufacturers. This gives you more affordable options for running your visitor registration app.
Bigger Bang for the Buck: More hardware manufacturers building for Google's Android platform means more competition. And that means a lower purchase price for most Android tablets. Although, as noted above, you also need a mount to secure your device. Make sure to compare the total cost of ownership.
Market Leader: While Apple gets a lot of the hype, Android currently holds more of the market share. More smartphones users own Android devices than iPhones, and PC Magazine recently ranked Amazon Fire tablets above the iPad for 2018, a trend that is gaining traction.
Conclusion
Ultimately, you can't go wrong. There are unique advantages to running your visitor registration app on Apple iPad – amazing technology, standardization, lots of affordable mounting options and resale value lowering the lifetime cost of ownership. Google's Android operating system offers it's own advantages – a lower upfront price point and more tablet devices to choose from.
Both tablet hardware options will successfully run the best visitor registration apps like Greetly. And given the amazing computing power of these devices, and the massive feature set of modern visitor sign-in apps, in comparison to the low cost, you will surely save money and increase productivity.
Originally published by Greetly at https://www.greetly.com/blog/android-ipad-receptionist".