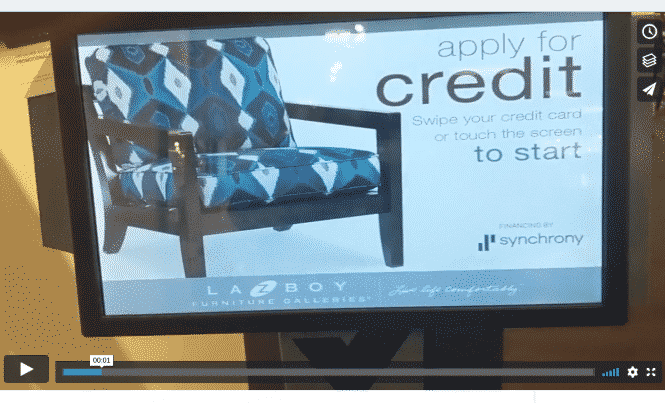 | | |
| --- | --- |
| | Craig is a  senior staff writer for Kiosk Industry Group Association. He has 25 years of experience in the industry. He contributed to this article. |
We couldn't resist stopping in our local La-Z-Boy and trying out the kiosks.
Couple of things we noted:
Would have been fairly easy to insert malware USB client onto the PC  and collect credit application info.  I would recommend securing that computer.
Looked like it had a hard ethernet so it was likely on the network. Hijacking a Windows computer on a network in order to access the entire network is the next step.
Fairly flimsy construction. It looks cheap but that isn't exactly the best impression to leave on potential customer.
The unit was located near back of the store on the other side of browsing. I wonder if having a unit up front to preset potential buyers with an idea of what they can afford easily wouldn't be a bad idea.
If you would like to get a free Starbucks card send us a message on who did them (software and enclosure).
Send your comments
[contact-form to="[email protected]" subject="Comments General"][contact-field label="Message To Us" type="textarea"][/contact-form]