Last Updated on
Editor Note: above is Laura Miller of Vispero, Randy Amundson of Frank Mayer and Associates Inc., and David Capozzi, executive director of U.S. Access Board during meeting in Washington, DC.
Kiosk ADA Accessibility Resources & ADA Compliance


Regulatory agencies have a profound effect on the business of self-service. The kiosk manufacturer association (KMA) monitors kiosk and self-service ADA, Accessibility and the development & implementation of regulatory bodies and, where possible, we participate in the regulatory process by educating and informing agencies regarding our members & businesses.
Recommended ADA Resources
Vispero – The Paciello Group (part of Vispero): The Paciello Group (TPG) is a world-class accessibility consultancy with a reputation for excellence. TPG helps clients achieve end-to-end accessibility for both software and hardware, including accessibility reviews and VPATs.
A primary source of ADA devices for accessibility is Storm Interface. They also make rugged keyboards and other input devices.  Storm also produced a very informative paper on Pin Pad Accessibility. Download it here — Accessibility – Implications on Keypad Design by Steve Greenaway
Tech For All Consulting –  Making Technology Accessible for Everyone. Experts in evaluation and universal design. Specialists in ADA and Accessibility.
MimoMonitors – along with all types of touchscreens, Mimo also offers a haptic touchscreen for accessibility
ADA and Disability in the News
Kiosk Accessibility and Kiosk ADA Resources Tools
ADA Reference Resources
Accessibility Companies
Tenon.io – Tenon.io can identify 508 and WCAG 2.0 issues in any environment.
Aira.io – augmented reality assistance for the Blind
SmyleMouse – computer navigation by head gesture and blinking eyes
WP Accessibility plugin — we utilize this for improving our web accessibility
Google Tools — many tools for websites and handhelds and mobiles. Test suites.
Webaim – web accessibility
Overview of ADA by CUInsight
TENON for testing accessibility on your website
Icommunicator Resources – link
Spacepole
Here are resources which can assist.
ADA Kiosk Links
Pin Pad Regulatory Guidelines
EN

1332

Machine

readable

cards

,

related

device

interfaces

and

operations

.

Part

3

Keypads

.

V

EN

29241

Part

4

Keyboard

requirements

.

ETSI

DTR

/

HF

02

00

9

(

1996

)

Characteristics

of

telephone

keypads

.

ETSI

TC

R

–

TR

023

(

1994

)

Assignment

of

alphabetic

letters

to

digits

on

push

button

dialling keypads

.

ETSI

ES

201

381

(

December

1998

)

Telecommunication

keypads

and

keyboards

:

Tactile

identifiers

.

IEC

73

Colours

of

pushbuttons

and their

meanings

.

ISO

/

IEC

9995

Information

technology

:

Keyboard

layouts

for

text

and

office

systems

.

ITU

E161

Arrangements

of

figures

,

letters

and

symbols

on

telephones

. 

Storm – informative paper on Pin Pad Accessibility. Download it here — Accessibility – Implications on Keypad Design by Steve Greenaway
Interesting News
Measuring the Disabled
Guidelines and Standards
Access to information and communication technology (ICT) is addressed by Board standards and guidelines issued under Section 508 of the Rehabilitation Act and Section 255 of the Communications Act.  The Board jointly updated its Section 508 Standards and Section 255 Guidelines in January 2017.
Standards issued under the Americans with Disabilities Act (ADA) address access in new construction and alterations to state and local government facilities, places of public accommodation, and commercial facilities. Similar standards apply under the Architectural Barriers Act (ABA) to facilities funded by the federal government.  The Board issued supplementary guidelines for emergency transportable housing in 2014 that are not yet part of the ADA or ABA Standards.
Access to recreation facilities, including play areas, swimming pools, sports facilities, fishing piers, boating facilities, golf courses, and amusement rides is addressed in the ADA and ABA standards. The ABA Standards also include provisions for trails, picnic and camping areas, viewing areas, and beach access routes on  federal lands.
New guidelines the Board is developing will cover access to public rights-of-way, including sidewalks, intersections, street crossings, and on-street parking. The Board is also addressing access to shared use paths providing off-road means of transportation and recreation.
Board guidelines issued under the ADA address access to public transportation facilities and vehicles. New guidelines for passenger vessels are in development.
The Board has issued standards for medical diagnostic equipment and guidance on prescription drug container labels.
 ADA News
Americans with Disabilities Act
The Americans with Disabilities Act of 1990 (ADA) prohibits discrimination and ensures equal opportunity and access for persons with disabilities.
The Federal Transit Administration works to ensure nondiscriminatory transportation in support of our mission to enhance the social and economic quality of life for all Americans. The FTA Office of Civil Rights is responsible for civil rights compliance and monitoring to ensure nondiscriminatory provision of public transit services.
ADA Circular
DOT Legal Opinion on Facility Alterations
ADA Dear Colleague Letters
ADA Final Rule on Reasonable Modification
ADA Regulations
Tips for ADA Compliance
The Department of Justice has launched a new Accessible Technology section for ADA.gov, its Americans with Disabilities Act (ADA) Web site, to further assist covered entities and people with disabilities to understand how the ADA applies to certain technologies, such as Web sites, electronic book readers, online courses, and point-of-sale devices.  Covered entities have longstanding obligations to make their programs, goods, services, and activities accessible—including those they provide online or via other technology.  The new Web pages compile in one place the Department's technical assistance and guidance about accessible technology, as well as information about the Department's accessible technology enforcement efforts, regulation development, and other federal accessible technology resources and initiatives.
Tablet kiosk ADA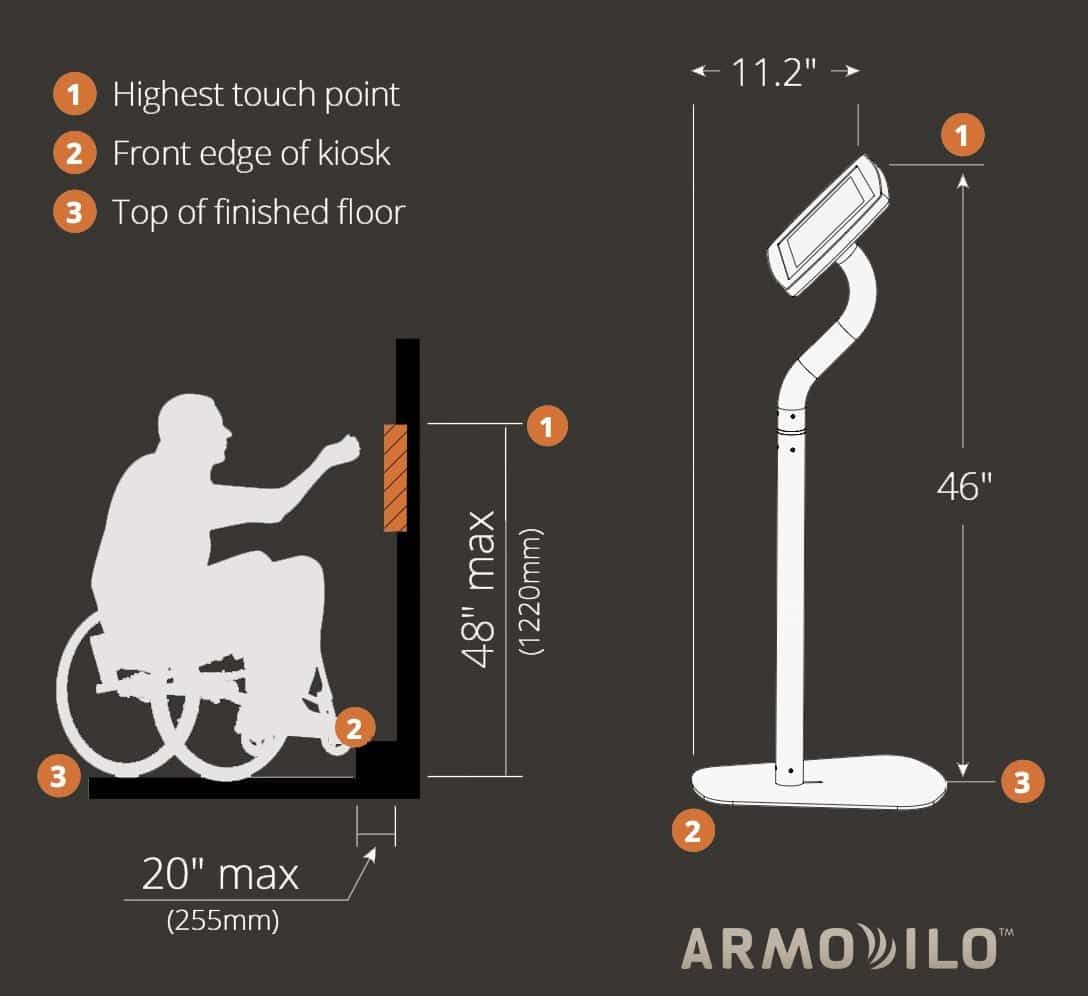 More Resources
Accessibility Blog lists many sites devoted to accessibility
Topic Coverage by Craig
Buy Accessible government site
Article by EBN — Effective July 18, 2016, a new "meaningful access" rule interpreting the Affordable Care Act's Section 1557 Anti-Discrimination requirements requires providers of health care programs and services that receive federal financial assistance to comply with new requirements for effective communication, including accessible electronic information technology.
Some additions:
ADA News Line 
Kiosk Standards Links