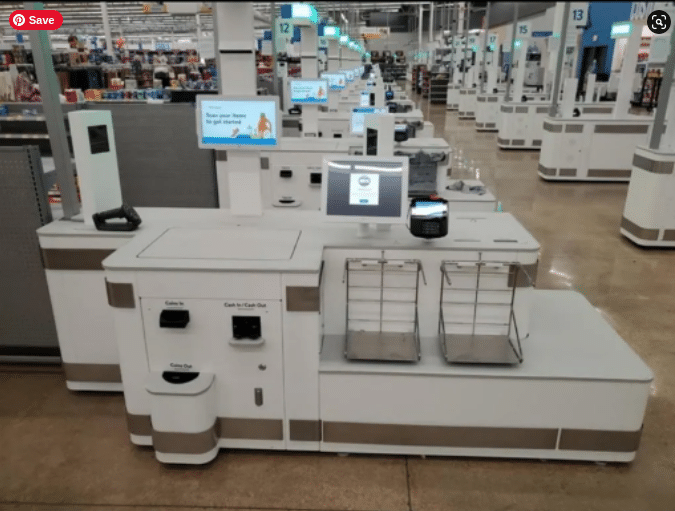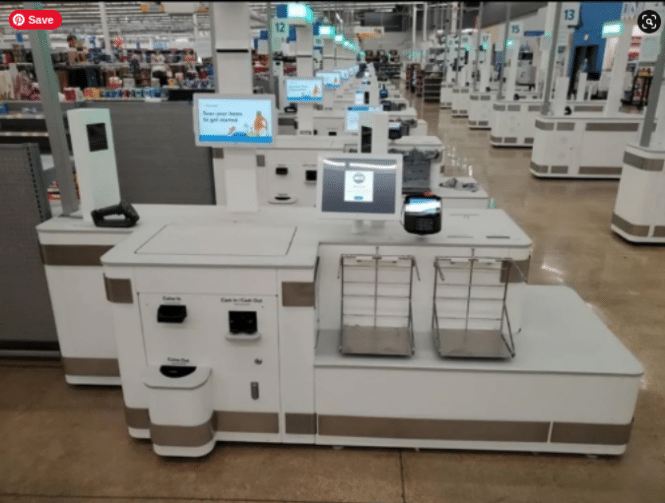 Self-Checkout at Walmart
We track SCOs as we call them. Everybody uses them from Lowes, Home Depot, to Target to Whole Foods, Costco and yes, Walmart.
Updated 10/16/2023 — see below image and comment
Good article on Reforming Retail detailing what RR thinks the next steps are for Walmart and Self-Checkout. We have a paid subscription and RR is very nice about us republishing their content.  We recommend a paid subscription to access all the articles. We say that very rarely. Reports from Insiders isn't quite the same as a corporate announcement for sure. We'll monitor.  For reference Whole Foods uses NCR SCOs. We have an article on their lack of accessibility.
---
After Losing Lowes and Home Depot, Insiders Say NCR Lost Walmart Self-Checkout Business
---
Imagine a company so corrupt that an incompetent CEO can make $20M a year to lose customers the size of the ones in the article title.
Yet that's exactly what's happening according to NCR insiders.
Most of you are probably familiar with NCR's self-checkout technology having interfaced with it at your local box box retailer in the past.
But those days are coming to an end.
Lowe's partnered with Publicis to build their own self-checkout and replace NCR.
Target similarly gave NCR the boot.
And Kroger.
Then came Walmart, the 800-pound gorilla.
Walmart doesn't like NCR.
This from NCR's own insiders
So some years ago Walmart decided to build their own self-checkout machine called Gulfstream – image below.
In late 2022 they began deploying the machines in the Dallas market.
The way it works, per the NCR insiders, is like this:
NCR will provide the installation and services of these new Gulfstream self-checkouts. But NCR's self-checkout product is dead as far as Walmart's concerned.
There was a hiccup in October of 2022 with Gulfstream's cash dispensing module so Walmart had NCR come back in to temporarily reinstall their NCR machine until Walmart could get through the holidays.
But now, according to NCR insiders, Walmart is dead set on rolling out their Gulfstreams.
Over the next four years Walmart won't install any new NCR systems and Walmart will roll out their own. It will probably take decades to replace NCR, but BCS has a warehouse full of Gulfstream machines and even had to buy the building next door to store all of the Gulfstream units.

NCR insider
We called BCS but they offered no comment.
We also asked NCR for comment and they offered none.
As we were told, years ago Walmart went away from NCR to Compucom. It turned out that Compucom didn't have enough resources so Walmart begrudgingly negotiated a new contract with NCR. But ultimately, Walmart is not a fan of NCR (neither are we fans of companies who pay executives tens of millions a year to screw shareholders and employees).
When we first started deploying the Gulfstream it was taking 6 hours to build the system with 2 technicians, which is labor intensive as these things go. Instead, BCS is going to assemble them all and ship them out, drastically cutting down on NCR installation time.

Under my tenure NCR has lost Lowe's and Home Depot, so it's not surprising a larger, more sophisticated retailer is booting NCR.

NCR insider
In response to the bleeding, NCR has made huge personnel reductions according to insiders.
NCR fired so many people to get up profit margins so it looks good on paper. We eliminated territory managers in the self-checkout depart, stopped all travel for installations, and only allow travel for break/fix issues

NCR insider
According to the insiders, the theory is that NCR's self-checkout business will be sold to Amazon, who own Whole Foods, one of the only sizable retailers left using NCR.
Of course Amazon has their own self-checkout technology, and it's better if for nothing else than it cuts down on fraud.
Why they haven't rolled this out to Whole Foods is anyone's guess.
But in the Walmart vs Amazon world, NCR might make some money on the grudge match.
Just expect all of it to funnel directly into the pockets of NCR's management.
More About NCR
---
More SCO self-checkout posts
Other SCOs?
You never know but someone like Fujitsu or others may show up being tested.