About Kiosk Industry Group
Kiosk Industry Group operates as a collective "co-operative" device for the self-service kiosk industry and generally reflects perspective for the editor Craig Keefner. The kma.global Kiosk Manufacturer Association is confined to being an association and has bylaws and officers and committees.  All of that was and is necessary to get our collective perspective sanctioned by agencies such as the U.S. Access Board.  Where they can refer to an association, referring to an individuals blog site doesn't happen.
Kiosk Industry is the news engine for the Kiosk Manufacturer Association or KMA which is a global organization focused on better self-service for customers and employees through kiosks and interactive displays. The Kiosk Industry Group is part of the larger "The Industry Group" which covers not only kiosks, but solutions for digital signage, menu boards, patient check-in, retail automation, thin clients and smart city to name some.
The Kiosk Industry Group is the professional news and marketing website for the kiosk and self-service industry. Those companies fund us for the benefit of developers, resources and client companies interested in self-service, kiosks, thin or internet terminals and POS systems. News about the industry and by the industry that is relevant to companies looking to utilize self-service and companies that assist in making just that (hardware, software and application).
About the Editor & Manager
Craig Allen Keefner manages kiosk industry group and also assists with the Kiosk Manufacturer Association. Craig has spent his 40 years of working experience focused on transactional systems for self-service (QSR, Fast Casual, Healthcare, Telemedicine, bill payment and more). New segments emerging include EV Charging, Smart City, Thin Clients and Automated Retail. His early experience was as the main web programmer  for Northwest Airlines, Bridal Kiosks (Target Clubb Wedd and Gift Certificate Company) and Irwin Jacobs B2C. Eleven years with Kiosk Information Systems.  Major projects include: Verizon, Army Gaming Centers, Target Store Bridal Registry, Correctional Visitation, AT&T and many more.
Kiosk Regulatory Advocacy
Members of KI have a strong interest in standards like ADA, EMV, HIPAA, UL, and many more.  Our primary focus is ADA. See kma.global for complete view.
The Kiosk Manufacturer Association
Who is the KMA?  We are companies from all over the world who provide kiosk and self-service technology, hardware & software, to enable unattended, semi-attended and attended access for customers & employees. Making self-service easier, faster, safer, more reliable and more useful.
Whether engineering a solution, manufacturing, software and application development, remote monitoring, logistics, services for warranty, financing, usability and analytics — the industry association has resources.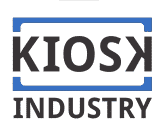 Our LinkedIn kiosk industry group is comprised of over 2200 qualified members from all over the world (we are international).  It's free to join the group on LinkedIn.   Visit our free Kiosk Industry list of over 400 companies (and submit your own for free listing).
About Us  
Publisher
Editor & Manager
Staff writers and contributors
Graphic & Logo Support

Don Eastburn & Associates
PixlePeople
The Object Shop
Rebecca Tolle Art

Additional Outlets
We are located in Denver Colorado. Our mailing address is:
KIOSK INDUSTRY / Kiosk Manufacturer Association
980 Home Farm Circle
Westminster, CO 80234
Email: [email protected]
Tel: 720-324-1837
Related Markets
We also cover additional market verticals
Site Policies
Publishing principles  — inform and educate from an insider point of view. Easy to write about things you have spent years doing. Most writers only write and rely entirely on others for the real life data.  Its not unlike photos.  Is it more useful to see a rendering of a unit, or to see an actual picture of an actual unit?  Hard data needs to be the preferred basis, not conjecture.
Ownership / Funding info — Craig manages this on his own Schedule C as Colorado business.  The members dues provide all the funding.
Actionable feedback policy — we get email at

[email protected]

and respond to all
Corrections policy — Typically we write about Corrections industry (aka captive audience).  But to answer the question — if we make a mistake and are told about it, we correct it immediately.  If we get a bit too opinionated and mention company names and probable modes of operation, and they have thin skin and ask us to refrain, we accommodate them.
Ethics policy — that's a tough one.  The most important thing to us is sleeping at night. Sometimes having ethics can get in the way of that.  So be it.
Diversity policy — technically its myself and my wife so 50% male and 50% female
Diversity staffing — we don't have any staff
Diversity staffing report — I'm sure somebody somewhere is having a meeting about that, but not us.