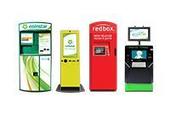 Bellevue-based Outerwall, which is best known for operating Redbox and Coinstar machines, is continuing to add new kiosks to its fleet.
Source: www.bizjournals.com
Writeup on latest from Coinstar and SampleIt. Also at CES 2015. There are more than 40,000 Redbox machines spread across the country, 20,000 Coinstars, 1,500 ecoATMs, 700 Coinstar Exchanges and 50 SAMPLEits.