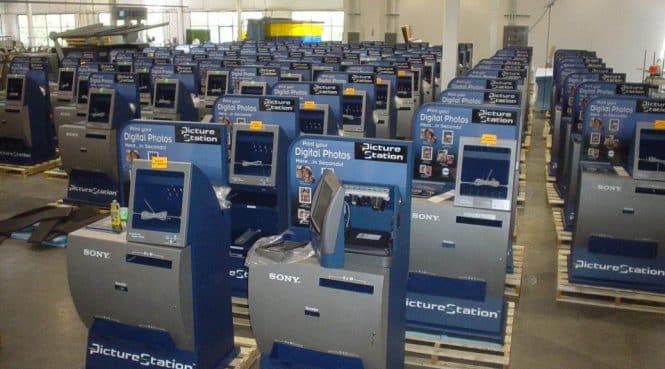 Photo Kiosks
While the drugstore photo kiosk may be a mature sector, new developments in imaging technology promise to open the door to new opportunities.
By Richard Slawsky contributor
It seems like it was just yesterday that nearly every grocery store and strip mall featured a drive-up Fotomat film processing shop in the parking lot. Amateur photographers would drive up to the window, drop off their film or disposable camera, and stop back a few days later to pick up their pack of prints.
With the advent of digital photography, though, those shops quickly disappeared, with photo processing services moving inside the store to serve as a customer draw. In 1980 there were more than 4,000 Fotomat stores around the United States; today not a single one remains. Digital cameras began outselling film cameras in 2003, and the trend has continued ever since. Kodak stopped selling film cameras in 2004, and Nikon followed suite in 2006. What was probably the final nail in the film coffin came in 2012, when Kodak declared bankruptcy.
The move to digital did, though, open up opportunities for photo development kiosks as the customer touchpoint for photo processing services. The premise was that shoppers would bring in their camera's memory card, insert it into the kiosk and select the number and size of the photos they'd like printed. And of course, do a bit of shopping while they waited for their photos to be ready.
While the veracity of the numbers is debatable, one of the many research reports that predict trends in the kiosk industry forecasts the size of the global photo kiosk market in 2017 will total $1.5 billion. Another one forecasts the market will total $1.9 billion by 2020, so apparently some amount of growth is likely.
Does that mean kiosk manufacturers should consider adding photo kiosks to their portfolio? While that depends on the strengths and expertise of a particular company, the short answer is probably not. The capital investment required to make a go of photo kiosks is so large that it's likely beyond the capabilities of all but the most established companies, and the multitude of changes occurring in the imaging industry means the direction of the market isn't yet clear.
Following the trail
To get a sense of where the photo industry is going and what the opportunities for kiosk deployers might be, it helps to have a sense of where it's been.
From the early 1960s, when Kodak first introduced its inexpensive Instamatic camera, on through the 1990s, most households likely owned a single camera or bought disposable cameras one at a time, processing two or three rolls of film a year. It wasn't unusual to find a disposable camera with four or five shots left on it in the bottom of a drawer, snap off those photos and drop them off for processing with little or no recollection of what was on the earlier shots.
"The photo finishers used to joke they'd get a roll of film and there was a Christmas tree on each end," said Gary Pageau, who formerly as an executive and communication consultant with the now-defunct industry trade group the Photo Marketing Association. At its peak, the annual PMA trade in Las Vegas boasted more than 50,000 attendees, but industry changes prompted a scheduling change in 2012 to coincide with the Consumer Electronics Show. In 2016, the PMA merged with the Photo Imaging Manufacturers and Distributors organization to form the Imaging Alliance.
"People in those days used to take pictures more for memories," Pageau said. "And very few pictures were enlarged."
Cameras were first paired with mobile phones in 2000, and today nearly everyone has a mobile phone camera in their pocket. In most cases, those cameras pack a resolution greater than the best film cameras.
And that has led to a staggering increase in the number of photos taken each year. Technology website TechCrunch estimates there will be 1.2 trillion photos taken around the world in 2017, nearly 14 times the 86 billion photos the news site Buzzfeed estimates were taken in 2000.
Although that would seem like a jackpot for the photo processing industry, it hasn't quite worked out that way. Most photos aren't ever printed, and photo paper is only one of several choices of media on which to print images.
"Metal prints are big right now, canvas prints are big and paper prints in weird sizes like square prints," Pageau said.
"Printing on clothing, printing on fleece, throws and blankets and things like that are popular," he said. "Now, when they do print pictures, people usually have a specific purpose in mind."
Another change affecting the photography world is the advent of smartphones and wireless connectivity in the mid-to-late 2000s. Although there was a brief period where an in-store kiosk was the method of choice for choosing images to be printed, that has been supplanted by websites and apps. If a store does offer a photo kiosk, customers expect to be able to wirelessly transfer images from phone to kiosk.
And many customers are no longer expecting to have their prints ready in an hour or less.
"Although instant printing used to be a big thing, many people today really don't expect to get their output right away," Pageau said. "They understand that if you're making a print on metal or canvas that it's going to take a while; it may have to be shipped out or whatever."
So while 10 years ago it may have been cost effective for a retailer to invest $250,000 or more in an in-store photo lab, today that may not be as worthwhile. While in the early days of digital photography that photo lab might have guaranteed two customer visits – one to drop off and one to pick up – today those customers may not even set foot in a store to have their images printed.
So where are things headed?
Obviously, the photo kiosk market faces stiff competition. Although there are still plenty of kiosks in the marketplace, anyone thinking about entering the market is likely to face some challenges.
"A new photo kiosk is a beautiful thing, but sadly the market is full of old photo kiosks," said Murray Macdonald, president and chief technology officer at Vancouver-based Storefront.com, which specializes in creating customer-facing applications, imaging infrastructure and management systems for SMEs, global multinationals and Fortune 500 clients.
"Retailers today don't have the capex to change that," Macdonald said. "They're just kind of maintaining what they have."
Consolidation in the retail and pharmacy sectors has left many companies with collections of disparate kiosk solutions, making it difficult to introduce new equipment and having it play well with legacy systems. And of course, kiosks have become just one of several channels by which customers get their images to the lab.
"Retailers today need a Web solution and a mobile app along with a kiosk," Macdonald said. "So retailers really need three customer-facing interfaces and then the backend stuff. A kiosk is really just one of those three today. You've got to kind of stitch all that together as a retailer or buy it from a provider who can give you all those pieces."
In addition, online photo processing sites such as Shutterfly and Snapfish, where customers upload their photos to a website and have the printed images shipped to their homes, are gaining in popularity and market share. Shutterfly, for example, serviced 10.1 million customers in 2016, a 4 percent increase over the previous year.
Still, that doesn't mean that kiosks as part of a photo solution are a dying breed.
"We've been surprised by how strong the kiosks are, actually," Macdonald said. "We've actually seen growth on ins store purchasing for certain types of products and depending on the retailer. "
A host of new technological developments promise to crack open new opportunities for both the kiosk industry and the imaging industry as well.
"I'm very excited right now about both industries," Macdonald said.
"There is a lot of stuff happening right now," he said. "Things like 3D printing and depth cameras are going to bring on a whole new rash of applications."
Depth cameras, or range imaging time-of-flight cameras, can sense the time that it takes light to return from objects in a photograph. The camera takes that information and combines it with video data to create 3D images, enabling it to calculate the measurements of a room or remove or overlay 3D objects or backgrounds from an image.
"I think there's a market for novelty kiosks and mobile applications that do fun stuff with people and their photos," Macdonald said. "That will all be based on new types of cameras and some of the other new products coming on the market."
Other new technologies promising to bring change to the industries include some that Macdonald's company is developing, including artificial intelligence that can expand the size of an image while actually improving resolution. Potential applications include taking a 4" by 6" image and blowing it up for a large wall canvas.
"We can take your image and not just scale it up, but actually synthesize the detail that's missing at that resolution," Macdonald said. "The results are spectacular."