ADA News – EZ Access® trademark Licensed by Assistra Technologies

MADISON, Wis. – The Wisconsin Alumni Research Foundation (WARF) has executed an exclusive license agreement with Assistra Technologies, LLC, covering a portfolio of patents and trademarks relating to disability access systems for self-service kiosks, touch screen systems, and similar devices.  The patents included in the license cover a variety of aspects of such systems and devices, such as novel methods for touch screen access for the vision impaired, tactile interfaces, and keypad designs.  The license also includes the well-known "EZ®" and "EZ Access®" trademarks, which have been in use in the market to designate systems and certifications for providing disability access to electronic device interfaces.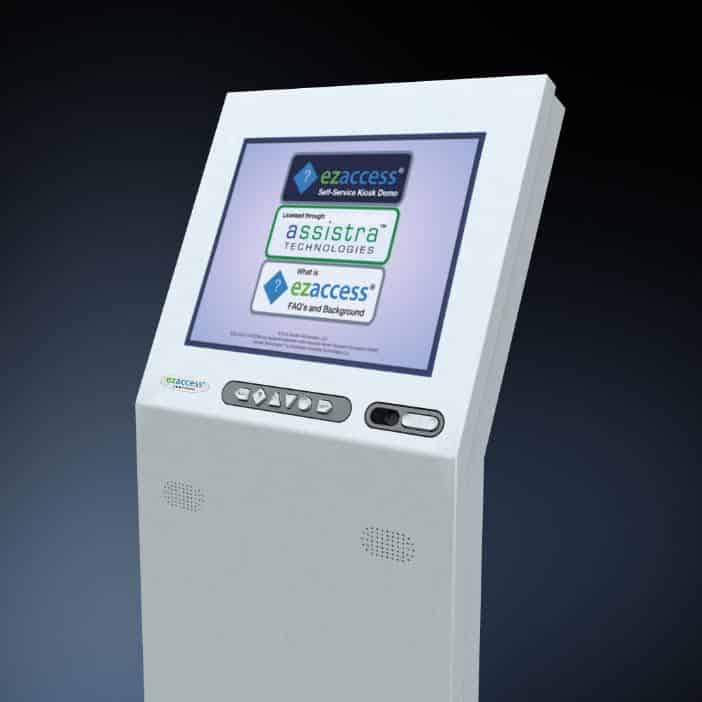 The licensed technology was developed by researchers at the University of Wisconsin-Madison's Trace Research and Development Center.  The researchers recognized that public self-service kiosks in the United States should be accessible for everyone, including individuals with disabilities such as reduced vision or other physical limitations.  Assistra's implementation of this technology, pursuant to its license with WARF, will further the Trace team's goals by helping to improve the cross disability access of self-service kiosks, including a kiosk's accessibility to people with vision, hearing, mobility and minor cognitive impairments.
EZ Access® approved hardware and technologies are currently being used by several government and public institutions, including the Department of Homeland Security for border passport kiosks; and also by Amtrak and the U.S. Post Office for self-service kiosks.  Assistra plans to expand the use of EZ Access® technology to include several major airlines.
Assistra will help ensure the quality of all EZ Access® implementations by creating a more formal certification program and by providing consulting services that will make EZ Access® technologies easier to integrate into both new and existing self-service kiosks and other public electronic devices such as voting machines.
"In many situations, people with disabilities are finding themselves in the position of needing to educate themselves about a kiosk's technology every time they approach a new self-service kiosk." says Bruce Winkler, Assistra Technologies' Managing Partner. "One of our goals with the suite of EZ Access® technologies is to strive towards consistency and simplicity, and thereby achieve maximum accessibility by those with sensory, mobility or cognitive impairment."
Winkler added, "Our implementation of the EZ Access® technologies developed by the University of Wisconsin Trace Center provides cross-disability access by combining a tactile keypad along with simple interactive techniques in ways that work together robustly and flexibly to accommodate users.  This allows more people to use the product according to their own ability, preference or circumstance.  What's more, Assistra will work with its customers to ensure that their implementations of our EZ Access® technology will be ADA and Section 508 compliant."
In addition, Assistra plans to enhance the existing EZ Access® product and service offerings by working with kiosk manufacturers to develop all-in-one self service kiosks that already implement the licensed technology, as well as software toolkits that will allow more companies and institutions to easily incorporate the licensed technology into their kiosk designs.  According to Mr. Winkler, "markets and institutions that can benefit from the licensed technology include airport and transportation kiosks, accessible voting machines for polling places, ordering kiosks at fast food chains, and wayfinding kiosks in government buildings, federal parks, and hospitals to name a few."
About WARF
The Wisconsin Alumni Research Foundation (WARF) helps steward the cycle of research, discovery, commercialization and investment for the University of Wisconsin–Madison. Founded in 1925 as an independent, nonprofit foundation, WARF manages more than 1,700 patents and an investment portfolio of $2.6 billion as it funds university research, obtains patents for campus discoveries and licenses inventions to industry. For more information, visit www.warf.org.
About Assistra Technologies LLC
Assistra Technologies LLC is a Wisconsin-based company that has been formed to operate as the sole provider of EZ Access® branded products and services, including expert services and design certifications for kiosk manufacturers and their clients to help them meet or exceed ADA guidelines and Section 508 requirements. For more information, visit www.assistratech.com.
About The UW-Trace Research & Development Center
The Trace R&D Center was formed in 1971 at the University of Wisconsin – Madison to address the communication needs of people who are nonspeaking and have severe disabilities.  The Center was an early leader and innovator in the field that came to be known as "augmentative communication" and has recently relocated to the University of Maryland. For more information, visit http://trace.umd.edu.
EZ® and EZ Access® are registered trademarks of the Wisconsin Alumni Research Foundation (WARF).
###
FOR MORE INFORMATION CONTACT:
David Williams
Assistra Technologies LLC
608-695-1531