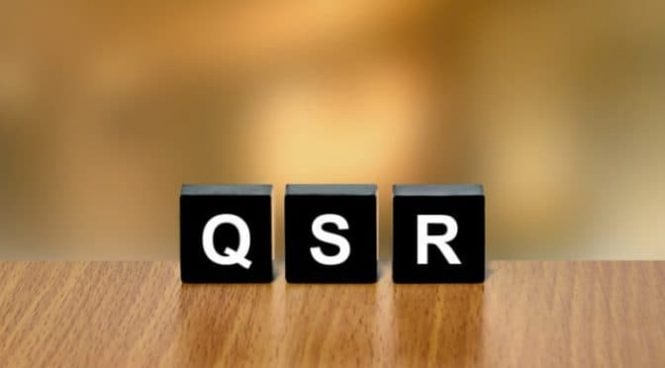 A host of new technologies are on the horizon for the QSR industry. For many of them, a self-order kiosk will serve as their foundation.
Quick-service restaurants have long had a reputation for being innovators when it comes to technology. In the early days of modern foodservice, QSRs were among the first to incorporate features such as drive-thru speaker system and cooking timers. Later, computerized point-of-sale systems and digital menu boards emerged.
More recently, it's been mobile apps, online ordering and point-of-sale systems that trigger menu boards to display promotions or remove items based on low inventory levels. Facial and AI-based response systems now generate context. Moreover, of course, one of the most significant technological trends affecting the QSR industry over the past few years has been the self-order kiosk.
Customer Data Context
However, the developments haven't stopped there. All of these trends have one feature in common: They provide operators with a firehose of data they can use to improve their operations.
McDonald's, for example, acquired software company Dynamic Yield in March for $300 million, giving it technology that will allow it to customize digital menu boards based on data including time of day, weather and current ordering trends to deliver a more personalized in-store experience. The fast-food giant also took a stake in software company Plexure in April, giving it access to a mobile platform that uses digital marketing tools to increase sales. The platform manages mobile-based promotional offers and a customer loyalty program as well as serving as the backbone of McDonald's mobile app.
Elsewhere, self-order kiosks at some locations of the South Florida-based BurgerFi chain are incorporating facial recognition technology that gives customers the option of saving previous orders along with phone numbers and facial geometry. The next time a customer visits a location, they'll be recognized by the kiosk and will be given the option to use that stored information on their current order. Other chains including Dallas-based Malibu Poke, Pasadena, Calif.-based Caliburger and Philadelphia-based Bryn & Dane's are using variations on the technology.
Drive-Thru Ordering
Because 70 percent of the revenue for a typical QSR comes via the drive-thru, it only makes sense to look there as an avenue for technological improvements. Digital menu boards have been appearing in drive-thru lanes for several years, and will likely be standard going forward. Companies including Dunkin' Brands have eyed dedicated pickup lanes for mobile orders as a way to eliminate bottlenecks, although the idea seems to be slowly gaining traction. Also, several kiosk manufacturers have introduced devices designed for the drive-thru in recent years as restaurant operators seek to duplicate the success of dining-room self-order technology. Olea Kiosks' Detroit model was an early entry into that category. Technology provider Xenial, which provided the facial recognition application for Bryn & Danes, has installed touchscreen drive-thrus in nearly 400 Subway restaurants to date. Drive-Thrus have become so popular that some countries (Canada) and US cities are looking at restricting drive-thru's.
Location-Based Customer Service
Location technology and geofencing appear to be an up-and-coming trend, with its potential demonstrated by Burger King's recent Whopper Detour promotion. Customers who participated in the promotion, which ran in mid-December 2018, could purchase a Whopper for just a penny via their mobile app, as long as they were within 600 feet of a McDonald's. Other applications for the technology include alerting restaurants when a carryout customer pulls into the parking lot, with restaurant staff then delivering that customer's order to their car.
Voice Command
And likely coming soon to a QSR near you is the same voice-ordering technology that drives the Alexa and Google Home devices in our living rooms. A voice-command POS would be a boon to labor-strapped restaurant operators who see their counter staff turn over on a near-weekly basis, while a voice-operated phone system in a pizzeria could free up staff to pitch in on the makeline. Such systems would never be rude to customers, will reduce errors compared with a live order-taker, and of course, will always remember to suggestive sell. Industry groups have already formulated frameworks for voice command concerning disability and accessibility.
Automation – The Robots have arrived.
Artificial Intelligence or AI-based systems are already being tested. Holly, made by Valyant A.I., is a disembodied voice that takes drive-through orders at a Good Times in South Denver.
The Colorado fast food chain started experimenting with conversational A.I. to lighten the load of some of its employees who often juggle multiple tasks at the same time. Rob Carpenter, the founder of Valyant A.I., said the hospitality industry needs robots right now to make up for the lack of applicants.
"In the United States, because it's such a tight labor market, there's somewhere in the neighborhood of 800,000 unfilled positions," Carpenter said.

Self-Service kiosks are driving trends
Many of these up-and-running technologies are likely to be incorporated into the self-order kiosks that have been at the heart of recent restaurant trends. There are plenty of reasons why: Research conducted by financial news site PYMNTS.com found that consumers spend as much as 30 percent more at a self-order kiosk compared with other ordering methods. Self-order kiosks allow easy customization of orders, never forget to suggestive sell and eliminate the "indulgence guilt" that can occur when ordering extra-large fries or an apple pie for dessert.
Others are seeing even more significant results. Point-of-sale platform Appetize recently reported that users of its self-service solution see a 40 percent increase in order size. Appetize's Interact self-service solution offers embedded upsell functionality, and data shows that consumers are 47 percent more likely to add an item on a kiosk than when asked to do so by a cashier.
Research from ordering technology firm Tillster indicates the use of self-order kiosks will continue to grow for the foreseeable future. A 2018 Tillster study found that 54% of customers plan to place an order with a self-service kiosk within the next year, and if the line to order from a cashier is longer than five people, 75 percent of customers will choose to order from a self-service kiosk.
And although mobile apps may serve as an additional ordering channel that enhances the QSR experience, they'll never supplant self-order kiosks (despite predictions from app designers). Although there may be some among us who gravitate to mobile apps, there are too many restaurant choices and not enough space on our devices to hold apps for each one. And anyway, who wants to go through the hassle of downloading an app to place an order when there's a self-order kiosk already available? Instead, it's likely that both channels will thrive.
However, with many of these technologies built on self-order kiosks, their success will hinge on the quality of those kiosks. Olea's offering in the self-order kiosk arena, for example, is its sleek and modern Austin Freestanding Kiosk. Olea also performed custom kiosk work and purpose-built the kiosks Appetize is using to achieve its dramatic results.
The Austin works in any environment and continues Olea's mission to provide better kiosks through intelligent design. To maintain the flexible configuration capability, the Austin is engineered to accommodate an optional 15″ or 22″ All-in-One computer in either portrait or landscape as well as an EMV-approved Card Reader & Pin Pad and POS-style receipt printer.
The wide array of transactional components housed in this sleek, feature-packed kiosk makes it one of the most powerful retail solutions available on the market. Its compact footprint and rugged security complement a variety of environments for companies that seek to improve ROI and user interaction in small spaces or high traffic areas.
The adoption of new technologies is setting the stage for exciting (and profitable) times in the QSR space. Olea Kiosks stands ready to help! Feel free to call us at 800.927.8063 or email us at [email protected].
Contact Olea Kiosks today at 800.927.8063 for more information
Article reprinted from Olea.com