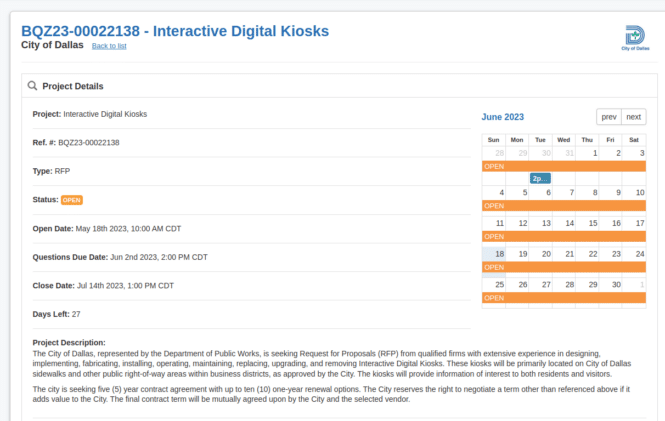 Smart City Dallas Example RFP
Part of our continuing selection process for "Anatomy of an RFP" the current smart city deployment RFP in Dallas is a good example. This RFP will be awarded in July 2023.
Docs Included:
General RFP proposal
Insurance requirements
Locations for the kiosks
Maps
Revenue model spreadsheet
MWBE Suppliers – (Minority/Women-Owned Business Enterprises)

Kiosks – 2 of them
Installation – 333 listed
Fabrication – 33 listed
Web-based training – 1 listed
Scope of Work
I.
Introduction, Purpose and Intent
The City of Dallas, represented by the Department of Public Works, is seeking Request for Proposals (RFP) from qualified firms with extensive experience in designing, implementing, fabricating, installing, operating, maintaining, replacing, upgrading, and removing Interactive Digital Kiosks. These kiosks will be primarily located on City of Dallas sidewalks and other public right-of-way areas within business districts, as approved by the City. The kiosks will provide information of interest to both residents and visitors.
The city is seeking five (5) year contract agreement with up to ten (10) one-year renewal options. The City reserves the right to negotiate a term other than referenced above if it adds value to the City. The final contract term will be mutually agreed upon by the City and the selected vendor.
II.
Pre-Proposal Meeting Schedule, Questions, and Inquiries
During the solicitation process, Proposers are required to limit their communication regarding this project to the Buyer referenced herein. A pre-bid meeting will be held by the City whereby the proposers will have an opportunity to ask the requesting department(s) questions and/or obtain clarification. The pre-bid meeting will be the only time when proposers and requesting department(s) will communicate directly, thereafter, all communication associated with this project shall be addressed to the assigned Buyer. Proposers may submit their questions
electronically through the City solicitation portal, https://xxxxxxxxxxxxxxx. All questions shall be submitted electronically. The City will respond to all questions by way of addenda which will be posted as part of the solicitation. The City, its agents, and employees shall not be responsible for any information given by way of verbal communication. The deadline for the submission of questions is 2:00 P.M. CST on June 2, 2023.
Purpose of the Project
1. Wayfinding: providing information on civic and cultural institutions, transit amenities, restaurants, retail shopping, and other businesses.
Page 32. Public transit information: providing information on transit routes and closures, public emergencies, and schedule options. The City of Dallas will appoint a liaison to work with Dallas Area Rapid Transit (DART).
3. Public information and emergency messaging (Public Service Announcements): serving as a central dissemination point for public information to enable real-time posting of City communications.
4. Enhancing visitor experience and brand perception of Dallas: advancing Dallas' image as a Smart and Innovative City by assisting residents and visitors with information dissemination specific to the area they are located in.
5. Support and complement the City's public-facing, Smart City infrastructure, which would allow for the deployment of other technologies (such as free public Wi-Fi, Electric Vehicle (EV) charging stations, environmental sensors, public safety cameras, pedestrian counters, panic buttons, etc.).
6. Creating a supportive environment for retail and entertainment commerce, furthering economic development within communities citywide in accordance with local features, as well as inclusive marketing and interactive opportunities for all types of users.
7. Accessibility, usability, and inclusion, creating a welcoming and inclusive technology for our community at large with opportunities free of accessibility limitations via ADA compliance measures and language barrier options.
8. Increasing vibrancy and visual interest of City streets: promoting placemaking in Dallas through City events and programming.
Kiosk ADA Requirements
Kiosks must be accessible to persons with disabilities and adhere to the Americans with Disabilities Act of 1990 ("ADA") and other relevant legal requirements, including but not limited to visually and/or hearing impaired.   [good example of knowing they need to say something, not knowing exactly what to say, so they say these generalized fuzzy expectations]
Environmental Conditions
Nothing specified though it is critical
Advertising Guidelines
Kiosk advertising may not be displayed pursuant to this RFP if its content:
1. Promotes or relates to any sexually oriented business, as that term is defined in Chapter 41A, Dallas City Code, as amended;
2. Promotes or relates to illegal goods, services, or activities;
3. Contains obscenities or other forms of speech or expressions not protected by the Constitution of the United States or the Texas Constitution;
4. Contains false, deceptive, or misleading images, copy, concepts, information, or has been otherwise found to create or constitute a deceptive trade practice under the Texas Business and Commerce Code, as amended;
5. Contains or uses any logo or mark of any nature that substantially resembles or copies
a City of Dallas official logo, registered trademark, or registered trademark without the express written permission of the City Manager;
6. Contains images, copy, concepts, or other information that actively denigrate or disparage an individual or group on the basis of race, ethnicity, religion, gender, disability, national origin, ancestry, or sexual orientation;
7. Contains images, copy, concepts, or other information that are libelous, that misappropriate a person's image or likeness, that infringe on an existing U.S. copyright or patent, or violate an individual's rights of privacy under State or Federal law; or 8. Contains images, copy, concepts, or other information that would be deemed by a significant segment of the public, under the prevailing community standards in the City of Dallas, to be patently offensive, improper, or in bad taste;
9. The City reserves the right to unilaterally amend or revise the foregoing advertising conditions as it deems necessary and as social norms within the City community may dictate.
Notes and Contact Information
Power and available bandwidth (internet) are critical for outdoor like this. Sidewalks and curbing bring to mind ABA. Still, we have seen worse examples.
If you are a city or similar and are interested in getting an actual copy of the Dallas RFP (or any number of other smart city RFPs of which there are many), then send an email to [email protected] requesting the Dallas Smart City rfp.
City Presentation
Here is the powerpoint the City presented. We read this later after our initial post and interesting how it echoes what we "schematized"
Smart city dallas 14-AddendumNo.1-Pre-ProposalMeetingPresentation
---
More Posts