HMSHost kiosk ordering in Quick Service Restaurants Roll Out
QikServe kiosk solution deployed in more than 50 highway and airport restaurants
 BETHESDA, MD – Meeting the needs of busy travelers, global restaurateur HMSHost continues to innovate the restaurant industry with expanded service format options, offering self-order kiosks in quick service restaurants it operates in airports and highway travel plazas across North America. This modern ordering and payment amenity is now available across a variety of HMSHost quick service restaurants in over 50 airports and travel plazas and will be deployed in approximately 100 locations by the end of 2019. The innovative kiosk solution utilizes the QikServe self-service platform and is seamlessly integrated with HMSHost's point-of-sale system.
Kiosk ordering in these restaurants serves travelers using QikServe's enterprise platform, allowing guests to browse the menu and make selections, order, and pay via an intuitive digital interface. The ordering process also includes a range of cross-selling and up-selling options that offer guests more options to add to their meal. The kiosks have already demonstrated a typical increase in average transaction value of around 20%.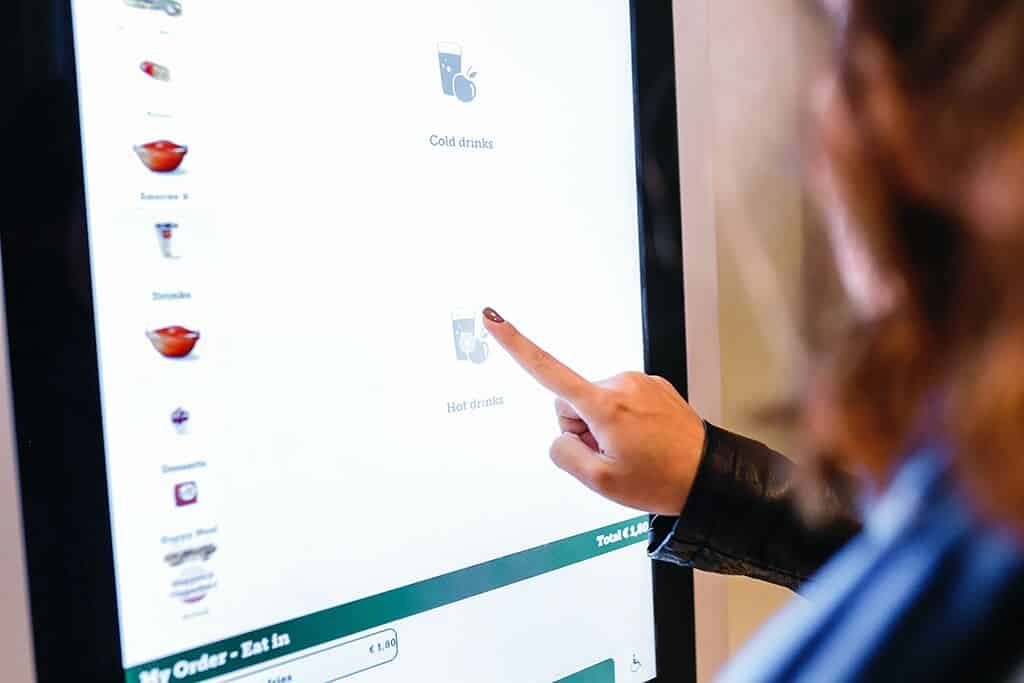 "Since deploying the QikServe kiosk solution, we have seen a significant improvement in overall guest satisfaction," said James Schmitz, Vice President of Innovation at HMSHost. "We are confident that technology solutions like kiosk ordering are transforming the food industry. By introducing these innovations in travel venues, HMSHost is exposing people from all over the world to the technology-driven future of dining out."
Self-order kiosks improve the guest experience for travelers by helping combat long lines and providing more flexible levels of interaction when placing an order. Guests have more time to browse the menu with kiosk ordering, often leading to the discovery of new favorites and greater sales. The platform also helps during times of high customer volume, common in travel venues.
"We are thrilled to be working with a world leader like HMSHost to revolutionize the ordering process at its restaurants across North America," said Daniel Rodgers, Founder & CEO, QikServe. "I am delighted that we are delivering value for HMSHost while also bringing convenience to the traveler experience. This is a fantastic demonstration of how our integrated platform provides the flexibility to deliver a wide range of digital self-service experiences across the hospitality industry."
Exposure to broad audiences will play a role in revolutionizing the restaurant industry as HMSHost continues to launch innovations like the QikServe-powered kiosks in more of its restaurants. The companies are also working together on self-service solutions beyond kiosks. These technology solutions are impacting the restaurant industry, giving guests convenient options to order exactly what they want and giving restaurants improved satisfaction levels and stronger overall results.
HMSHost Leading the Industry
HMSHost is recognized by the industry as the top provider of travel dining with awards such as 2018 Best Overall Food & Beverage Operator (for the eleventh consecutive year) by Airport Revenue News. USA Today 10Best Readers' Choice Travel Awards recognized HMSHost's Summer House Santa Monica at Chicago O'Hare International Airport as Best Airport Bar / Restaurant Atmosphere. HMSHost is a leader in sustainability practices which include plans to eliminate conventional plastic straw use by 2020. The company also creates original award-winning events like Airport Restaurant Month, Channel Your Inner Chef live culinary contest, and the Adrian Awards Gold winning campaigns, #HMSHostLove and Eat Well. Travel Further.
About HMSHost
Global restaurateur HMSHost is a world leader in creating dining for travel venues. HMSHost operates in more than 120 airports around the globe and at more than 100 travel plazas in North America. The company has annual sales of nearly $3.3 billion and employs more than 41,000 associates worldwide. HMSHost is a part of Autogrill Group, the world's leading provider of food & beverage services for people on the move. With sales of €4.6 billion in 2017, the group operates in 31 countries and employs over 58,000 people. It manages approximately 4,000 stores in about 1,000 locations worldwide.
Visit HMSHost.com for more information and connect with HMSHost on Facebook, Twitter and Instagram.
About QikServe
QikServe is the enterprise platform for guest self-service in hospitality. Using any channel from kiosks and tablets to web and mobile apps, hospitality operators can provide powerful in-store solutions from ordering to payment, giving guests the convenience to order and pay for their food and drinks whenever and however they want. www.qikserve.com
###
Case study on HMSHost's kiosk ordering implementation: https://www.qikserve.com/hmshost-case-study 
 Download photos: https://goo.gl/VtL4Vo  
HMSHost Media Contact:
Sean Matthews
(240) 694-4290
QikServe Media Contact:
Danny Sullivan
+44 772 497 4255