TSItouch has officially received a patent for the Glass Retention Bezel System (GRBS). As of June 6 th , 2017, Patent #9,671,824 was issued to TSItouch LLC for the video wall monitor protective glass solution.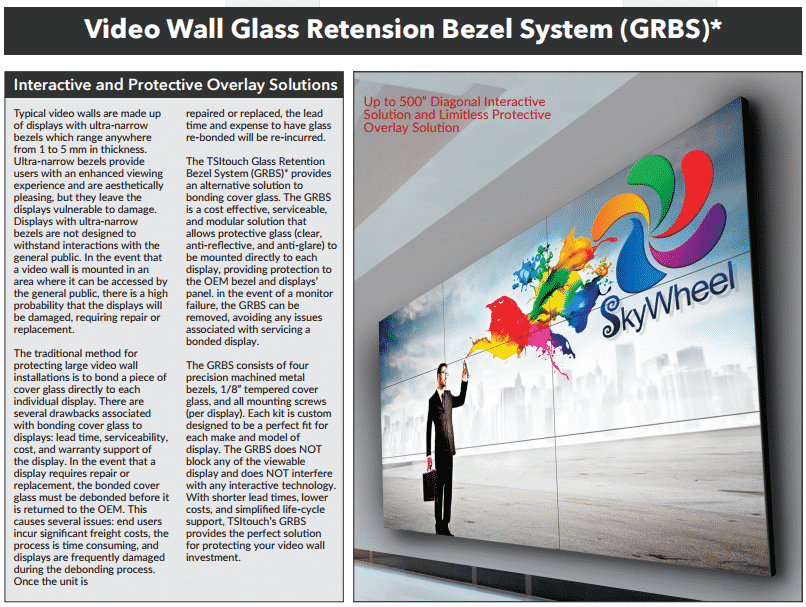 The TSItouch GRBS provides an alternative solution to bonding cover glass. The GRBS is a cost effective, serviceable, and modular solution that allows protective glass (clear, anti-reflective, and anti-glare) to be mounted directly to each video wall display, providing protection to the OEM bezel and displays' panel. In the event of a monitor
failure, the GRBS can be removed, avoiding any issues associated with servicing a bonded display.
Learn more about the patented protective glass system via the GRBS data sheet:
Visit here  to view a video illustrating the protective strength of the Glass Retention Bezel System.
For quotes and more information on this product, please contact our sales team:
[email protected]
802-874-0123
TSItouch is a veteran owned small business located in Uniontown, Pennsylvania. The ompany was established in 1989 as a division within a defense contracting company
and re-established as an independent company in 2011. TSItouch is a manufacturer of touch screen and protective solutions for commercial grade displays and video walls.
For more information, visit http://tsitouch.com/
###