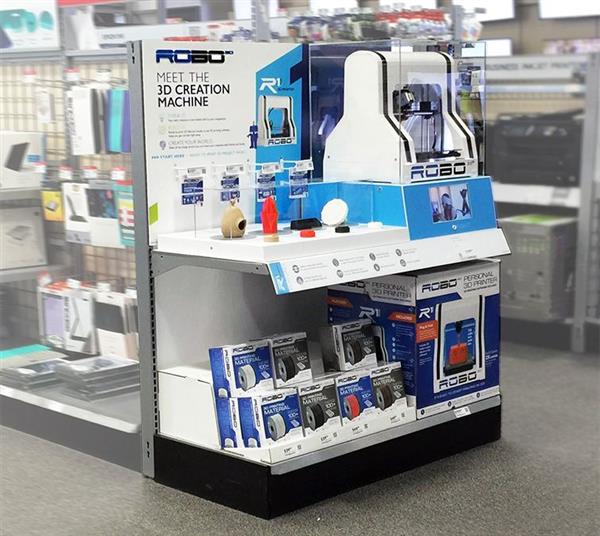 Nov 11, 2015 | By Kira  —  LINK TO ARTICLE
Though we've recently seen some major retail names including Staples and Lowe's enter the 3D printing consumer market, it's clear that they were just at the forefront of a massive global movement. Next in line to make the consumer 3D printing leap is electronics giant Best Buy, who today introduced specially-made kiosks showcasing ROBO 3D products at select retail locations.
The kiosks were designed as a partnership between kiosk manufacturer Frank Mayer and Associates Inc and ROBO 3D. They include a 3D printer, several 3D printed objects, as well as an interactive video that educates customers on the 3D printing process. The ROBO 3D printer and filaments on display will be available for consumers to purchase.
Makers of the R1 +Plus desktop 3D printer, ROBO 3D was apparently looking for an eye-catching way to break the retail barrier, one that would display their product options, introduce consumers to the still-burgeoning technology, and be achievable on a very short timeline. Luckily, they were able to gain premier endcap placement at select Best Buy stores to bring their vision to reality (in retail marketing, endcap displays are placed at the end of an aisle, and are generally perceived to give the brand a competitive advantage since they are visually appealing, high-traffic areas).
"We had to pull together this endcap display and experience in a short period of time and Frank Mayer and Associates, Inc. was able to work with us extensively to make it happen" said Braydon Moreno, CEO of ROBO 3D. "The vision of the endcap came to life based on our ideas and working with their team was truly seamless."
Frank Mayer and Associates, based in Wisconsin, is an industry leader in creative design and manufacturing of branded in-store merchandising displays, interactive kiosks and store fixtures.
The presence of these eye-catching and shopper-friendly 3D printing displays at such a widely-known electronics retailer as Best Buy is particularly promising for companies such as ROBO 3D, as it gives them the ability to reach a much wider range of potential consumers who may not yet be familiar with the technology. Though it has not yet been revealed whether the kiosks will eventually expand into more Best Buy locations, they are nevertheless a great way to introduce shoppers to the power of personal 3D printing.