YVR's Innovative Travel Solutions and Glidepath deliver world's most efficient self-service bag drop system
CHECKITXPRESS system will improve the speed and ease of passenger and bag movement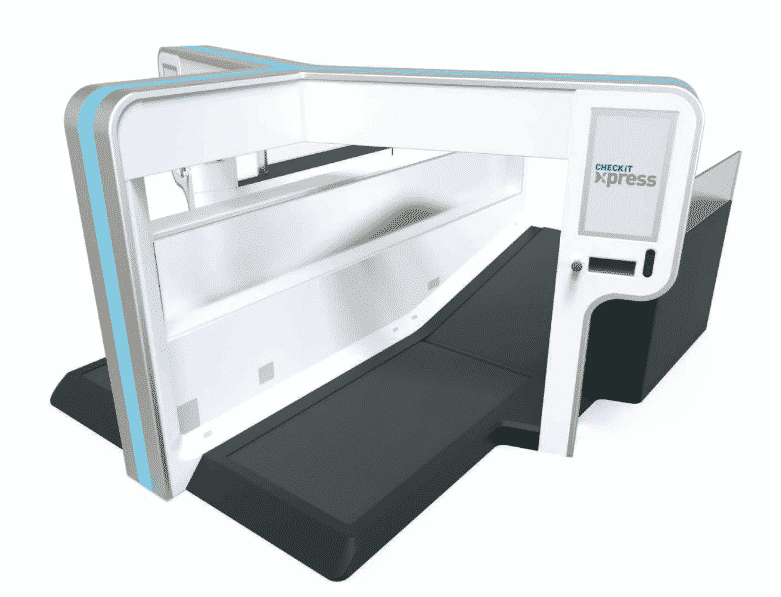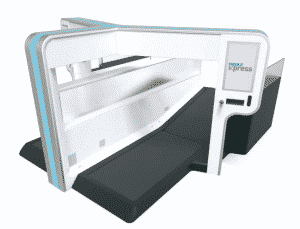 Richmond, B.C., May 18, 2018: Today, Vancouver International Airport's (YVR) Innovative Travel Solutions (ITS) and Glidepath, one of the world's leaders in airport baggage handling, celebrated the installation of the first CHECKITXPRESS self-bag drop unit at YVR.  CHECKITXPRESS is the world's most accessible, efficient and intuitive self-service bag drop on the market, improving ease of use for travellers regardless of age, digital fluency, language or mobility. The collaboration between a Canadian airport and a New Zealand Baggage Handling Solutions company brought together two leaders in airport innovation.
The reveal of CHECKITXPRESS at YVR comes at a time when the airport – recently named Best Airport in North America for the ninth consecutive year – is experiencing unprecedented growth. YVR anticipates it will serve 29 million passengers by 2020 by becoming a hub with a diverse global network. Innovative technologies such as CHECKITXPRESS will enable YVR to support this growth by improving the speed and ease of passenger and bag movement while delivering an outstanding customer experience.
Glidepath and ITS applied ergonomic design principles by lowering the profile of the conveyor to four inches (10 centimetres) off the floor and creating durable ramps to wheel bags onto the conveyor. This allows CHECKITXPRESS to be accessible from multiple sides, offering a user-friendly bag-drop for all travellers. This industry first ultimately creates a more seamless and enjoyable travel experience for everyone.
CHECKITXPRESS also takes up less space in airport terminals and helps alleviate congestion in the bag drop area. Airports benefit by avoiding costly terminal expansions and saving valuable space for other airport features, amenities and procedures which ultimately helps increase overall competitiveness.
"We strive to deliver an outstanding experience for every traveller that comes through YVR," says Craig Richmond, President and CEO, Vancouver Airport Authority. "This is an exciting time for us and offering solutions that are more accessible, efficient and intuitive enables us to prioritize speed and ease of movement for everyone, which improves overall traveller satisfaction. We're excited to be launching CHECKITXPRESS at YVR today as a major step forward in becoming a world class sustainable hub airport."
Through its innovative camera technology and superior first-time read-rates on baggage, CHECKITXPRESS has achieved some of the quickest customer processing times in the industry. In fact, CHECKITXPRESS boasts first-time read-rates of greater than 90 per cent and the average processing time is eight seconds with no agent intervention or assistance required. By expediting the bag-drop process, CHECKITXPRESS offers a cost-effective solution to reducing passenger wait times, while taking pressure off essential airport personnel.
"Glidepath is proud to partner with North America's best airport on this major milestone for our industry," says Sir Ken Stevens, Chairman of Glidepath. "The holistic collaboration allowed us to create a truly unique product designed for the airport of the future."
With the installation of the first CHECKITXPRESS at YVR, ITS and Glidepath will roll out more units in the airport over the course of the year. The team is also planning to expand CHECKITXPRESS to other airports around the world.
"As passenger numbers continue to increase, the need for innovative approaches to solve global processing challenges is profound," says Chris Gilliland, Director of ITS, Vancouver Airport Authority. "Our partnership with Glidepath, an industry leader with extensive expertise in baggage handling systems, allows our team at ITS to provide a solution that we know will improve the travelling experience at not only YVR, but airports around the world."
CHECKITXPRESS follows the success of BORDERXPRESS, the world's first self-service border control solution that accepts all passports and doesn't require pre-registration or fees. It automates the administrative functions of border control with a two-step process that makes it faster and more efficient. With more than 1,300 kiosks in 39 airport and sea ports, BORDERXPRESS has processed over 160 million passengers globally, and reduced passenger wait times by more than 50 per cent.
By implementing automation and technology, airports open the door for better passenger experiences.CHECKITXPRESS offers a world-class product customizable to meet the needs of all airports, globally, while meeting the highest levels of security.
-YVR-
About Vancouver Airport Authority
Vancouver Airport Authority is a community-based, not-for-profit organization that manages Vancouver International Airport (YVR). Canada's second busiest airport, YVR served 24.2 million passengers in 2017. Fifty-six airlines serve YVR, connecting people and businesses to more than 127 non-stop destinations worldwide. In 2016, YVR received CAPA Centre for Aviation's prestigious Airport of the Year Award and was voted Best Airport in North America for the ninth consecutive year in the Skytrax World Airport Awards in 2018. Vancouver Airport Authority is a dedicated community partner and in 2017 donated more than $1,000,000 to local organizations. We are committed to creating an airport that British Columbia can be proud of: a premier global gateway, local economic generator and community contributor.
www.yvr.ca
About YVR Innovative Travel Solutions
Innovative Travel Solutions (ITS) is the innovation team at Vancouver International Airport (YVR), voted North America's Best Airport for nine straight years by Skytrax World Airport Awards. In 2009, the innovation team implemented BORDERXPRESS at Vancouver International Airport and soon discovered that other airports and governments might also want the ability to reduce wait times and increase their international arrives traffic without having to add additional space or staffing resources. YVR has now sold over 1,300 kiosks to 39 airport and seaport locations worldwide, processing more than 160 million passengers – more than any other automated passport control provider. With more than 10 years of experience in kiosk design, user experience, layout and flow analysis, the ITS team has set their sights on the next innovation in the evolution of the passenger experience. YVR's ITS team is proud to bring their innate understanding of airports to this collaboration with Glidepath on CHECKITXPRESS, the next innovation to improve the passenger experience for airports around the world.
yvr.ca/inv
 About Glidepath
With over 45 years' industry experience and 800+ projects completed in over 65 countries, Glidepath has become a leading expert in the challenging nature of operational baggage handling systems. Glidepath design and manufacture a complete range of baggage handling and sorting systems for airports of every size, from small regional centres to large international hubs but our real skill lies in the ability to integrate extensions and enhancements to baggage handling systems without compromising the operations of the airport. A "value engineered" approach has led to the development of flexible modular designs that can be customized to suite current and future needs and Glidepath's sophisticated control technology allows automation to any degree.
glidepathgroup.com
For further information:              
YVR Media Relations                                                                     Innovative Travel Solutions
604.880.9815; [email protected]                                 www.yvr.ca/inv               
Twitter: @yvrairport                                                                       [email protected]                         

Glidepath
www.glidepathgroup.com