We track VR and AR and here is some of the recent news.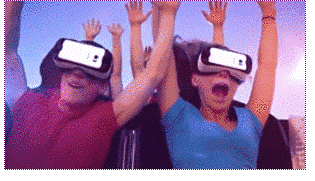 Walt Disney Co. CEO Bob Iger has no interest in using VR headsets at the company's theme parks. This is a response to rival theme parks, like Six Flags and SeaWorld, integrating VR headsets to rides. Instead, Iger is open to using AR technology on rides and attractions. Disney's CEO also said that he makes a weekly trip to the company's engineering lab, where he wears a head-worn device that enables him to hold a light saber and duel with a storm trooper. This could be a reference to Disney's partnership with VR startup Magic Leap. — LAT
​Facebook could be working on an AR product. The social media giant assembled a roster of tech veterans last year to lead its hardware group, Building 8. Business Insider has learned that the team has been working on augmented reality, cameras and brain scanning technology. Although Facebook has no experience in selling hardware, the moves indicate they may be ready to take on the new and ambitious effort.— BI
​According to research from Frank N. Magid Associates, 89% of VR headset buyers said they were "satisfied" or "very satisfied" with the product. When asked about their willingness to recommend a VR product to family and friends, 81% said they would. 90% of buyers found their device easy or very easy to use and 85% believed their headset purchase was a good value. In terms of the content being viewed on the headset, 72% said they watch non-gaming content on their headset, which outpaced 63% of users who play games on their headset. — DEALERSCOPE
Gorillaz have released a VR music video in anticipation of their new album, Humanz. Directed by Jamie Hewlett, "Saturnz Barz," is a six-minute VR short film that follows the British virtual band on a journey through space. Viewers can also hear snippets of yet-to-be-released tracks from the album, set to release April 28. The video can be viewed through YouTube's VR app. — UPLOADVR
Some museums in the U.S. are adding VR exhibits to attract more visitors. For instance, the Natural History Museum of Los Angeles County has added theBlu, a VR experience that lets visitors explore the virtual ocean. Wevr, the VR company behind the exhibit, loaned the computers and equipment to the museum. "We think that out of home venues such as museums are a terrific space for the public to have their first experience in virtual reality," Wevr CEO Neville Spiteri told Marketplace. — MARKETPLACE
NCAA March Madness will be available for viewing in VR. Starting with the "Sweet 16" game series, Samsung Gear VR users can download the NCAA March Madness Live VR app to watch the tournament in VR. The app is available for free from the Oculus store, but will cost $2.99 to watch one game, or $7.99 to watch six games. The VR coverage includes arena sounds, multiple court side cameras and VR-specific commentary. — NEW ATLAS
Apple has introduced Clips, a new iOS app that allows users to add filters, text and graphics to photos and video. Some have speculated that the app could serve as a launchpad for the tech giant to test new AR features. Clips works very similar to mashup between iMovie and Snapchat, allowing users to add filters, basic text and contextual elements to video. Unlike Snapchat, users can edit videos of up to 60 minutes. Video clips can be exported to share via iMessage or to social media platforms. The app will be available for free and will be released in April. — THE VERGE
​The Metro Atlanta Chamber of Commerce used VR at SXSW to recruit candidates to work at tech firms in the city. Hundreds of potential employees experienced the sights and sounds of Atlanta through a VR headset. "Virtual reality is a great way to actually transport somebody from the other side of the country to your headquarters here to see what it's like to work here," said Dave Beck, co-founder of Atlanta-based VR firm Foundry 45,  who was recruiting candidates at the conference. — WABE 90.1
​Apollo Box is opening up its AR product visualization technology to all brands interested in selling through its platform. The Santa Clara, Calif.-based startup believes AR can encourage online shopping. Since testing its beta of the product, Apollo Box has sold 1,105 items involving the use of AR. Only 65 products are available for sale on the marketplace through AR, but company co-founder Will Li believes that number will grow. "We believe more brands will work with us after this public launch, and we hope to reach 25 percent of our growing inventory in the next six months," he told TechCrunch. — TECHCRUNCH
​VR is finally getting to be good. I saw some stunning VR on the road, but it's not enough. In talking with Mark Cuban he said something deep: until we stop getting only mind-blowing demos and games it won't really go mainstream (he says someday soon we'll use it to watch boring stuff, not just the amazing games and demo reel stuff that so far has mostly shipped). I say it won't do that until phones can do six-degrees of freedom VR. Then you'll see people use it for a wide variety of things, most important being personal media viewing. I'm advising a new company, Inception VR, that is aimed at exactly what Cuban is talking about.
 Watch for car companies to start figuring out they have important pieces (brand, stores, and SLAM maps) for mixed reality glasses too. Lots of deals will happen over the next year or two on that front.
​Disney has developed software that allows users to interact with real objects while immersed in VR. The company's research team released a video demonstration showing someone immersed in VR accurately catching a real ball thrown at him. While the VR headset wearer cannot see the real ball, he is responding to a virtual ball being tracked to the physical object. The new system relies on a high-speed motion capture camera called OptiTrack Flex 13, which was previously used by a quadriplegic to drive a race car using subtle head movements. — NEW ATLAS
Some Lowe's stores are testing out an AR app that helps shoppers find products on your list faster. The app is powered by Google Tango, an indoor-mapping technology that uses special cameras to sense depth in 3D space. This technology can measure objects, map a room and see virtual objects in the real world with AR. The app guides shoppers throughout the store with text and image overlays on their smartphones. Currently, only the Lenovo Phab 2 Pro works with Google Tango, but more Tango-enabled devices are on the way. — CNET
A new AR experience from Pottery Barn allows shoppers to see how a product looks in their home before they buy. The retailer teamed up with Google to create 3D Room View. The app allows shoppers to pick items from an online catalog and use their smartphone cameras to overlay the product into their home. The app is also powered by Google Tango and is only available on Tango-enabled devices. — SF CHRONICLE
​SVVR 2017: Silicon Valley VR Expo: March 29-31st
Universal Music Group has signed a deal with MelodyVR to create and distribute content with UMG's roster of artists. The companies will share revenue generated from the content, as it will exclusively be available on MelodyVR's upcoming app. The VR company will have the rights to the content for an unspecified amount of time before it is opened up to both parties to distribute and monetize on their own channels. The company has also struck a similar deal with Warner Music Group. MelodyVR specializes in creating VR live-music experiences. — BILLBOARD
​AccuWeather's new VR experience lets viewers see forecasts in virtual reality. The app, available for the Samsung Gear VR, provides immersive weather news, innovative forecasts and 360-degree video of severe weather events. New videos will be added to the app weekly. The app is now available through the Oculus Store. — ENGADGET ​
The Washington Post will begin regularly using augmented reality to add another dimension to its reporting. The Post previously used AR to augment its reporting in 2015 to illustrate the lead-up to Freddie Gray's arrest and death in Baltimore, but at the time readers needed to download a dedicated app to access the content. The newspaper's new AR campaign will involve capabilities that have since been built into the Post's two content-providing apps. The paper will launch one AR experience this spring for a series by art and architecture critic Philip Kennicott. At this point, the plan is for the post to dole out an additional AR story once time per quarter. Joey Marburger, the newspaper's director of product, says, "We're still very skeptical about AR as well, but… everyone's got an AR device in their pocket. That's potential scale there." – DIGIDAY
Six Flags New England is adding virtual reality to its Mind Eraser roller coaster, calling it "the world's first mixed reality experience on a VR coaster." A ride on the existing Mind Eraser coaster now offers the option of an additional "Galactic Attack" experience, which riders can access via Gear VR headsets. The headsets offer pass-through camera functionality, meaning riders can see their VR content as well as their actual surroundings. – MASSLIVE
​General Electric found that augmented reality improves worker performance. AR smart glasses are being introduced in manufacturing, warehousing and field service environments, which can be used to overlay information for training purposes. In a study, GE found that a technician wiring a wind turbine's control box using an AR headset for instructions was 34% more productive than one using a paper-based manual. GE also found warehouse workers receiving a new picklist order through AR completed the task 46% faster than those using the standard process. The company believes that AR technology will be instrumental in closing the skill gap that is responsible for the shortage of skilled manufacturing workers. — HBR

Oculus has cut prices on the Rift and the Touch Controller. Under the reduced pricing, the Rift and Touch combination is available for $598, amounting to $100 off each piece of VR hardware. The discount also applies to each device if purchased separately. Brendan Iribe, head of the Oculus group, has denied that the price cut is a response to slow sales: "VR is a whole new platform and medium, it's the first time people are putting a computer on their head. We are cutting the price to bring VR to more people, and that's always been our goal." Earlier this week, Oculus announced eight new game titles. (HTC has announced it will not be matching Oculus' price cut for their Vive headset.). – USAT

Google will make more VR content available through its Chrome browser via an update featuring WebVR technology. As part of a blog post Google published yesterday, the company announced that Chrome will now support WebVR tech, which enables online VRexperiences and is backed by many tech industry giants, like Firefox, Samsung, and Facebook. The add to Chrome boosts WebVR's profile and greatly expands the platform VRdesigners have to display their creations. Those with access to a Daydream-ready smartphone or a Daydream View headset will find it is "as easy to step inside Air Force One as it is to access your favorite webpage," according to Google. – MASHABLE

​Best Buy and Oculus are closing nearly half of their Oculus Rift pop-up demo stations, reportedly due to slow performance. The installations let interested shoppers try out high-end VR for free, but they reportedly went days without anyone requesting a demo, according to employees. They also said some locations would sell only a few headsets per week during the holidays, and interest quickly declined after that. An Oculus spokesperson said the closures were due to "seasonal change" and noted that other retail outlets like Microsoft stores still offer demonstrations. – VERGE