Panasonic Pyramid Retail kiosks complement Panasonic's existing Point of Sales
BRACKNELL, UK. 19th FEBRUARY 2018
Panasonic today announced that it will offer Pyramid Computer GmbH's leading polytouch® 32 passport interactive touch screen kiosks as part of its range of solutions to address the challenge of the new omni-channel retail era. Pyramid's fully customised solutions, including comprehensive logistical and service support, will complement Panasonic's existing range of retail point of sale solutions and rugged tablet and handheld devices.
Pyramid's polytouch® 32 passport range of interactive kiosk solutions can be used for a variety of application areas such as product presentations, self-checkouts and information terminals. The modularity and flexible design of the devices, with the best in touch technology, makes them an ideal complement for Panasonic's range of retail POS and Toughpad tablet and handheld devices.
Robert Blowers, General Manager of Engineering and Project Management at Panasonic Computer Product Solutions Europe said: "With customers rapidly changing their buyer behaviour to use multiple shopping channels during purchases, including traditional stores, mobile devices, online and the growing trend in self-service, new technology solutions are required to facilitate this omni-channel retail era. The combination of Toughbook mobile devices and POS solutions, along with the complimentary products from Pyramid enables retailers to deliver customers and staff an effective, easy-to-use and consistent technology experience whether its taking orders on the move, serving at a till or self-serving at a kiosk in store."
Graeme Derby, UK Country Manager for Pyramid Computer, added: "We share a design and service philosophy with Panasonic that make us ideal business solution partners. We too have designed and engineered our products to provide business customers with the flexibility to exactly match their needs. For example, our solutions can be tailored to include options such as payment systems, label and ticket printers, bar code scanners and fingerprint readers."
Alongside the retail industry, Panasonic and Pyramid also see business opportunities for their solutions for customers in the hospitality, post / logistics, health and aviation industries with the increasing need for self-service check-in and check-out systems and ticketing solutions.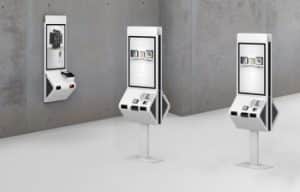 Re-thinking retail
Panasonic's rugged Toughpad tablets and point-of-sale (POS) workstations take multifunctional performance way beyond that of standard consumer devices. Their ability to perform in every environment – in store or dining areas, outdoors and in warehouses – makes them the perfect tool for work in all retail applications.
Critically, they help retailers deliver the omni-channel customer experience that sets successful businesses apart today. Panasonic equips retail managers and staff with reliable and tailored devices with high-visibility displays that are ideal for order taking. The variety of tablet and handheld devices enable retail staff access to real-time information, allowing them to provide customers with in-depth product details and to maximise upsell opportunities at the point of service. The rugged form factors mean the devices are sturdy but lightweight and mobile enough for store operations and warehouse usage. The long battery life and integrated barcode readers and payment systems, along with full Windows OS, mean retailers can manage multiple applications from a single device.
For further information on the Panasonic Toughbook range of mobile computing solutions visit: http://business.panasonic.co.uk/computer-product/solutions-data/retail/toughbook
Press contact:
Michael Bartley
The Amber Group
[email protected]
+44 (0)118 949 7750
About Panasonic System Communications Company Europe (PSCEU)
Panasonic System Communications Company Europe's (PSCEU) goal is to improve the working lives of business professionals and help their organisations' efficiency and performance through world leading technology. We help organisations capture, compute and communicate all sorts of information: image, voice, and textual data. With around 350 staff, engineering design expertise, global project management capability and a large European partner network, PSCEU offers unrivalled capability in its markets.
PSCEU is made up of six product categories:
Broadcast & ProAV offers high quality products and solutions to ensure smooth operation and excellent cost-performance to end-users in the areas of remote camera solutions, switchers, studio camera solutions and ENG P2. The VariCam line-up of professional digital video cameras are capable of true 4K and High Dynamic Range (HDR) which makes them the ideal solution for cinema, television, documentary and live event production.
Communication Solutions offer world leading communication solutions including professional scanners, telephony systems and SIP terminal devices.
Computer Product Solutions help mobile workers improve productivity with its range of Toughbook rugged notebooks, Toughpad business tablets and electronic point of sales (EPOS) systems. As European market leaders, Panasonic Toughbook had a 67% revenue share of sales of rugged and durable notebooks and Panasonic Toughpad held a 56% revenue share of sales of rugged business tablets in 2016 (VDC Research, March 2017).
Industrial Medical Vision provides applications for various segments such as medical, life science, ProAV or industrial. The product portfolio includes complete and OEM micro camera solutions. End-users, system integrators or distributors can choose from a range of full product solutions and component vision technology.
Security Solutions, including video surveillance cameras and recorders, video intercom systems and intruder alarms.
Visual System Solutions, including projectors and professional displays. Panasonic offers the widest range of Visual products, and leads the European high brightness projector market with a 37.20% market revenue share (Futuresource >5klm (FY16 April 2015 – March 2016, excl. 4K & digital cinema).
About Panasonic
Panasonic Corporation is a worldwide leader in the development of diverse electronics technologies and solutions for customers in the consumer electronics, housing, automotive, and B2B businesses. Celebrating its 100th anniversary in 2018, the company has expanded globally and now operates 495 subsidiaries and 91 associated companies worldwide, recording consolidated net sales of Euro 61.711 billion for the year ended March 31, 2017.
Committed to pursuing new value through innovation across divisional lines, the company uses its technologies to create a better life and a better world for its customers. To learn more about Panasonic: http://www.panasonic.com/global