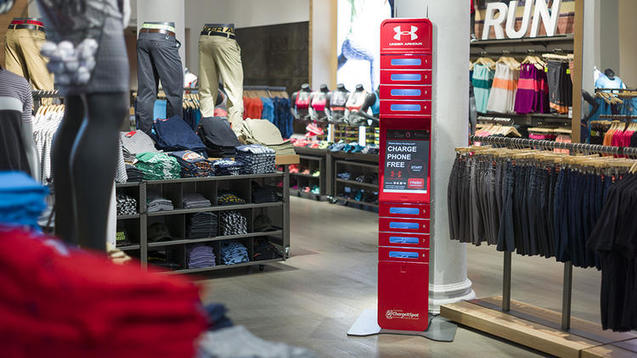 Charging Kiosk News

Under Armour is not in the phone charging business. Rather, the company has teamed with ChargeItSpot to provide kiosks where shoppers at Under Armour's  Brand House stores, including in Baltimore, can store and charge their phones for free while shopping.

ChargeitSpot says it provides charging stations for retail stores, casinos, hospitals, malls, stadiums and other venues. The arrangement was confirmed by Under Armour.

The bright-red kiosks  in Under Armour stores depict the company's logo.

Each kiosk contains eight charging compartments.  Shoppers enter their phone numbers and charge the device while shopping, then retrieve it by entering the phone number again.

Philadelphia-based ChargeItSpot offers a mobile app that can alert users when their phone battery is running low.
Source: www.baltimoresun.com