All About PLATO
The birth of an industry
Insider Note: The beginnings of the kiosk industry periodically come up for debate. The writers of the world seems to all have the same preoccupation with "who's first". This is the argument for Plato,  which was a school project basically and never "rolled out" to the public.  Back then technology often started in the universities but the bigger question was how much of that actually was commercialized.  In the kiosk world with kiosk people you are talking Florsheim or really Minitel and the French.  We've always shortchanged the French (except their cooking…).
Although touchscreen kiosks are nearly ubiquitous today, it wasn't that long ago that the technology was virtually unheard of.  And while it may be difficult to pin the title of "Father of the Interactive Kiosk" on any one person, there is someone who can lay legitimate claim to the title.
In 1973, before he was a doctor, entrepreneur and pioneer in the field of workplace drug testing, Murray Lappe was a pre-med student at the University of Illinois in Urbana-Champaign. Science fiction fans will recognize UIUC as the birthplace of HAL, the emotionally disturbed computer from 2001: A Space Odyssey. In the 1970s, Illinois was a hotbed of computing, with companies including Netscape and game maker subLOGIC having their roots in the university.
As a junior high and high school student in the Evanston School District in the suburbs of Chicago in the late 1960s and early 1970s, Lappe had taken classes in Fortran, writing programs using the punch cards that were the building blocks of coding in those days. So as a college student, it was an easy transition to the Programmed Logic for Automatic Teaching Operations, or PLATO, computer-assisted instruction system. PLATO operated on the university's ILLIAC I computer, providing computer-based learning via thousands of graphics terminals around the campus and around the world.
"My freshman year probably more than half of my classes were on PLATO," Lappe said during a conversation in early February.
"Chemistry, biology and physics were all PLATO learning classes," he said. "We would go in to a classroom of terminals and pick up on our assignments wherever we left off. There might be a teaching assistant or someone, sitting in the front of the room if you had questions, but they were mostly self-guided."
Although as a double major in math and life sciences Lappe was swamped in schoolwork, his advisor recommended he participate in some sort of extracurricular activity to enhance his chances of being accepted into medical school. His solution was to form the campus pre-med club, an organization for students like himself who also needed to participate in some form of activity. The pre-med club was one of about 3,000 or so organizations on the Illinois campus at the time.
The group limped along doing the occasional community service project, but in the summer before his senior year Lappe was invited by the Dean of Students to participate in a three-day retreat where attendees would brainstorm ways to improve extracurricular activities on campus.
During that retreat, Lappe found himself participating in a roundtable discussion on ways students could promote their organizations other than buying an ad in the school newspaper. Among the suggestions were a bulletin board where groups could post fliers promoting their group.
Lappe took the concept a step further, suggesting putting a list of those organizations into the PLATO system and developing a user interface to allow students to search out organizations based on their interests.
"We kicked the idea around, and it got some interest," Lappe said. "After the session, the Dean suggested I apply for a grant to see if we could make it happen."
Two weeks later, Lappe had a $2,500 check to develop the project. He spent the next few months sketching out ideas for an interface and developing the algorithm that would guide the search process. Once he'd hammered out the basic concept, he hired a computer science student, Mark Nudelman, to write the software.
"Murray started the design of the front page and sort of sketched out bits of the rest of the user interface," Nudelman said during a mid-February interview. "I then fleshed it out and did all the coding."
Over the course of the next six months they developed the PLATO Hotline, incorporating the ability to look up schedules for movies and other events around campus along with student organizations.
The final piece of the puzzle was the interface by which users would interact with the system. Donald Blitzer, then a professor of electrical engineering at the university, had developed a plasma touchscreen display in the early 1970s. Those displays were already being used on campus for the PLATO classes.
"I wanted to make it as simple as possible for people who had never used a computer before," Lappe said. "I didn't want it to look or feel like a computer."
Lappe scrapped the idea of incorporating a keyboard, working with Nudelman to incorporate as much functionality as possible with the touchscreen alone. The end result was a simple interface with a "touch to begin" button launching the search process.
The PLATO Hotline debuted just a few weeks before Lappe's graduation, set up in the middle of the student union building.
"It became a fascination," Lappe said. "In the first 30 days 50,000 people had used it. There would be 50 people at any one time, 24 hours a day, waiting in line to try it out."
For Lappe, two things happened just a few days after the launch. One, he was accepted into medical school. And two, he received a call from Control Data Corp., offering him a job. CDC was the hardware manufacturer on whose mainframe computers the PLATO system was built. The company had recently purchased the rights to market PLATO as a commercial product.
Although Lappe desperately wanted to go to work for CDC, he realized this might be his only shot at attending medical school, and opted instead to attend Northwestern University and prepare for a career as a doctor.
Lappe left the University of Illinois just weeks after the launch of the PLATO Hotline, but the interactive kiosk remained a fixture of the student union for several years. Although the original kiosk featured a printer, that was soon dropped. A keyboard was added not long after launch, enabling users to enter their personal information for followup contact.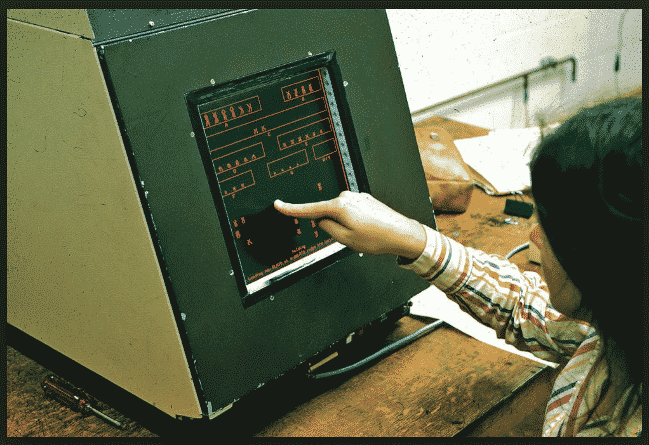 Nudelman moved to California immediately after college, spending the bulk of his time in Silicon Valley. Most of his time these days is spent consulting for technology companies, primarily for Roku. As for Lappe, the next thing he knew it was 1984 and the Macintosh was paving the way for the computer revolution. He ended up practicing medicine for several years, but the computer bug eventually caught up with him.
"That Macintosh was staring at me every day, and I was just waiting for the opportunity to find a computer problem that would let me quit medicine and go back to computing," he said.
"And about eight years into my career the federal government passed a mandate that all transportation workers had to be tested for drugs," he said. "And in that regulation there was a role for a physician to process the results from the laboratories that would do these drug tests. And it became immediately obvious to me that there was an opportunity to write software for a new industry."
In 1998, Lappe founded eScreen, which provides drug screening management and automated hiring program solutions for companies around the country. In essence, his career has come full circle, putting him back in the center of the computer industry.
Still, he does wonder how things might have worked out if he had taken that offer from CDC. And he still feels a twinge of pride when encountering a touchscreen kiosk, which happens more and more every day.
"I've been telling my kids since they were little every time we go to an airport and walk up to one those board pass kiosks, that it all started with the PLATO Hotline," Lappe said.
"I'm sure it was going to happen one way or another," he said. "It wasn't particularly novel. All the pieces were there; it was just a matter of putting them together."
Kiosk History Extended
Elographics was founded in 1971. Now known as ELO.
The PLATO system was designed in 1977.  Florsheim ran their store deployment in 1984 which was 600 stores and was first "endless aisle" kiosk.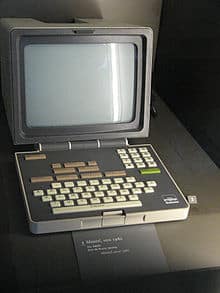 Minitel rolled out in 1982 and experimentally in 1978.  This was Videotext service over phone lines. It was an electronic phone book for the French public.
1982 was first opportunity for the  US public to use a touchscreen at the 1982 World's Fair (Elographics).
1983 Lexitech was founded by Alex Richardson
1985 touchscreens begin to proliferate thanks to Microtouch and Elographics (now Raychem).
In 1991, the first commercial kiosk with internet connection was displayed at Comdex. The application was for locating missing children.[1]The first true documentation of a kiosk was the 1995 report by Los Alamos National Laboratory which detailed what the interactive kiosk consisted of. This was first announced on comp.infosystems.kiosks by Arthur the original usenet moderator.
And for reference in 1955 Seeburg and Emerson release their "telejuke" which is sold to bars and includes a TV and a jukebox in a single enclosure.  Link.