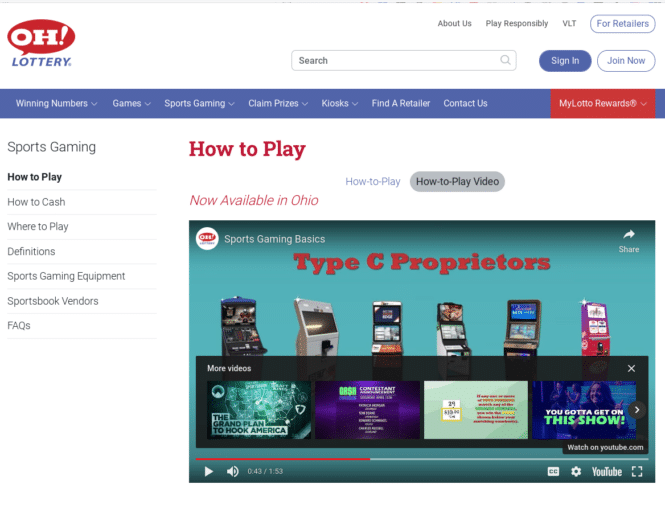 Sports Betting Kiosks in Ohio
Big deal for Ohio as sports betting kiosks launched January 2023. 772 of them & $1100 per unit monthly so far.
Video
Intralot seems to be at the center of several frustrations
Excerpt:
The shortcomings for Intralot in the US continue to spread to new states, this time affecting the launch of Ohio sports betting for lottery retailers.
Last week, local outlet WKRC-TV reported the frustration of one Cincinnati bar owner who expected to offer OH sports betting through an Intralot kiosk when sports betting in Ohio went live Jan. 1.
Instead, nearly three weeks into the market, Erik Richman said he is still waiting, disappointing customers that arrived at his bar expecting to place bets after months of advertisements leading up to the launch. Richman was eventually told the company would roll out kiosks in phases, but he has no idea when to expect his.
---
From BizJournals Feb2023
Ohio sports bettors wagered more than $850,000 at kiosks in the first month of legal sports betting, according to an Ohio Lottery Commission report.
The wagers turned around $772,376 in prizes, an 86.16% payout.
Since the end of the month, the new total of locations has increased to 861.
Over 1,500 kiosk locations had been pre-approved by the Ohio Lottery Commission and 1,100 have been approved by the Ohio Casino Control Commission.
Not all licensed locations have opened their kiosks yet, however. For example, grocery giant Kroger doesn't expect to do so until the spring.
The total revenue for January came in at $116,040, of which $87,664 went to kiosk hosts and $28,376 to the Ohio Lottery.
---
From MSN
Gamblers placed $850,000 on bets at sports gambling kiosks around the state, making the three kiosk vendors involved about $88,000. These kiosks were at 772 locations across the state.
These bets were made at gaming kiosks found in bars, bowling alleys and even grocery stores. This kind of betting, only done at businesses that have a liquor license, is only a sliver of Ohio's overall sports betting market. Details from the big sportsbooks, casinos and racinos, plus their online apps, will come later.
Related: Kroger and Acme Fresh Market applying to put sports gambling kiosks in grocery stores
Bettors got about $722,000 back in prize money. The state's gross sports gaming revenue was $116,040, and $28,376 of that revenue went to the Lottery Commission.
Most of the revenue went to Sports Bet Ohio, which operates Kiosks at about 700 locations. The vendor's machines brought in $560,000 in bets. Bettors won $473,000.
---
Vendors Involved
From Ohio Lottery page
---
More Posts