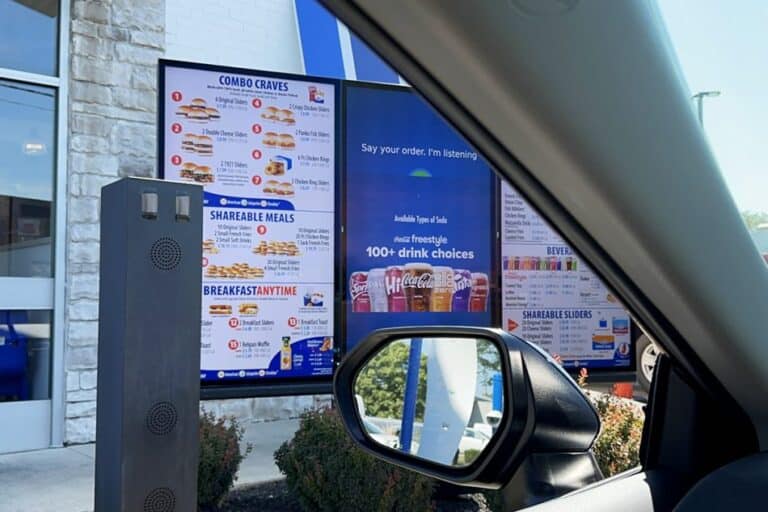 Samsung, SoundHound and White Castle Revolutionize Voice AI Drive-Thrus
From Samsung
White Castle plans to roll out the cutting-edge, interactive menu boards to over 100 drive-thru lanes
Samsung Electronics America, Inc., and SoundHound AI, Inc. (Nasdaq: SOUN), a global leader in voice artificial intelligence (AI), today announced that they will be working together with White Castle, America's first fast-food hamburger chain, to deploy next-generation, voice-enabled outdoor digital signage technologies that will revolutionize the way that brands interact with consumers.
The ground-breaking collaboration will provide voice AI-enabled dynamic drive-thru menu boards to White Castle restaurant locations. The display technology combines Samsung's MagicINFO™ digital signage software and SoundHound's sophisticated proprietary speech recognition technology to provide an exceptional, interactive customer ordering experience, complete with intelligent, real-time insights for the brand.
"With White Castle Cravers everywhere hungry for our hot and tasty menu options, we are investing in processing orders at the drive thru even more swiftly," said Mike Guinan, Vice President of Operations Services at White Castle. "By working with tech innovators at SoundHound and Samsung, we've been able to create an engaging ordering experience that customers are loving. It's the model for tomorrow today – and evidence of how friendly technology and great partners can be a game changer."
With the White Castle collaboration becoming the gold standard for using voice AI-enabled menu boards at the drive-thru – with orders processed in just under 60 seconds, and 90 percent order completion rates that exceed previous staff-based benchmarks – SoundHound and Samsung have committed to collaborate on future projects. The companies plan to deliver this scalable, repeatable format to drive sales while creating experiences that customers love.
Samsung Empowers Entrepreneurs During National Small Business Week and Beyond
"In uniting our extensive voice AI expertise with Samsung's MagicINFO display technology, we've created a first-class interactive experience for White Castle's drive-thru customers," says James Hom, Co-Founder and Chief Product Officer at SoundHound. "We look forward to finding new opportunities to partner to unlock the power of digital outdoor signage and turn menus into interactive restaurant portals with almost limitless possibilities."
"With MagicINFO, Samsung is helping transform menu boards from simple, static displays to personalized, easy-to-navigate experiences for the customer that also deliver business benefits to the restaurant," said James Fishler, Senior Vice President of the Display & Home Entertainment Divisions at Samsung Electronics America. "By integrating SoundHound's AI-driven voice technology, we're providing an extraordinary experience for White Castle customers when it comes to enjoying what they love. This is just the beginning of a relationship that will propel their brand to the cutting-edge of customer experiences powered by innovation."
Learn more about SoundHound for Restaurants here, and Samsung MagicINFO here.
About SoundHound
SoundHound (Nasdaq: SOUN), a global leader in conversational intelligence, offers voice AI solutions that let businesses offer incredible conversational experiences to their customers. Built on proprietary technology, SoundHound's voice AI delivers best-in-class speed and accuracy in numerous languages to product creators across automotive, TV, and IoT, and to customer service industries via groundbreaking AI-driven products like Smart Answering, Smart Ordering, and Dynamic Interaction™, a real-time, multimodal customer service interface. Along with SoundHound Chat AI, a powerful voice assistant with integrated Generative AI, SoundHound powers millions of products and services, and processes billions of interactions each year for world-class businesses.