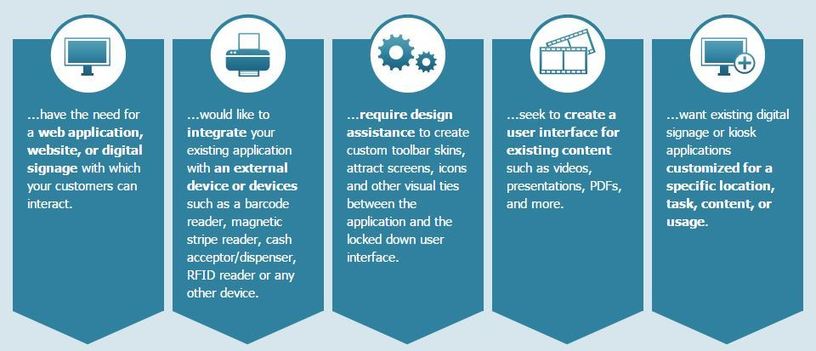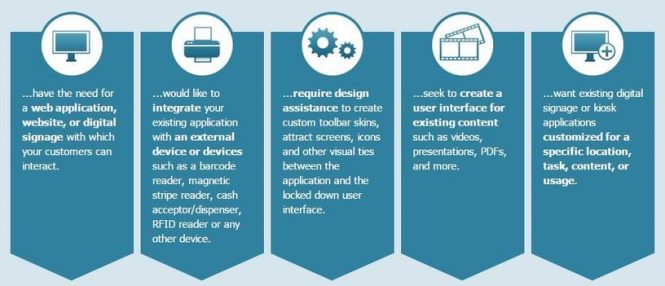 Kiosk Software Downloads
The great thing about Kiosk Software is that there are quite a few to pick from and try (even open source for the daring).  The first step in evaluating is to download kiosk software and take it for a spin.
We've put together some of our favorites and many we have not tried into a list here to help.  The following are the download links for kiosk software and include Windows kiosk software, Android kiosk software, iPad and Linux.
KioWare Kiosk System Software – Lockdown your browser in Kiosk-mode.
Download link
SiteKiosk™ is a kiosk software for Windows to lock down public access Devices. It secures the browser and … Download & file manager. On-screen keyboard.
Download link
CyberBrowser – Exclusively for Kiosks
Continuously refined over the past ten years, CyberBrowser features have been developed specifically for interactive, touch-screen kiosks.
Download link
KioskSimple makes it easy to securely deploy your self-service kiosk or unattended payment solution.
Download link
Moki
Deploy Tablets As Digital Kiosks. Control Everything. Learn More!
Download link
Antamedia
Internet Kiosk software converts computer into self-service kiosk. It prevents hacking and downtime by blocking the system keys like Ctrl-Alt-Del, …
Download link
Porteus
Porteus Kiosk is a locked down linux operating system for public access computers. It is fast small and … safe 365 days in a year. Download now dot1 dot2 dot3 …
Download link
Webconverger
Linux kiosk software
Download link
KioskPro
KioskApp for iPad and iPhone. Off iTunes.
Download link
logo
description
Download link