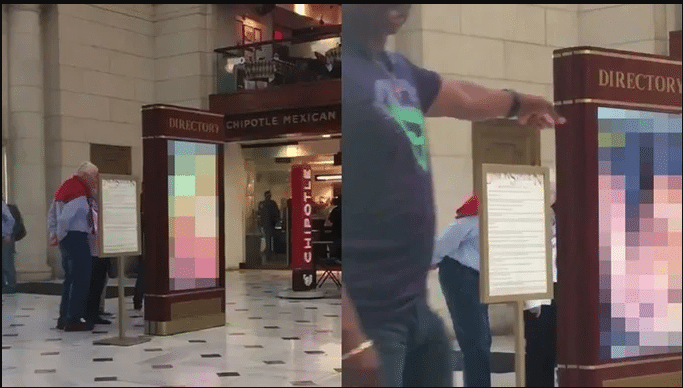 Pornvideo Kiosk Hack
Last night, a display screen in Union Station—one of Washington DC's main transit hubs—found itself moonlighting as a tiny pornographic theater. Now, Gizmodo can exclusively reveal footage of the incident, and I can assure you that, one, it's definitely pornography, and two, I have never had a commute this stimulating.
Source: gizmodo.com
I think they said it in the movie (Sierra Madre?) " we don't need no stinkin' lockdown…".  Somebody supposedly smarter than everyone else turns out to be not as smart as many.
Pornvideo Update:
Corey Price, VP of Pornhub, provided Gizmodo with the following comment regarding the brand's surprise appearance in Union Station yesterday evening.
"Pornhub is accessed by nearly 75 million fans across the world each day. It's entirely possible the perpetrator of this incident was an avid fan who was perusing our content and unfortunately mishandled the technology behind the video screen at Union Hall. While we don't condone such behavior — by any means — whatsoever, especially broadcasting unwarranted material to innocent passersby, we do hope it provided some…relief…in the midst of a hellacious commute home."
Another worthwhile read is here on LifeHacker.
Excerpt:
If your computer's running on Microsoft Windows, you need to take these steps—right away.
Here's why: in case you haven't heard, hackers exploited a vulnerability in older Microsoft Windows servers to execute a large-scale global cyberattack on Friday using ransomware — a malicious software that holds your computer hostage for ransom — and a hacking tool stolen from the U.S. National Security Agency (NSA). The massive attack left victims locked out of their PCs with a promise of restored access if $300 was paid in digital currency Bitcoin—and a threat of destroyed files if the ransom is not met.
Thus far, at least 200,000 computers have been infected in more than 150 countries, leaving everything from businesses and governments to academic institutions, hospitals and ordinary people affected.
See article here on Kiosk Industry on passwords as well.
Clever Password Tricks Aren't Protecting You from Today's Hackers