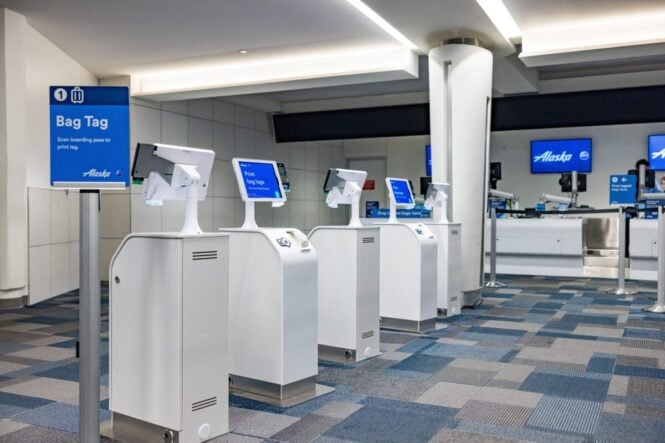 Airline Kiosk Check-In News
Multiple articles on the new Alaska Air announced policy of removing check-in kiosks and forcing mobile only.  We don't fly very often and are in the TSA program. Still, we tend to print boarding pass to have as safety valve in case we forgot to charge the mobile.  Thanks to Hilton Schwartz of Canada ADA pointing out some news.
Notable articles
Live And Lets Fly 4/19 — By late 2024, Alaska plans to introduce facial ID recognition which will streamline the process even further.  My Prediction: This Will Not End Well For Alaska  [reasons given] —  Do you still print boarding passes or use check-in kiosks at airports or is it all done on your smart phone?
Removing Portland kiosks — Alaska has already eliminated check-in kiosks in Las Vegas; Indianapolis; Cleveland; Missoula; and Boise. The airline of course says this isn't about cost, it's about the environment, since this will "cut down on paper use" as they encourage you to use larger full sheets of paper from your home printer.
From Skift April 2023
The first airline to introduce check-in kiosks at the airport will be the first to get rid of them. Alaska Airlines is removing the kiosks this year from its main airports, including Seattle, Portland, San Francisco, Los Angeles, and Anchorage. It's part of a plan announced Tuesday to spend $2.5 billion over three years on to upgrade passenger technology in airport lobbies. The plan is to transition to a fully self-service experience for check-in and baggage drop-off, with the goal of getting passengers through a lobby and to the security line in five minutes or less, the company said.
The check-in kiosks will be replaced with iPad stations — essentially an iPad and credit card reader on a stand — where the passenger can pay for a checked bag and print the paper bag tag.
The next step involves adding self-service stations, beginning in spring 2024, where the passengers can drop off their bags. The machine will scan the passenger's face, identification, and bags before the passenger places the bag on a conveyor belt to be loaded onto the aircraft.
Alaska is continuing to experiment with an electronic bag tag, as well, as the first U.S. customer of Amsterdam-based startup Bagtag since 2022. Through that program, travelers can purchase the reusable electronic tag and attach it at home, using their phone to connect it with the airline's baggage system.
More Posts