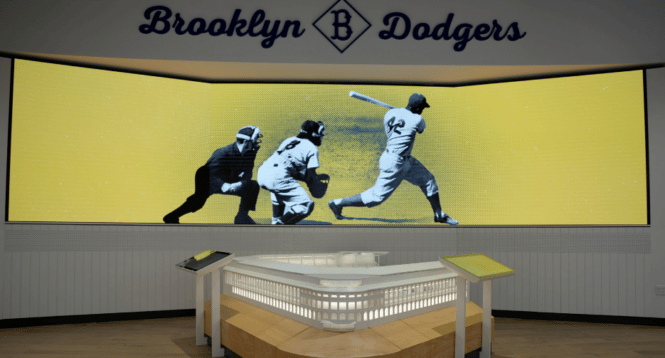 dvLED Video Wall Case Study
For more information on dvLED video walls email [email protected] or visit the resource sites below
Established in 1973 by Rachel Robinson, the Jackie Robinson Foundation is dedicated to honoring the legacy and lifework of American professional baseball player Jackie Robinson. From providing education opportunities and scholarships to job placement and international travel opportunities, the foundation has greatly impacted the lives of students across the country. To further educate the public and honor Jackie Robinson's memory, the non-profit sought to create a museum, the Jackie Robinson Museum, in the lower Manhattan SoHo area of New York City. Located on the 1st floor of 75 Varick Street, the museum is not only home to Robinson's artifacts and writings, but a place to host dynamic educational programs and serve as a venue for dialogue for critical societal issues.
The Challenge
Ideum collaborated closely with Peerless-AV to make the three dvLED panels work successfully. Rather than opting for a curved solution, Peerless-AV designed and manufactured a SEAMLESS Bespoke dvLED Video Wall Mounting System to fit within the three-faceted walls; each panel joining at the center then fanning out at a 152° angle at the sides. What made this challenging was achieving a perfect corner in alignment with the wall structure and, therefore, spacing of the video wall was critical. To address this, Peerless-AV designed custom wall adaptors to fill in the void.
The Solution
The finished video wall measures 7ft H x 30ft W, with 152-degree concave facets, to create a captivating visual experience for visitors of the museum and those walking by the museum's glass facade.
The displays used are Unilumin UslimII 1.5625 pitch, (500x1000mm), with 272 modules and a 17×2 configuration. The dvLED weight is 850lb, while the mount is 1,150lb, making the video wall solution weigh 2,000lb in total. The resolution of the display is 5,440 x 1,280 with 6,963,200 pixels.
Installation
The installation began on July 4th with a three-week window to complete before the ribbon cutting ceremony on July 26th.
The Results
Through the partnership between Ideum and Peerless-AV, the Jackie Robinson Museum provides attendees with a look into the life and history of Jackie Robinson, and offers a space for people to come together to appreciate each other's humanity and diverse experiences. As the first civil rights museum in New York City, those who visit can learn of Jackie Robinson's
work in challenging the system of segregation that permeated American society during the 20th century. The video wall installation, a central media delivery tool for the museum, provides an immersive way for attendees to view snippets of Jackie's career achievements.
PROJECT FACTS
Concave Video Wall: 152°
Peerless-AV® SEAMLESS Bespoke Mounting System
Unilumin UslimII dvLED Panels
272 Modules (17 x 2) | 6,963,200 Pixels
6.6 Feet High x 27.9 Feet Wide
Total Video Wall Weight: 2,000lbs
Resources
---
More Posts