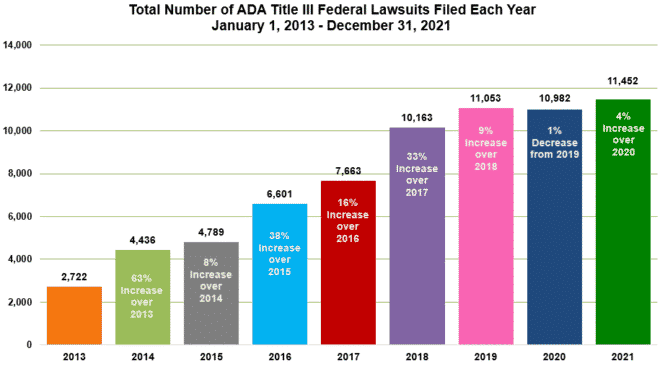 ADA Website Accessibility Lawsuits
Editor Updates March 2022 — We track legal suits on our Legal News page.  From March 2022 —
ADA lawsuit filings at all-time high — here is the blog post analysis —  Excerpt – laintiffs' lawyers also filed hundreds of lawsuits on a new theory that hotels violated the ADA by failing to disclose sufficient information about their accessible rooms on reservations websites, the Seyfarth attorneys said. Also, cases alleging physical access barriers in facilities such as shopping centers, restaurants and hotels kept on coming – even in 2020-21 when indoor activities were often shut-down.
A nice article on web from web people is WPMU DEV who has just published a Making WordPress Accessible: The Ultimate Guide to Website Accessibility, covering the WordPress websites accessibilities, and much more.
---
Original Article Reprinted from KMA Global
Every day, websites and mobile apps prevent people from using them. Ignoring accessibility is no longer a viable option.
How do you prevent your company from being a target for a website accessibility ADA lawsuit?
Guidelines for websites wanting to be accessible to people with disabilities have existed for nearly two decades thanks to the W3C Web Accessibility Initiative.
A close cousin to usability and user experience design, accessibility improves the overall ease of use for webpages and mobile applications by removing barriers and enabling more people to successfully complete tasks.
We know now that disabilities are only one area that accessibility addresses.
Most companies do not understand how people use their website or mobile app, or how they use their mobile or assistive tech devices to complete tasks.
Even riskier is not knowing about updates in accessibility guidelines and new accessibility laws around the world.
Investing in Website Accessibility Is a Wise Marketing Decision
Internet marketers found themselves taking accessibility seriously when their data indicated poor conversions. They discovered that basic accessibility practices implemented directly into content enhanced organic SEO.
Many marketing agencies include website usability and accessibility reviews as part of their online marketing strategy for clients because a working website performs better and generates more revenue.
Adding an accessibility review to marketing service offerings is a step towards avoiding an ADA lawsuit, which of course, is a financial setback that can destroy web traffic and brand loyalty.
Convincing website owners and companies of the business case for accessibility is difficult. One reason is the cost.  Will they see a return on their investment?
I would rather choose to design an accessible website over paying for defense lawyers and losing revenue during remediation work.
Another concern is the lack of skilled developers trained in accessibility. Do they hire someone or train their staff?
Regardless of whether an accessibility specialist is hired or in-house developers are trained in accessibility, the education never ends.
Specialists are always looking for solutions and researching options that meet guidelines. In other words, training never ends.
Many companies lack an understanding of what accessibility is and why it is important. They may not know how or where to find help.
Accessibility advocates are everywhere writing articles, presenting webinars, participating in podcasts, and writing newsletters packed with tips and advice.
ADA lawsuits make the news nearly every day in the U.S. because there are no enforceable regulations for website accessibility. This is not the case for government websites.
Federal websites must adhere to Section 508 by law. State and local websites in the U.S. are required to check with their own state to see what standards are required.
Most will simply follow Section 508 or WCAG2.1 AAA guidelines.
If your website targets customers from around the world, you may need to know the accessibility laws in other countries. The UK and Canada, for example, are starting to enforce accessibility.
In the U.S., there has been no change in the status of ADA website accessibility laws this year.
Some judges have ruled that the lack of regulation or legal standards for website accessibility does not mean that accessibility should be ignored.
Read the complete article at Search Engine Journal May 2019