ZIVELO Wins 2 Awards at ICX Summit for Achievement in Interactive Customer Experiences.
The #1 QSR mobile kiosk company receives two awards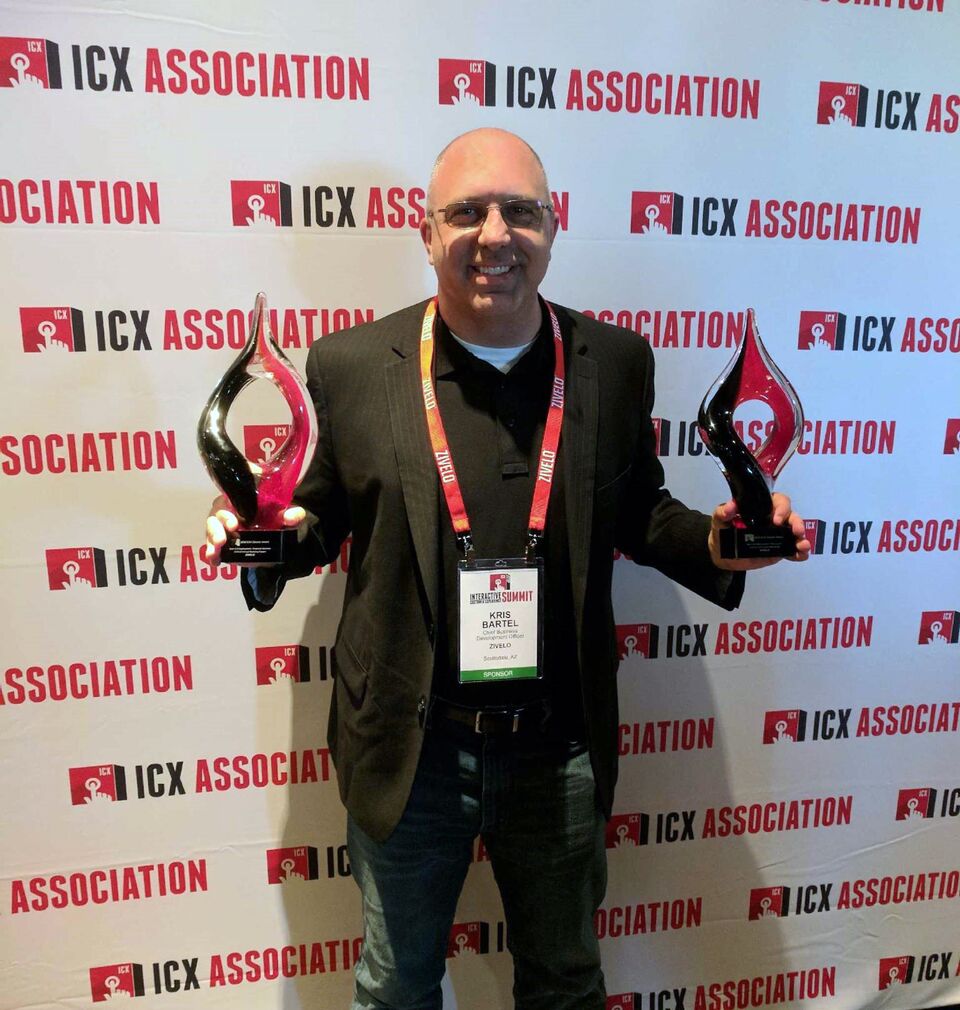 Dallas, TX – June 13, 2018 – ZIVELO, the leader in interactive self-service kiosk and digital signage solutions in the QSR arena, has been appointed to receive two prestigious awards at the ICX Summit in Dallas on Wednesday, June 13, 2018. The Elevate Awards honor the individuals and organizations that are pacesetters in using technology to elevate customer experience.
ZIVELO will receive Best ICX Deployment: Restaurant and Best ICX Deployment: Financial Services at this year's ICX Association Elevate Awards for providing nearly 10,000 kiosks to one of the top three  QSR's in North America, and for their groundbreaking virtual banking expert kiosks deployed at a top US-based financial institution.
ZIVELO produces award-winning, self-service kiosk and digital signage solutions for a portfolio of global companies. This includes the top three fast food chains in the nation, as well as top brands across the retail, banking, healthcare, restaurant, and hospitality industries. Their newly launched software product, OakOS, allows ZIVELO's customers and third-party developers to rapidly build and deploy applications with the only developer kit designed for kiosks. Clients can now develop fully-functional applications within days, by using OakOS' comprehensive web-based frameworks and SDK. Backed by ZIVELO's network of support technicians, this comprehensive offering removes previous common barriers in the industry.
About ZIVELO
ZIVELO's mission is to revolutionize the way brands use technology to interact with their consumers on-premise and in the physical world. Founded in 2008, ZIVELO has rapidly grown to become the leading self-service technology brand offering a sleek and sophisticated product design, intuitive user experience, and cutting-edge modular hardware solutions. In 2018, ZIVELO acquired Oak Labs, the creators of OakOS – the world's first operating system for public computing experiences. Through the acquisition, ZIVELO now provides brands with an end-to-end solution for the roll-out of kiosks and digital signage. For more information, please visit http://www.zivelo.com/.