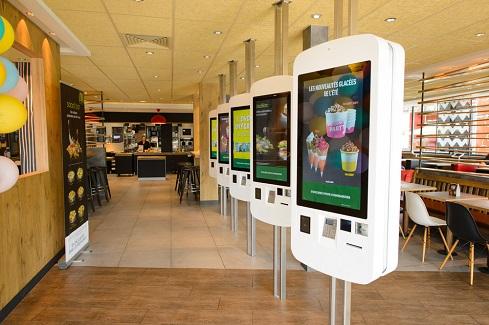 Kiosk EMV Capable Card Readers, PIN Pads and Contactless Readers for Self-Service Kiosks
Jan 2014 — The following is a list of EMV capable card readers, PIN pads and contactless card readers that are designed specifically for self-service environments like a kiosk.  As we're beginning research and development on adding EMV capabilities to our US-based kiosk applications it makes sense to take inventory of the available EMV capable devices specifically designed for the self-service kiosk industry and weigh all of our options.  This is why I'm taking the time to assemble this list of EMV capable payment devices which will likely grow as the looming October 2015 EMV liability shift draws nearer.
Update 2021
Kiosk EMV chip and PIN
Ingenico makes the iSelf Series which includes EMV Chip and PIN devices designed specifically for self-service kiosk applications.  Combining iUP 250 & iUR 250 allows EMV Chip & PIN transactions in your kiosks while respecting PCi 3,x certification.
VeriFone UX 100 + UX 300
VeriFone makes the UX "Unattended Devices" for kiosks and other unattended environments.  PIN pad features LCD graphic screen that securely displays payment amount and engages customers through targeted messaging.
Kiosk EMV chip and contactless readers
IDTech ViVOpay Vend III
The ViVOpay Vend III contactless NFC, contact EMV, and magnetic stripe all-in-one payment device provides self-service kiosk operators with an integrated device that allows all three types of payment acceptance technologies.
MEI CASHFLOW® EasiChoice 4 in 1
With the EasiChoice bezel from MEI your self-service kiosks can accept any payment type the consumer has in their wallet: bills, coupons, magnetic stripe cards, NFC/contactless payments, and contactless EMV cards.
Kiosk EMV contactless NFC card readers
The Ingenico contactless reader focuses on contactless transaction only, the iiUC 180 is the ideal solution for small transactions, especially in the vending industry.
VeriFone QX 700
The VeriFone QX 700 provides rapid transaction speeds for all card types, including public transportation, stored value and other value-added applications.
IDTech ViVOpay Kiosk II
The ViVOpay Kiosk II is a flexible stand-alone contactless reader comprised of a compact controller module and an RFID antenna module packaged individually giving equipment manufacturers flexibility to integrate contactless payment functionality with their host systems.
Which EMV hardware should I buy for my kiosks so I don't have to replace it in the next 3 years?
This is a good question that is discussed in the video of the 2014 CPI EMV technology panel below.  The answer boils down to personal preference.  CPI makes the point that just because a card reader is EMV capable doesn't mean your entire solution will be EMV compliant.  Your entire solution needs to receive end-to-end EMV certification and according to MEI this has not happened in the US using the MEI 4-in-1 at the time this video was recorded.  I'm not here to recommend EMV hardware for your kiosks just to spell out the options, so watch the video for more information and form your own opinions.