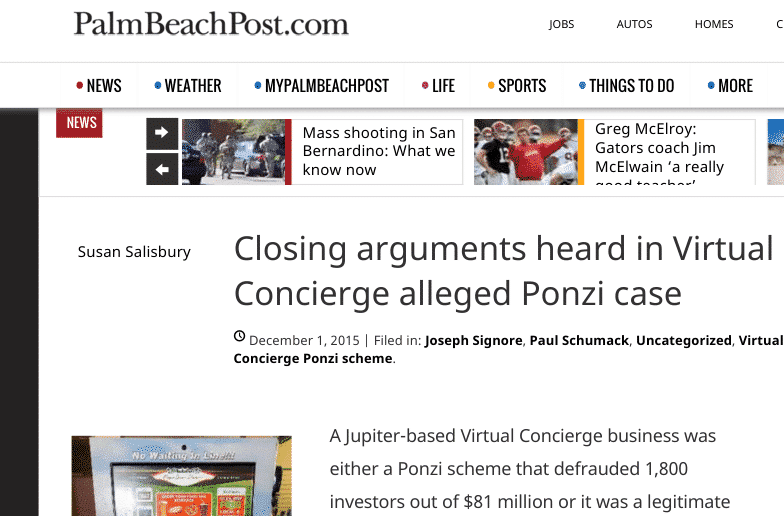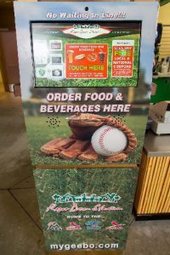 A Jupiter-based Virtual Concierge business was either a Ponzi scheme that defrauded 1,800 investors out of $81 million or it was a legitimate enterprise started by an innovator with a great idea.

Those were the two scenarios 14 jurors heard Tuesday in attorneys' closing arguments in federal court in West Palm Beach.  Joseph Signore,…
Source: protectingyourpocket.blog.palmbeachpost.com
The Signores' company JCS Enterprises, and Schumack's firm TBTI sold 22,547 kiosks to investors. The kiosks were to be placed at hotels and other venues to provide people information and coupons and allow them to access services such as remotely ordering food.
Assistant U.S. Attorney Steve Carlton told jurors, "I told you this was a case about lying to people in order to get their money. I told you it was all one big fat lie."
Carlton said the two "big lies" investors were told was that electronic kiosks they purchased for about $3,000 each would be placed in various venues such as casinos and that investors would receive $300 a month for 36 months from advertising revenue.
In reality, Carlton said, testimony during the trial that lasted over a month showed that only 182 of the Virtual Concierge machines were manufactured and only 84 were ever in operation. The company started in 2011 had a mere $21,000 in advertising revenues.
More links and background