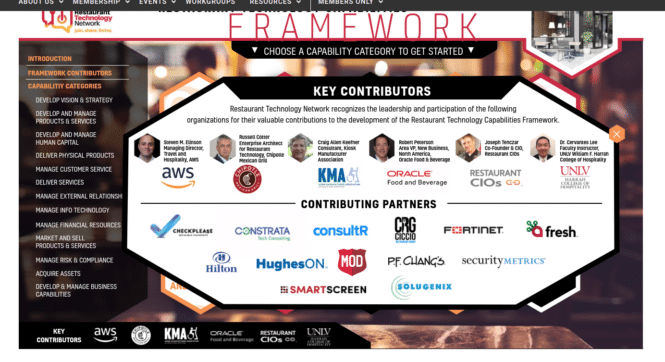 Restaurant ROI – The Whole Equation
Working with different groups is one of the things that Kiosk Industry strives to do. Whether it is EV standards and ANSI, or EMV with PCI SSC or accessibility with U.S. Access Board, regulatory issues abound with kiosks and need to be clearly communicated.
ROI in restaurants and kiosks is a topic that several restaurant groups are working on.  Everybody wants a magical excel spreadsheet to plug some numbers in and see an outcome or result. RTN's Restaurant Technology Capabilities Framework (RTCF) is one of those groups we work with in the ROI regard. RTN is a membership community operating under the parent company EnsembleIQ, which also publishes Hospitality Technology Magazine and hosts MURTEC events.
We also recommend the write-up by Olea on ROI. One of the simple equations is:
ROI = (savings – costs) / costs
For example, if the cost of the self-service kiosks is $50,000 and the expected savings in the first 6 months is $62,400, the ROI would be 24.8%:
ROI = ($62,400 – $50,000) / $50,000 = .248 or 24.8%
This means the kiosk is expected to provide almost a 25% return on investment in the first six months.
We are conducting a poll on LinkedIn on the how our ROI Calculator should prioritize increases in revenue versus cost savings. We are inviting brands to participate in a session and give us your thoughts.   If interested or opinion email [email protected]
Components of RTN's Restaurant Technology Capabilities Framework (RTCF)
Vision and Strategy
Products & Services
Manage Human Capital
Physical Products
Customer Service
Services
External Relationships
Manage IT
Manage Financial
Market and Sell
Risk, Compliance and Remediation
Business Capability
VIDEO – RTN's Restaurant Technology Capabilities Framework Official Launch Video
About RTN
Our Mission
RTN is a membership community dedicated to the restaurant technology industry. Through access to valuable benefits and powerful connections, our members shape industry standards and share technical guidance to help restaurateurs succeed and better serve their customers
Our Vision
Purpose-built technology fuels success in an industry built on service and entrepreneurial spirit. The Restaurant Technology Network aspires to help restaurant professionals and solution providers work together to solve problems large and small and inspire bold ideas for the future.
JOIN.
Through valuable membership benefits, RTN connects the entire restaurant technology ecosystem, including restaurateurs, suppliers, consultants and academia. Together, we make the industry stronger.
SHARE.
Through active membership collaboration, we create and disseminate technology standards and technical guidance for our members.
THRIVE.
Through work groups, benchmarking tools, research, networking events, awards, technical education and certifications, RTN solves industry challenges and helps its members prosper.
---
More Posts