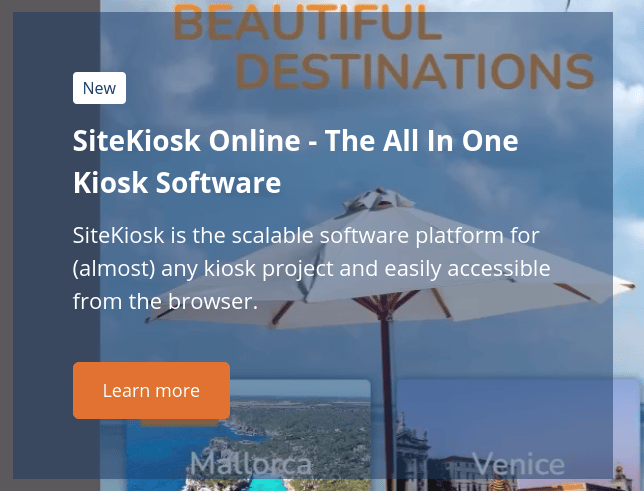 Kiosk Software News
Sitekiosk has launched a new, redesigned website that features a new Cloud-based software solution for content management on kiosks and interactive displays. From sitekiosk.com —  For more information, you can email [email protected], or call +1 (305) 974-1952, or you can email [email protected].
SiteKiosk secures and manages thousands of machines for a myriad of functionality in kiosk and self-service markets worldwide. Fortune 500 companies like Hilton Hotels, BMW, and Citibank come to mind.  The protection of machines in public locations has been the company's focus from the start as outlined in a website slider: "SiteKiosk is the easy-to-use all-in-one kiosk solution for displays, tablets and terminals in public access areas as well as business networks. Protect, manage and realize your project on just one platform for kiosk clients with Windows and/or Android operating systems."
With the release of the new product named SiteKiosk.Online, the company made a big step into the field of content creation and management for kiosks, public computers as well as any interactive display powered by Windows or Android. The new product is an All-in-One kiosk and digital signage software that allows administrators to work on all aspects of their kiosks and digital signage deployment including the protection of devices and the publishing of multi-media campaigns using the newly integrated CMS.
The new website offers numerous video tutorials, especially for the redesigned CMS solution and free 30 day trial accounts at https://www.sitekiosk.online/
Deployments:
Kiosks and public computers. Nobody has anywhere near the number of licenses for kiosk software deployed than Sitekiosk, by a factor of 5X. Besides its browser lockdown and other security features the management and monitoring features are critical not only for large nationwide deployments but projects of any size.
Interactive Displays. SiteKiosk's Cloud-based management console also provides a content management solution to create engaging interactive user interfaces and multi-media content that can be published to remote POS devices, displays, and other devices.
Securely Robust
Sitekiosk has been tested and chosen by many large international companies including well-known banks. IT rests a little easier knowing that. Some examples of banks and financial institutions that trust and use Sitekiosk to protect their online banking devices and displays:  BMW Financial Services, Ahold Financial Services, FIRSTBANK Virgin Islands, National Bank of Austria, City National Bank, National Bank of Denmark, HypoVereinsbank, Bank of Oklahoma, Norris Bank, Commerzbank AG, Deutsche Postbank AG, Dresdner Bank AG, A/S HansaBanka, Aargauer Kantonalbank, CAIXA GALICIA, Aruba Bank N.V., Berner Kantonalbank, Danmarks Nationalbank, Foroya Banki and Santander.
Summary in Brief
Free 30 day trial is easy to get. No credit card required.
Excellent language support.
Very robust kiosk software with cloud CMS which lets you do digital signage out of the box with pre-built templates that are easily modified.
If you want powerful, easy-to-use kiosk software with integrated CMS you can have it.
You can configure a range of self-service kiosks and interactive displays, all at the same time.  One size rarely fits all and being able to manage conditional properties and variations is a huge time saver.
Historically a platform with APIs, hooks, and object model, it still has all of those but has added higher-level applications and templates
Custom-developed solutions are available like a QSR ordering app
Sitekiosk has numerous Sitekiosk Case Studies as well as tutorial videos. There are 12 different tutorials including start from scratch digital signage — A digital signage project, completely without template is easily implemented in a few steps!

Contact info — [email protected], +1 (305) 974-1952
More Posts