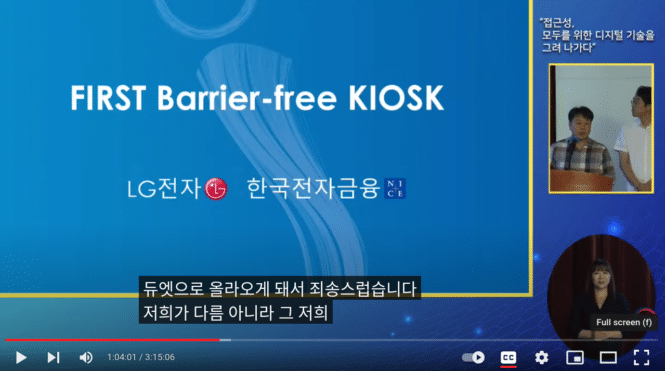 Korean Kiosk Association Formed June 2023
South Korea has once again exceeded expectations and show many of us the way forward. In late June they formalized:\
Korean Kiosk Association
Kiosk Accessibility Council
From one of our LG people —
Ministry of Science and ICT & National Information Society Agency organizsed "Kiosk Accessibility Council" with 40 some companies including LG Electronics, kiosk manufacturers and kiosk operators on 27th June. Note LG Business Manager Chanuk Song there in the middle of the group
On the same day, LG Electronics and NICE TCM (our Korean partner who provides a kiosk app for Korean market) received the very first Kiosk Accessibility Assurance Certification from Ministry of Science and ICT. I also briefly had an opportunity of presenting LG Kiosk with a tactile keypad on NICE TCM's Audible Menu Guide Solution.
Tuesday, June 27, 2023, 1:30 p.m. Location: Post Tower 10th Floor Conference Room (Session 1) Corporate Activities for Digital Approaches 'Accessibility, exploring new customers and markets' (Session 2) International Trends and Our Current Status 'Accessibility as a global trend'
Video Link
Note
from 27:00 is launch of accessibility council
from 1:04 is launch of first barrier free kiosk
We are almost surprised the YouTube doesn't offer any automatic language translation.
More Information
Excerpt
The first presentation was made by Mr. Song Chun Wook, General Manager of LG Electronics, and Mr. Chang Yong Jang, Head of Korea Electronics Finance. Please give a presentation on the topic of Accessibility Assurance Kiosk No. 1 Loud applause [applause] Hello, this is LG Electronics' Song Chan-hyuk responsibility, good to see you, good afternoon He is the head of the long-term team of Korea Electronic Finance, inadvertently I'm sorry to come up as a duet, we're none other than that As of yesterday, as of June 26, one of the electronic kiosks The accessibility of the intelligent information product kiosk to be purchased first After a test evaluation, it is now verified by the No. 1 accessibility siusque I received it, and I would like to briefly introduce the product to Kyung Chang, the head of Korea Electronic Finance, thank you As you have heard, the first caring fire in the country is a kiosk We were selected to have a similar content here two years ago I made a presentation once, and the solution I made at that time was It was a bit very expensive, so I have to settle for this, but the difficulty is obvious When I was constantly thinking about the possibility of having a chance, the person in charge of the sacrament business of LG Electronics asked me You came to us and made a new proposal for us, and we have been doing it for 3 years. We developed the kiosk by mixing software hardware and we were on the left The kiosk was created in collaboration with LG Electronics and Korea Electronics Fund You can think of it as a kiosk hardware When planning the product at the beginning, LG Electronics and Korea proceeded together. 1:05:27 The product design was done by LG Electronics. 1:05:32 The basic design and this development part was handled by our company, and the hardware development was completed 1:05:38 The design is a whole of the parts that have been in the function that we have been doing for years. 1:05:44 LG Electronics did all the software design again, and we changed the development a little bit to fit that 1:05:51 If you take a quick look at the accessibility application, there is now a braille panel for the visually impaired.