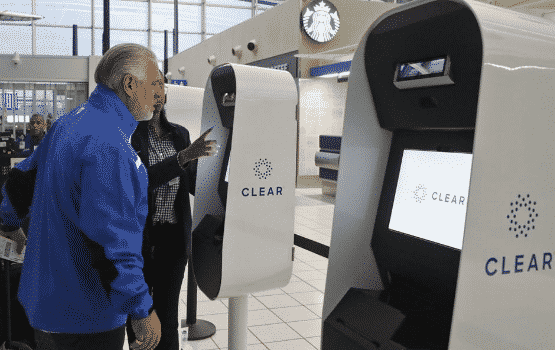 Airport Kiosks for Passenger Check-in
The battle for TSA and airports seems to have taken a new turn.  Just when we were settling into fast and speedy airline check-in thanks to IRIS biometrics, one of the players is "complicating" the situation.
A recent post on Biometric Update (thanks Michael!) came up and notes Idemia is lobbying to make ID checks mandatory for CLEAR's members. That would be an inconvenience for CLEAR members for sure who pay $189 a year for first up.  We also noted on the same day a news story on CBS News and CLEAR. It focused on a couple of employee errors.
Worth noting air travelers — According to a spokesperson for Clear, TSA has reverified the IDs of 4.7 million Clear travelers in the last six months without citing any issues.
Excerpt from Biometric Update
While an ID check doesn't stop Clear passengers from skipping to the front of the line, some believe it could slow the process enough to hurt the company's ability to charge $189 each year for the service.
Clear said that it has been working on a system that would integrate biometric screening with TSA's machines, which would remove the need for a separate ID check, but there isn't a set time for when it would be available.
Excerpt from Politico
CLEAR is under increasing scrutiny for recent security breaches — including an incident in which a passenger got through security with a boarding pass dug out of the trash. Now its biggest rival — a company called IDEMIA that performs background checks for TSA PreCheck and makes the agency's ID-scanning machines — is seizing the moment to urge lawmakers to make ID checks mandatory for CLEAR's members.
That demand could cut into CLEAR's business model and potentially gum up security lines that otherwise would be moving faster.
"We wholeheartedly believe that every passenger should have their identification verified at the checkpoint with a [TSA agent] using a CAT machine," said Lisa Shoemaker, IDEMIA's vice president of corporate relations, referring to Idemia's technology that TSA uses to scan IDs.
The skirmish is just the latest in a long-running competition between the two companies, who have lobbied to win increasing shares of the lucrative market to speed up airport security. Adding to the tension, CLEAR and another vendor have won contracts to start providing PreCheck background checks, potentially cutting into IDEMIA's market share.
Anonymous Data
According to an industry official, who was granted anonymity to speak candidly about matters before Congress, IDEMIA and American Airlines recently pitched Senate Appropriations Committee aides on language, seen by POLITICO, that would have required all travelers to submit to TSA ID checks. American is not a CLEAR investor.
From Politico article — IDEMIA was for many years TSA's sole vendor for PreCheck background vetting — and the company has sought to ensure it stays that way. In 2016, TSA decided to open PreCheck bidding for other companies — and IDEMIA (then known as MorphoTrust) filed a challenge against TSA for it, though the company insisted it wasn't aimed at jamming the competition.
More Posts
More News