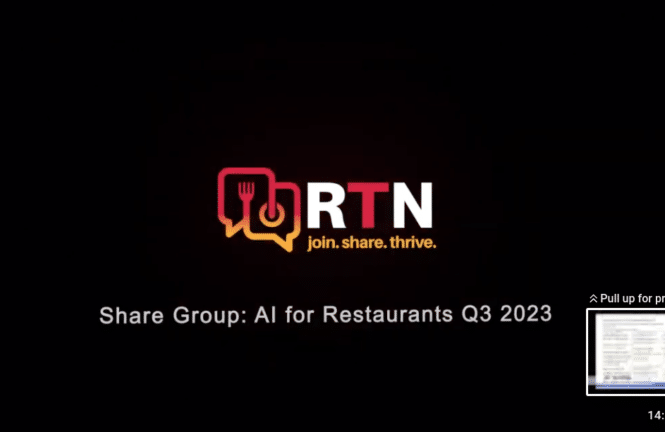 Conversational AI Webinar with RTN
We participate in several workgroups in Restaurant Technology Group and recently participated in extended "AI Share".  We learned a lot and especially liked the AGOT talk prior to our own.  Angela Diffly was the host and she is a super-connected person in the restaurants industry.
The Restaurant Technology Network hosted #AI Share Groups in June & August 2023, where we brought #restauranttechnology stakeholders together to share real-world installations and insights, showcasing how AI is helping #restaurants super-charge efficiencies, solve challenges and enhance customer journeys.
Chris Heard, Olive Robert Peterson Oracle Food and Beverage Rob Carpenter Valyant AI Johann Van Der Westhuizen #uknowmi Marty Berger alwaysAI Carl Turner SWIPEBY Tom Fox Bite Marielle Kokos Lineup.ai
David Colleen SapientX James Reed SmartScreen LLC
Neil Misak REUSO Benjamin Brown ConverseNow.AI
Christopher Heffernan dlivrd Daniel Dreymann Agot AI Derek E. Canton Paerpay Craig Allen Keefner Courtney Radke Fortinet Jay Ruparel VOICEplug AI Jon Stine Open Voice Network
The Restaurant Technology Network hosted AI Share Groups in June & August 2023, where we brought restaurant technology stakeholders together to share real-world installations and insights, showcasing how AI is helping restaurants super-charge efficiencies, solve challenges and enhance customer journeys. AI Applications Discussed: AI Landscape AI for Technology Procurement AI Capability Mapping Voice AI / AI in the Drive-Thru AI & Personalization AI Back of House AI to Augment Staffing AI & ML for Loyalty / Sales Lift AI & Green Initiatives, Eliminating Single Use Waste AI & Delivery AI & ML Sales & Staffing Forecasting Computer Vision Order Accuracy Food Safety Compliance Table Turn Acceleration AI Payments Drive-Thru Avatar Assistants via Kiosk Cybersecurity Arms Race Ethical AI Use – Call For Action And follow Angela Diffly on LinkedIn: https://www.linkedin.com/in/angeladif... For more from RTN: https://restauranttechnologynetwork.com https://www.linkedin.com/showcase/res... https://twitter.com/RestTechNet https://hospitalitytech.com https://www.murtec.com