Customer Survey Kiosks – Take a Survey!
"Take a Survey"  by Olea Kiosks (and Joseph Grove of Olea).  Also quotes and comments from DynaTouch!
Maybe Americans can blame Ed Koch.
Whether by online pop-up form, a receipt with a URL, or a strategically placed kiosk with a few questions on its mind, U.S. consumers are increasingly asked for their feedback when they conduct certain transactions.
Buy a taco? Please take a survey for a chance to win. Order a new bedspread online? Follow this link and tell us how it went. Nowadays, appeals for a review from your hotel are more common than mints on pillows. Even trips to the doctor, DMV and providers of other day-to-day services are chased by pleas that customers give them a thumbs-up or a thumbs-down.
As the former New York Mayor was fond of asking his citizens, "How am I doin'?"
Sure, it's a good thing, this search by leaders for understanding of how their enterprise is performing in the minds of the people who matter most. Well conceived and executed consumer surveys can help executives not only identify and address immediate issues—a customer found something icky in a sandwich—but sniff out long-term trends or bigger-picture issues that may otherwise spell doom for the organization.
Fortunately, technology has enabled this understanding to come at a far lower cost than in the olden days, when surveys required expensive mail pieces, phone calls or face-to-face encounters to get results. Now, through the web, apps and kiosks, it's more efficient than ever to get into the mind of customers, collect the data and proceed to make the indicated changes to the operation.
Terri McClelland, CEO of DynaTouch Interactive Technologies, puts it best: "If you can measure something, you can improve it."
---
Inquiring Minds
A number of factors can influence the success of a project to collect and evaluate consumer opinions of recent transactions. Some include the number of questions, whether there are incentives to take the survey, and whether questions are leading respondents to one type of answer or another.
Just as important, however, is the means of conducting the survey itself. As mentioned, phone calls, mail and face-to-face can be prohibitively expensive. Comment cards are hard to track and can be tampered with by people with vested interests.
Even modern tools have drawbacks. Consider the most popular online option today, the receipt-website-code combination.
Will the employee delivering the receipt remember to point out the survey instructions?
Will the employee selectively choose whom to encourage? Happy, congenial customers may be directed more consistently than curmudgeonly ones, for example.
What is the likelihood that the customer will remember to take the survey? That the receipt will still be in his possession when he's in front of his device?  That he'll remember the experience accurately?
Those are just some of the reasons Vincent Brown, a self-service expert with DynaTouch, prefers kiosks for this application.
"In our experience, the advantage of a survey kiosk versus a web-based or online platform is convenience," Brown said from his  San Antonio, Texas, office. "You are presenting the customer with a platform to give her feedback right there at the point of service.
Brown said that in his experience, after he leaves a business, he's on to the rest of the day with little likelihood he'll want to revisit that experience while sitting in front of his computer or using his tablet.
But do customers want to take the time when leaving a business to interact with a kiosk? Brown understands the skepticism but points to one of his clients to support the notion that yes, kiosks will collect more survey responses than other means.
A particular U.S. Government department had been using web-based and paper-based surveys to gather customer satisfaction scores, which had become increasingly important to higher-ups in D.C. In fact, department heads were graded by the number of surveys that were completed.  Wanting to improve their scores, officials turned to DynaTouch to provide survey kiosks.
Before the deployment, responses numbered in the hundreds a month. After the survey kiosks were installed, they numbered in the thousands.
Word is Catching On
Brown says DynaTouch is seeing significant growth in healthcare and government use of survey kiosks because those areas are under more pressure than ever to demonstrate quality service. One of the tenets of the Affordable Care Act ties Medicare reimbursement to higher patient satisfaction scores, and perhaps no customer-service debacle in recent memory has wrought more outrage than that experienced by veterans at Veterans Administration medical facilities.
To improve matters, government agencies decided several years ago to model themselves more closely on traditional service organizations. Leaders determined to take better care of soldiers and veterans, on and off the post. Once they began evaluating their success, however, they saw great room for improvement.
"The genie was out of the bottle," Brown said, "and the services to their soldiers and families really came under the spotlight. They began to clamor for how they could improve things and really wanted feedback from the soldiers.  So that's when the military surveys really exploded."
Brown pointed to another benefit of survey kiosks: immediacy. One retailer that closely monitored kiosk input registered a complaint from a customer. It was able to respond immediately, reaching out to the customer by email before she left the store in order to correct the problem.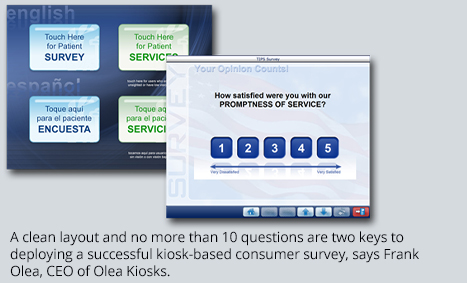 Olea Kiosks, which manufactures hardware for survey kiosks, offers several points and tips for potential deployers.
While the initial capital outlay may be much higher than rolling out a web-based survey, the ROI potential is much higher, especially for organizations with multiple locations.
A key metric can be found in the cost-to-complete ratio. While a web-based survey may offer a lower barrier to entry, eventually the cost-per-completed-survey advantage will begin to tighten toward survey kiosks.
Also mitigating the disparity in costs is that survey kiosks require no paper, and time associates might spend entreating customers to take the web-based survey can be applied to upselling.
Because of the immediacy of the feedback, responses are fresher in the customer's mind.
The ideal number of questions seems to be 10. Customers get bored or begin to feel frustrated if there are too many queries. Ask too few questions, however, and deployers can miss out on key data.
Frank Olea, CEO of Olea Kiosks, added that survey kiosks, like any public-facing kiosk, need to be built to take a fair amount of punishment. He recommends potential deployers take advantage of a free consultation with Olea Kiosks to gauge what a perfect hardware configuration might look like. QSRs and retailers, for example, might need more robust hardware than hospitals or government offices.
"Every business—even our own—lives or dies by what the customer thinks of us. Survey kiosks, when built properly and equipped with the right software, can offer a timely, critical peek into those critical minds," Olea said.
Contact Olea Kiosks Today
If you are interested in finding out how Olea's award-winning kiosks can benefit your business, contact Olea Kiosks today by email or by phone at 800-927-8063. Consultations and quotes are always fast and free, with no follow-up commitment expected.