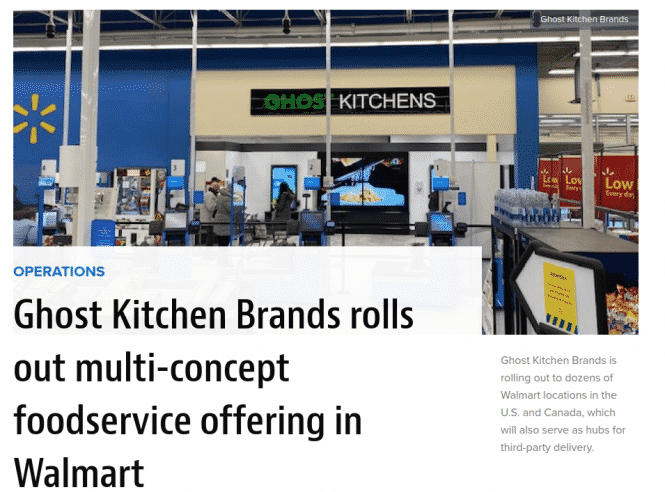 Walmart Ghost Kitchen Kiosks Now Offer Restaurant Kiosks
Updates to the story:
8/19/2021 –  Hospitality Ghost Kitchen Expansion — Butler Hospitality recently added the Canopy by Hilton Washington DC Embassy Row to its list of 100+ hotel clients. Ghost kitchen for hotels specializing in virtual room service and catering for hotels.
Post on NRN March 2021 — Locations will offer kiosk-based ordering on-site and third-party delivery of restaurant and CPG food brands
Wendy's News  8/11/2021– Wendy's on Wednesday also unveiled an ambitious update to its global development plans. It now expects to have between 8,500 and 9,000 locations worldwide by 2025, up from a previously forecast 8,000. That growth will be aided by three new initiatives:
A deal to open 700 ghost kitchens in the U.S., Canada and U.K. over the next five years through a partnership with Reef Kitchens, starting with 50 this year.
A new $100 million build-to-suit development fund is expected to result in 80 to 90 new franchised units.
Lowered liquidity and net worth requirements for prospective franchisees.
Cloud Kitchen Factoids
Top 500 players is around 230,000 units in US.
Figure another 500,000 independent restaurant operators
Percent of units offering delivery — now around 90% (Dairy Queen is 89)
RTN June 2021 — Market surveys indicate that half of enterprise brands will launch some form of ghost, host or cloud kitchen concept in 2021, and that the global cloud kitchen market size, estimated at $43.1B in 2019, is forecasted to reach $71.4B by 2027.
Numbers from Restaurant Dive as of Oct 2020 — The U.S. currently has 1,500 ghost kitchens, putting it ahead of the U.K. market (750), but behind China (7,500+) and India (3,500+), according to Euromonitor estimates from July.
Excerpt:
The new service will allow shoppers in those locations to select items from the menus of about 15 national and regional restaurants and CPG food concepts, including Quiznos, Saladworks and others, combined in a single order. The on-site kitchens, meanwhile, will also serve as delivery hubs for those brands via third-party delivery services such as Uber Eats.
Read full Post on NRN March 2021
Current Rationale for Ghost Kitchen Kiosk