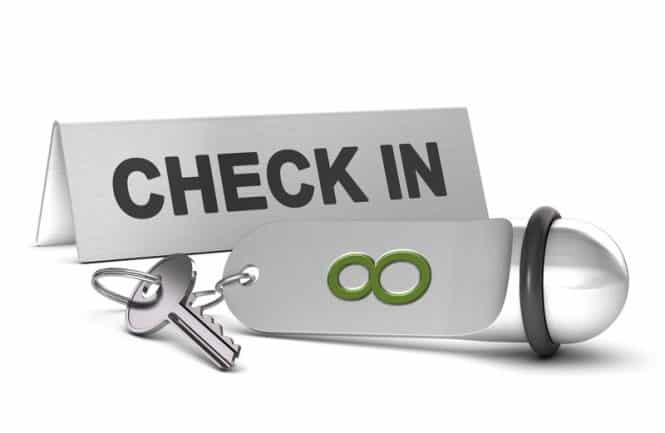 Guest Services Needs in Hotels Are Changing. Here's How Kiosks Can Meet Those Needs
Article reprint from LinkedIn by Bruce Rasmussen of Ingenico
In the hotel industry, the quality of your guest service can make or break your business (one negative review can have a much bigger impact than a positive one). With that in mind, consider this experience of a frequent traveler:
The traveler grabs a Lyft to the airport and pays in-app. Upon arrival to the airport, he uses the self-serve kiosk, swipes his credit card to pull up his boarding pass, and makes selections for his seat and luggage. Once in the air, he uses the seat-back screen to order a drink. After deplaning, he takes a cab, pays via his mobile wallet, and arrives at the hotel.
After a long day, he's ready to settle into his room and get some rest. As he approaches the counter for check-in he notices a line. It's short, but there's only one employee managing the desk. The employee is accommodating and friendly, but the traveler is tired and not up for chatting. He spends another 5 minutes checking in, passing his ID and credit card back and forth, and talking about room preferences. Finally, he gets his key card and heads up to his room.
What's Wrong with this Picture?
Up until the traveler reaches the hotel his trip is seamless and automated. But from the moment he arrives for check-in, there's a sudden change in pace and a sense of hassle in getting to his room. But it -doesn't have to be this way. Hotels have an opportunity to streamline guest services by incorporating self-service kiosks into their strategy.
If you're thinking "don't people prefer a human touch?" remember this: don't mistake automation and convenience for lack of service. While a great concierge was once the gold standard for guest service, things are changing. Today, more travelers value speed, no hassle and opportunities for self-service throughout their whole journey. In fact, some have even grown to expect the option for self-service. That's why ATMs, pay-at-the-pump fueling and self-check-ins at airports are so successful.
Updating your guest service strategy to add this new choice may seem like a daunting task, but self-service kiosks are a simple solution that can provide a lot of additional value at check-in and beyond. Take a look at some of the ways kiosks can make an impact on your guest service:
On-Call Concierge
Kiosks are an "always-on" service that can reduce lines at the check-in during busy times or periods of lighter staffing (or even reduce staffing costs during a lull). They can also be used as concierge support. Guests can get recommendations for local restaurants and make reservations, discover local attractions and events, and request transportation.
Added Value in New Ways
In addition to offering another way to deliver existing services, kiosks and vending machines create new opportunities such as providing a marketplace for forgotten items like power cords, toothbrushes and aspirin. They also create the perfect environment for upselling — perhaps your guest orders room service for two and the kiosk recommends a bottle of white wine.
New Insight With Analytics
The benefits of bringing kiosks on board aren't just limited to your guests. They also provide your business with valuable insight into guest preferences, services used, popular check-in times, favorite restaurants and more. You can also use them to gather feedback and reviews from your guests. All of this comes together to give you a better understanding of how, when and where your guests are spending their time and money throughout their stay.
To see how this all comes together, remember that traveler scenario from earlier? Imagine that this time, the traveler arrives to the hotel to find kiosks in the lobby:
The traveler spots an open kiosk. Just like at the airport, he swipes his credit card and pulls up his reservation. He filters the available rooms by those with one king-size bed, no adjoining room and is located near the elevator. He chooses one on the sixth floor. Then the kiosk offers to order him room service. He chooses a meal and a beverage, a delivery time, and charges it to his room. The kiosk dispenses his room key card and he's on his way.
Part of a Bigger Strategy
Kiosks are just one way to boost your guest service strategy. Many hotels are moving towards more self-service options, including automated vending machines, mobile loyalty apps and phone-based room keys to satisfy the constantly increasing expectations for on-demand, always-on service. It's even coming to the point where not offering it puts your business at a disadvantage. Experts predict that by 2020, 85% of all customer service interactions will be handled without the need for a human agent, and the kiosk market is projected to reach a value of $1 billion by 2021.
Think a kiosk or other unattended solutions could benefit your hotel and lodging business? Drop us a line!
For more information Contact Us
[contact-form to="[email protected]" subject="KI Ingenico Article"][contact-field label="Name" type="name" required="1″][contact-field label="Email" type="email" required="1″][contact-field label="Message" type="textarea"][/contact-form]