Self-Service Customer Experience Benefits
New blog entry by Olea Kiosks Jun2021
Consumer buying behaviors have evolved throughout recent years. Some of that is driven by technological advances, some by social and economic shifts, and some by consumers simply wanting more flexibility.
Shortly after the pandemic started, people flocked to fast-food establishments because they had contactless ordering, touchless pick-ups, and standardized menus, making the whole process simple and convenient. It provided an experience that was familiar, affordable, quick, and didn't require a lot of in-person interaction.
And now we're seeing many of those efficiencies, especially around the logistics of orders and pick-ups, increasingly borrowed by other elements of the food-service industry, from fast-casual, all the way through to and including other aspects of hospitality, retail, and even healthcare.
We're all looking for simple, flexible, on-demand experiences. Interacting or buying from a kiosk or on a mobile app is much more convenient and efficient than making your way to the front counter.
Consumer-focused companies will need to invest in the data, technology, and systems required if they are going to deliver the kinds of exceptional experiences that will give them an edge over the competition and position them as customer-experience leaders.
Consumers want the purchase or patient journey to be as frictionless as possible, and in order to deliver on experience, there has to be close collaboration between the physical and digital channels along with innovation in building omnichannel capabilities. Whether the person is interacting with you from a desktop or mobile device, by kiosk, telephone, or a brick-and-mortar point, it has to be seamless.
Regardless of the industry, when it comes to serving the customer of the future, the key is to focus on being client-centric.
Customers Look For
Convenience
Control
Personalization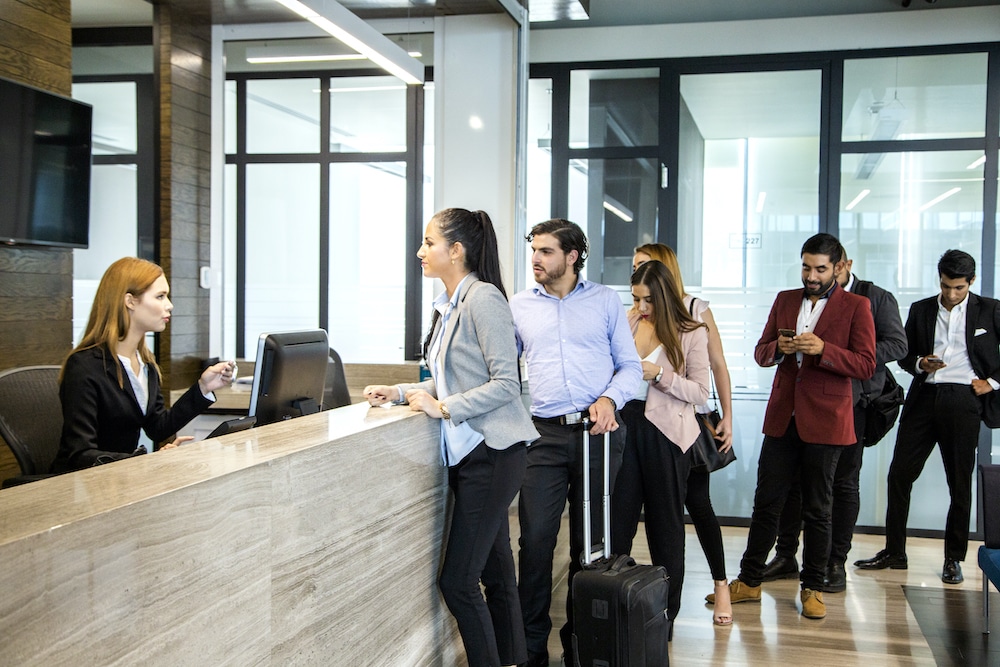 Self-Service Convenience
There's a lot to be said for convenience. We're all time-starved and looking for instant gratification.  The trick is to remove all unnecessary obstacles in the customer or patient journey so consumers can achieve their objectives quickly and easily.
Covid-19 has only amplified the need for easy access to products and services, convenience, and relevant information.  And delivering this kind of convenience has been shown to increase loyalty.
Consumers want service providers to look at the following ways of enhancing convenience:
Minimize waiting times
Manage queues/wait time effectively
Reduce ambiguity–explain exactly what I need to do next at all points in my task or purchase journey
Make my time investment feel worth it
So as each of our industries continues down its path of digitally transforming the customer experience, it's important for each business to test the full experience and confirm that it makes sense.
For example, offering contactless check-in or a digital key on your phone from a hotel is great, provided the guest doesn't need anything else to come and go as they please and enjoy their stay.
Unfortunately, when that digital check-in is performed over the app, we are discovering that sometimes there are pieces of the physical check-in process that have now been eliminated (or forgotten), but still need to be performed.
If the guest requires a parking pass to place in their vehicle, we need to think about another way to deliver that pass without asking them to wait in the check-in line.  In some locations, waiting in line might not be a big deal, but if you consider large hotels and resorts like those in Las Vegas, long check-in lines are not how you want to kick off the guest experience.
While most digital keys work great, if the reservation wasn't made in your name, it can be quite an ordeal to complete identity verification for another individual to get that digital key.
Self-service kiosks, unlike phones, can provide physical deliverables, like a parking pass, a wristband or even an encoded hotel key.  And these kiosks can perform the required security checks to ensure continued safety.
Bottom line, we need to look at the whole process and ensure we haven't created a service gap as we modernize and automate processes. Review every part of the experience to ensure guest wait times have been minimized and confirm you haven't created ambiguity or another hoop for the customer to jump through.
Customer Control – Put the User in Control
With the rapid proliferation of technology at our fingertips, consumers are indicating they prefer the control that self-service options provide them.  If it's simply fast-food ordering from a kiosk or app or self-checkout at a retail or grocery store, consumers are increasingly drawn to self-service methods.
But why?
Minimize Errors by Staff
When you put the customer in control of checking-in, ordering, or the payment process, it minimizes the errors made by order takers.  You don't have to worry about either party misunderstanding the name, the order, or entering the wrong items.  The user is less likely to make an error when they're entering their own information.
Self-Service Customization Benefits
Consumers feel comfortable customizing their orders when they're inputting the information themselves.  If someone else is taking their order, they might feel pressured by people waiting in line behind them.  Self-service kiosks will give people the chance to see a full list of modifications and make more informed choices, which leads to greater customer satisfaction.
How To Shorten Lines
Think back to the long snake lines at airline check-in counters.  Just seeing that line created anxiety for travelers.  Now that many airlines offer self-service check-in kiosks and mobile apps, the experience has been enhanced dramatically. This also puts the customer in control because they can decide if they'd like to wait in line or self-serve.
Customer Personalization by Self-Service
It all begins with data.  Many service providers have the data, contextual, timely information that can dramatically improve and personalize the experience.
Personalized marketing can be something as simple as including a person's name in an email or as complex as notifying them about a service they're interested in is now available.
In order to deliver personalization, the organization might collect data on the person from a number of sources. This data might come from customer profiles or behavioral data from brand interaction, or it could be data purchased from another organization.  Some brands are even using AI for hyper-personalization.
A business can benefit from personalization as it can help build and maintain customer engagement which often leads to purchases. It helps to create a stronger brand image and greater customer loyalty.
But there are risks too.  When you collect that data and store it, you're responsible for keeping it private and ensuring that it is only used with customer permission.  You also have to ensure that you aren't using it with aggressive, insensitive, or stalking tactics.
Personalization was once limited only to targeted offers.  But this now can extend to the entire customer experience.  Customers want personalization throughout their interaction because it enables them to allocate their time and money to their preferences.
The challenge here is that if we give you access to all our data, we're expecting you to use it to enhance our experience, not just your sales opportunities. If I'm willing to sign up for your loyalty program and I use that program to book my next stay, I've agreed to give you my data.  And many people are willing to give up their data, but you need to know that they want something in exchange.  How will you deliver value in return?
This is where many organizations need to review the customer experience and ensure it's being used to attract, engage and retain customers. Mapping the end-to-end customer experience to identify any pain points is necessary.
Pandemic or no pandemic, the customer is still king. But the customers of the future will expect more. Olea Kiosks has tremendous experience in helping our clients deliver an enhanced user experience throughout the customer journey.  If you'd like to discuss how self-service kiosks can be used to boost productivity and improve the guest experience, contact us now to schedule a call.
More Information