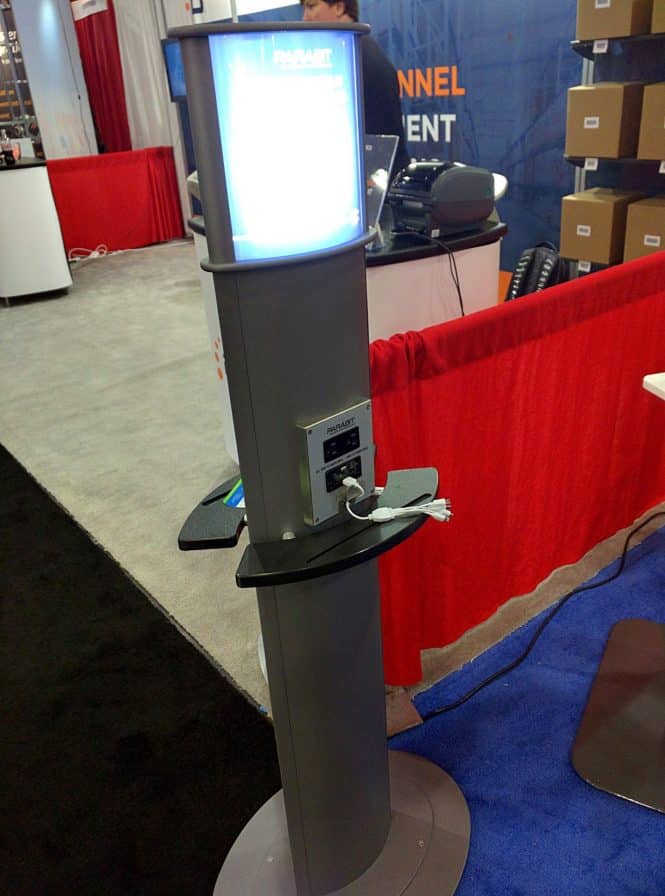 Phone Charging Kiosk Market Growth
The phone charging market has experienced a double digit growth in the last 2 years and is growing even faster.
DENVER, CO – 02 Aug, 2016 – Whether it is in a retail store such as Neiman Marcus, the airports, bars or the streets of New York the emerging phone charging kiosk market has been on a tear and shows signs of increasing even more. While providing a sought after commodity for consumers the systems are collecting customer data while lengthening customer dwell time in the retail location.
For an overview and writeup on the market (1000 words) complete with a large gallery of photos displaying some of the many makers and models, visit kioskindustry.org and read our exclusive story on the market. We highlight "Low battery anxiety" that many consumers experience and how these new systems provide a positive conclusion. Getting A Charge Out of Kiosks is our industry piece for August.
Another high revenue market which is growing is the marijuana market and we have a nice wrap on a couple of major players moving into that space.  Here is link for marijuana kiosk feature.  Olea Kiosks in California is one of the major players and the west coast is the biggest market.
Our third feature is a nice opinion piece by Laura Miller of KioWare on the industry shift that we have seen and which is occurring right now in the self-service space.  Laura did the piece for our European media partner Kiosk Solutions magazine and we are able to reprint it.  Note tradeshow Kiosk Summit North in UK in Oct 2016,
SlabbKiosks is our New Advisory Board Member for July. Slabbkiosk builds standard and custom kiosk designs (no design fee) with software for any type of application – from medical to micro market self-checkout solutions. Welcome to Kisha, Pete, Mike and new vp there Rick Kobal.
About the Kiosk Industry Group
The Kiosk Industry Group based in Denver Colorado is the kiosk trade association and qualified marketing network for the kiosk and self-service  industry.
For more information please log onto https://kioskindustry.org
Our email contact is [email protected]
Advisory board members include Olea Kiosks, KioWare, Kiosk Information Systems, SlabbKiosks, OptConnect, PROVISIO, Crane CPI, ARCA, Turnkey Kiosks and SlabbKiosk. Additional members include Peter B. Snyder and CTS (Connected Technology Solutions).  Together they provide the strategic guidance and support for the Association in direction and focus concerning all types of transactional and informational self service solutions such as bill pay automation, lockers, loyalty, employee systems and customer retention, flow & services. Device integrations include biometrics, foot traffic sensors, scanners, printers, demographic indentification and discovery, EMV and all types of cash and currency.
KI is the kiosk industry association and our focus is fairly simple, "kiosks in self-service". Aka keep it simple.
Video Link: https://youtu.be/gRHwjRxgnvM
Full News Story: https://pressreleasejet.com/news/phone-charging-kiosk-market-growth.html
Distributed by Press Release Jet
Media Contact
Company Name: CAKCEK
Contact Person: Craig A keefner
Email: [email protected]
Country: United States
Website: https://kioskindustry.org
More Posts