Elo Kiosk News
Editor note: Elotouch is one of the must watch touchscreen vendors in the self-service kiosk space and they have a bit of news going on. The 17xx and 19xx openframe monitors have gone end of life and included here are the official notices from Elotouch. They have the new 90 series which is replacing them. Also Elotouch has just revamped their entire website and gone modern. Lots of whitespace and a little sparse. I think right now I like the old site better for getting part numbers and drawings.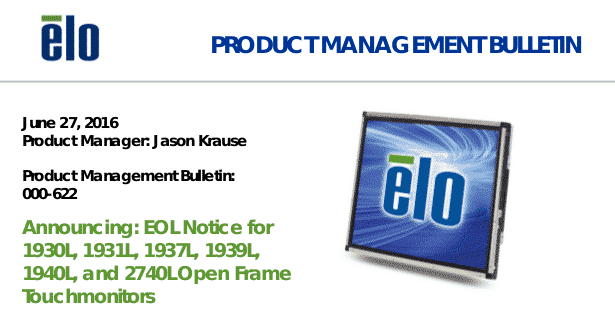 12 Month Transition Plan – 9 Months last time buy + 3 Months last time shipment
When products are obsolete, every effort is made for a smooth transition:
Last-time buys for the 1537L, 1739L, 2243L, and 2244L models will be accepted until February 27th ,
2017 with last-time shipments made by May 27th , 2017
Last-time buys for the 1930L, 1931L, 1937L, 1939L, 1940L, and 2740L models will be accepted until March
29th , 2017 with last-time shipments made by June 29 th , 2017
Please note that it is possible that some of these models such as the Infrared and SCAP units
cannot be ordered as their components may have gone EOL already. Please consult with your
sales representative for specific part numbers and details
Please work closely with your Elo sales representative on specific ongoing run-rate projects to
develop a transition plan to the new units.
Elotouch Touchscreen official EOL notices
More TouchScreen News